CHRIS SEBELA

SEND THIS TO A FRIEND!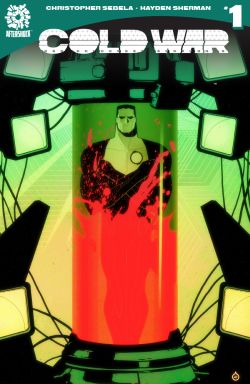 DF Interview: Chris Sebela tells of cruel awakenings in a mysterious future in Cold War
By Byron Brewer
Panacea Cryonics offered its customers life after death by keeping their heads frozen until the day technology could rebuild them, free of disease and death. However, as these everyday people from the past are revived, they're not handed the keys to a new life, but a gun, body armor and an ultimatum. They must fight in a war against unknown opponents for unknown reasons, to secure their place in a brave new world that doesn't want them around.
From writer Chris Sebela (Blue Beetle, Kiss/Vampirella, Evolution) and artist Hayden Sherman (The Few, John Carter: The End) comes Cold War, a sci-fi mystery so challenging that DF had to know more. So we sat down with scribe Chris Sebela.
Dynamic Forces: Chris, the solicit for your new Cold War series sounds like a futuristic nightmare that may not – just MAY not – be that far from OUR real world. Give us the elevator pitch for the book and tell readers what inspired this concept.
Chris Sebela: So there's a process called cryonics, where people get themselves frozen in the hopes of a future where technology will advance enough to bring them back to life and cure them of the diseases or even the old age that killed them, giving them a second chance, complete with a fat bank account thanks to hundreds of years of interest. But when they're woken up, they're instead informed that it's 500 years in the future and there's a war and they have to fight if they want a place in this world.
DF: What can you tell us about the world that the "head-people," for want of a better term, wake up in? What type of world are you and artist Hayden Sherman giving us as a backdrop?
Chris Sebela: It's 500 years in the future and it's the middle of a war zone where far future weaponry has been put to use, so it's pretty bombed out, a remnant of the life all these people left, but aged terribly. But it's also kind of a mystery. They've just been kicked out of some ships and left to fend for themselves, so they have no idea what's going on. I think the main medium Hayden and I are using is mystery, either by way of claustrophobia or the chaos of war, it's a world that's not what it seems.
DF: Can you introduce us to your main protagonists, please?
Chris Sebela: There's dozens of Cryonauts who've been woken up and handed a gun and a uniform, but in the first issue, we really focus on Tom Rook, an uber badass soldier supreme. He's the ideal person to be woken up inside a future war and it's up to him to help keep some of our other main characters alive. Among them we have Vinh, a meek grandmotherly type; John, a dad-type who uses the voice of positivity to keep his fellow soldiers' spirits up; L.Q., who keeps everything close to the vest, more interested in studying everyone else; and our Romeo and Juliet-type couple, Tikk & Sath, who seem to understand everything that's going on when they're not making out in the rubble.
DF: Can you give us any clues at all about the "unknown opponents" those revived in this vicious future must combat? And who IS reviving these poor frozen souls?
Chris Sebela: The ultimate big bad is whoever is waking up our Cryonauts and sending them off to war. As far as who the enemy forces are or why the fight is happening, it's just another symptom of the confusion that the Cryonauts are struggling with. They've had their severed heads in deep freeze for hundreds of years, been thawed out, regrown and then tossed in a situation that would drive even the most level-headed of us to cry for our parents. I think Hayden and I want the reader to feel thrown here and there, want to know what's going on at the same time as the Cryonauts, so it's like you're thrown in the deep end along with our characters and you have to hang on like they do to see where it leads.
DF: With people out of their time, there is a certain subtext of compare and contrast. (I think Stan Lee did a wonderful job with Captain America after he came to life in Avengers #4 that few ever really talk about.) Can you comment on that, or any other subtext that may flow between the panels in Cold War?
Chris Sebela: I dunno that that was my goal. I was mostly interested in the idea of this ultimate dark joke where people pay tons of money and invest all their hopes in this longshot process that's never been proven to work. And then, ta-da, it does work as advertised and before they can even adjust to this reality, they're drafted into a war, something most of them are completely unqualified for. If there is a compare/contrast, it's the idea of what we think is savage. To us, sword fighting and killing people with axes seems beyond the pale, but to the people of the future, us all shooting each other with guns that barf bullets will likely seem savage, even while they've updated their technology to be "nicer" but which might be even more savage than what's come before.
DF: Spinning off the above query, there was a classic Twilight Zone episode once where an elderly couple was given young cyborg bodies but only one was available, so it became a question of new life vs. love life. Since your release date is Valentine's Day, is romance at all an element in this series?
Chris Sebela: Tikk and Sath are a pair of our main characters who drift around the fringes of our squad of Cryonauts. They're more interested in each other, one of those deep obnoxious loves that make everyone else roll their eyes. Even as people are blowing up all around them, they're still sneaking off to spend time with each other like it's some kind of vacation.
DF: Hayden Sherman during the past year worked on an awesome and very different rendition of John Carter for Dynamite and really let his inner Kirby out. What can you say about Hayden's art for your new series?
Chris Sebela: I'm not sure if I ever had a real visual in mind for this book, but once I saw Hayden's pages, I knew whatever he'd come up with was nothing I'd ever pictured and that excited me beyond the telling. Hayden just goes off and does his thing and the pages that come back are just wild to me that they came from my script. I trust him to take whatever I hand over and really turn it into his own voice. I don't know that there are a lot of books out there that look like ours, and that excites me a lot.
DF: Chris, what other projects you are involved in can you tell readers about?
Chris Sebela: I've just wrapped up the last script for the Agent 47 book at Dynamite and I'm working on several new creator-owned books coming out this year with several different publishers. So mostly I can't say much about anything, but stay tuned.
Dynamic Forces would like to thank Chris Sebela for taking time out of his busy schedule to answer our questions. Cold War #1 from AfterShock is in stores now!
For more news and up-to-date announcements, join us here at Dynamic Forces, www.dynamicforces.com/htmlfiles/, "LIKE" us on Facebook, www.facebook.com/dynamicforcesinc, and follow us on Twitter, www.twitter.com/dynamicforces.
DAMNATION: JOHNNY BLAZE GHOST RIDER #1 SIGNED BY CHRIS SEBELA
AGENT 47: BIRTH OF THE HITMAN #1
KISS/VAMPIRELLA #1 ATLAS COMICS SIGNATURE SERIES - SIGNED CHRIS SEBELA EDITION
---
NEW! 1. 11/25/2020 - STEVE SKROCE
4. 11/16/2020 - RYAN O'SULLIVAN
5. 11/16/2020 - RYAN O'SULLIVAN