JAY FAERBER

SEND THIS TO A FRIEND!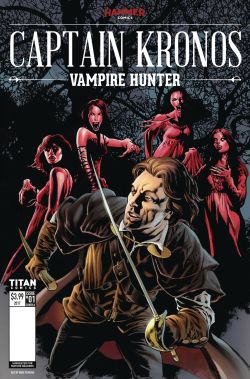 DF Interview: Clara's past rears its ugly head as Jay Faerber's SF western Copperhead returns
By Byron Brewer
Sheriff Clara Bronson's past and present are colliding as an old friend arrives in town while Clara investigates the murder of Copperhead's mayor.
In March, the critically-acclaimed Copperhead from Image Comics and writer Jay Faerber returns with new artist Drew Moss.
For more on the series and its newest arc, DF turned to writer Jay Faerber.
Dynamic Forces: Jay, congratulations on the success of your book Copperhead. How does it feel to be returning with a new arc in March?
Jay Faerber: It feels great, and everyone working on the book is particularly appreciative that the fans seem to be excited that we're back. Taking this much time off from a book can really kill momentum and reader interest, and it really seems like people are still interested in the book and are eager to pick up where we left off.
DF: For the uninitiated (can't image who they are), bring us up to speed on the series please.
Jay Faerber: Copperhead is a sci-fi western about the new sheriff of a mining town on a small, grungy planet, populated with aliens and humans alike. In the first two arcs, we got to know Sheriff Clara Bronson and, through her, the citizens of Copperhead — her surly deputy (Boo), her son (Zeke), the town's rich power broker (Benjamin Hickory), plus the mysterious artificial human soldier, Ishmael. All of these characters combine to make Clara's role as sheriff anything but ordinary.
DF: As writer, tell us a little about Clara Bronson as a character.
Jay Faerber: Clara's a classic Western archetype. She's strong and silent and lets her actions speak for her. But she's also a single mother, and has a nurturing side that she is able to turn on and off like she's flipping a switch. She came to the town of Copperhead to get away from something in her past, but while we haven't said exactly what that is yet; answers are coming soon … !
DF: Characters are always extensions of their creators. What part of the sheriff is Jay Faerber?
Jay Faerber: I think Clara's personality is a bit like mine, only unfiltered. She says the things I wish I could say. She doesn't care what anyone thinks about what she's doing.
DF: What can you tell us, in a non-spoilery manner, about the murder of Copperhead's mayor? Is it connected in any way to what has gone before, perhaps?
Jay Faerber: Issue #10, the most recent issue published before our way-too-long hiatus, ended with Clara discovering the dead body of Copperhead's mayor. So this next arc, starting with issue #11, details Clara's investigation into this murder. We'll see that the mayor had a long list of people who wanted him dead — from political adversaries to ordinary citizens. And Clara's got to sort all of this out before the killer leaves town.
DF: A presence from Clara's past returns in #11, out in March. Can you introduce us to this character?
Jay Faerber: There are a few characters from Clara's past who return in this new arc. One of them is Lt. Ford, her old colleague from the Thermapolis police force. This is where she worked before she came to Copperhead. Ford comes to Copperhead to deliver a piece of news to Clara and in this arc we'll understand their history a little more. Plus, there's another figure from Clara's past, a man named Clay, who escaped from prison in the last arc and appears to be headed straight for Copperhead. Clay's a real dangerous dude, and we'll also unravel his past, and how it connects to Clara's.
DF: How has it been working with new artist Drew Moss? What does he bring to the Copperhead table?
Jay Faerber: Drew's fantastic. While co-creator Scott Godlewski has moved on to other projects, he's still involved with drawing covers and consulting on the book. And Drew has stepped up in a huge way. His style isn't entirely dissimilar from Scott's, but he's also not trying to ape Scott's work. Drew's style is definitely his own. And he works at a breakneck pace! I'm having a hard time keeping up with him!
DF: Jay, do you have any other projects current or near-future you can tell us about?
Jay Faerber: I have a new Image series we'll be announcing soon, plus I'm writing and producing the new season of Zoo, which returns this summer on CBS.
Dynamic Forces would like to thank Jay Faerber for taking time out of his busy schedule to answer our questions. Copperhead #11 from Image Comics hits stores March 8th!
For more news and up-to-date announcements, join us here at Dynamic Forces, www.dynamicforces.com/htmlfiles/, "LIKE" us on Facebook, www.facebook.com/dynamicforcesinc, and follow us on Twitter, www.twitter.com/dynamicforces
GRAVEYARD SHIFT #1 FIRST PRINTING CGC GRADED! Written by Jay Faerber
---
NEW! 1. 11/25/2020 - STEVE SKROCE
4. 11/16/2020 - RYAN O'SULLIVAN
5. 11/16/2020 - RYAN O'SULLIVAN