ANDY DIGGLE

SEND THIS TO A FRIEND!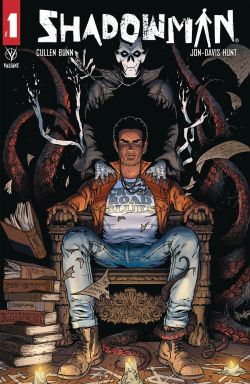 DF Interview: Andy Diggle returns a supernatural icon to comics in Shadowman
By Byron Brewer
In the epic tradition of X-O Manowar and Bloodshot Reborn, a staggering new beginning for Valiant's supernatural icon Shadowman starts in March with "Fear of the Dark" – a tense and gripping three-issue introduction pushing Jack Boniface to the farthest edge of fear itself … and into a startling, adrenaline-fuelled fight for survival as Shadowman takes command of the birthright he was born to uphold.
Shadowman is from writer Andy Diggle (Green Arrow: Year One, Daredevil) and artist Stephen Segovia (Action Comics). To learn more for you, DF stepped out of the shadows (but just for a second!) to speak with scribe Andy Diggle.
Dynamic Forces: Andy, how does it feel to be playing with some of the big toys in the Valiantverse?
Andy Diggle: Exciting! And slightly daunting. It's my first time working in the Valiant Universe and the fans have been waiting a long time for Shadowman to return. There's a weight of expectation and I'm determined to make it work.
DF: For the uninitiated (you know who you are), can you give us a summary of who Shadowman WAS and where he has been?
Andy Diggle: Jack Boniface was a young man in New Orleans who found himself bound to a shadow loa -- an ancient, violent voodoo spirit -- which gave him great power and enabled him to travel to the Deadside, the realm of the dead. Jack discovered that he was only the latest in a long line of Shadowmen, as the loa curse had been passed down through his family bloodline since 1865.
Struggling to escape the loa curse, Jack battled his absentee father – who had abandoned his responsibilities as the previous Shadowman -- and killed him. Overwhelmed by guilt, Jack fell victim to his arch-enemy Master Darque, who turned him into a supernatural killing machine known as The Magpie.
In the Rapture miniseries, Jack regained control of himself and made peace with his father's spirit. Now it's time for Jack to accept the burden of responsibility that his father rejected. Someone has to protect the living from the horrors of the Deadside.
DF: Introduce us to Jack Boniface as a character today. What challenges does he face, personally and otherwise?
Andy Diggle: It's been five years since Jack abandoned Alyssa Myles, the trainee mambo who first introduced him to the supernatural world. Now Jack is struggling to get back to the land of the living. Alyssa has moved on without him, and Jack will have to atone for his past misdeeds if he's ever going to find redemption.
DF: Tell us what you can about your first arc, "Fear of the Dark." Sounds like it will be pretty intense for Jack.
Andy Diggle: It's designed as a clean jumping-on point for new readers, but longtime fans will see how it follows on from everything that's gone before. Jack's pretty traumatized by everything he's been through, but he's determined to put things right. Just when he thought he was free, Baron Samedi sealed the border to the Deadside and trapped him there, for reasons that aren't immediately apparent. Samedi has big plans for him, but Jack has never responded well to being coerced. He's sick and tired of being someone else's pawn in a game he doesn't understand. And the stakes are far higher than he knows.
DF: There has been some mention of new powers for Shadowman. Can you give readers any clues as to what any of them might be?
Andy Diggle: I don't want to spoil the story in advance, but it's to do with the true nature of Jack's loa. What are its motives and intentions? What was it doing before it was bound to Jack's bloodline? It's all about digging into the mythology of the voodoo spirits, and their role in the wider supernatural universe. It's pretty crazy.
DF: I was once a big fan of Brother Voodoo from Marvel, and I am thrilled readers (read: moi) can again delve into the realm of the loas. Can you tell us anything about Jack's current and coming relationships with the voodoo spirits?
Andy Diggle: It's barely been touched upon in the previous books, but that relationship will be central. Baron Samedi resides in the Deadside, but the rest of the pantheon withdrew to the far-off Voodoo Lands. The question is, why? What's special about Samedi? What role does Papa Legba play? Why was the shadow loa exiled by the Voodoo Pantheon? Why do they hate and fear it?
DF: What does artist Stephen Segovia bring to the table? I have loved most of his DC work.
Andy Diggle: Stephen's work has an incredible dynamism to it, especially in the action sequences -- and anyone who's read my work knows I do love a good action sequence. I've just seen the first pages of Shadowman's return and the monster fight that follows it, and it blew my socks off. Big grin on my face. I'm very happy to be working with Stephen!
DF: Andy, you just wrapped up Kill Chain, a James Bond adventure for Dynamite. What other projects, current or near-future, can you tell readers about?
Andy Diggle: Right now, I'm writing a couple of creator-owned projects that haven't been announced yet, and adapting one of my graphic novels into a screenplay. Finished a company mini that will hopefully be announced soon. A couple of other things bubbling under that might or not happen, we'll see. And I'd love to write more James Bond for Dynamite. It was a joy working with Luca Casalanguida on Hammerhead and Kill Chain, and I have a couple of more stories I'd love to tell. Those villains do keep plotting, and I love writing Bond throwing a spanner in the works.
Dynamic Forces would like to thank Andy Diggle for taking time out of his busy schedule to answer our questions. Shadowman #1 from Valiant Entertainment hits stores March 28th!
For more news and up-to-date announcements, join us here at Dynamic Forces, www.dynamicforces.com/htmlfiles/, "LIKE" us on Facebook, www.facebook.com/dynamicforcesinc, and follow us on Twitter, www.twitter.com/dynamicforces.
JAMES BOND: KILL CHAIN HARDCOVER - SIGNED BY ANDY DIGGLE
JAMES BOND: HAMMERHEAD HARDCOVER
UNCANNY: SEASON 2 TRADE PAPERBACK
UNCANNY VOL. 1: SEASON OF HUNGRY GHOSTS TPB
GUY RITCHIE'S GAMEKEEPER OMNIBUS TRADE PAPERBACK
---
NEW! 1. 11/25/2020 - STEVE SKROCE
4. 11/16/2020 - RYAN O'SULLIVAN
5. 11/16/2020 - RYAN O'SULLIVAN