ANDY SURIANO

SEND THIS TO A FRIEND!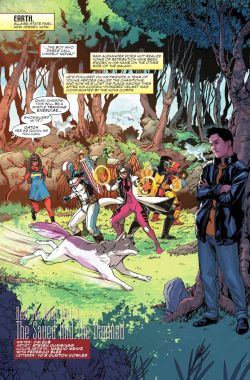 DF Interview: Andy Suriano takes us on a journey across the galaxy with Cosmic Scoundrels
By Byron Brewer
Space-faring bachelor scalawags Love Savage and Roshambo -- along with a little mothering from their ship's AI, Mrs. Billingsley -- shuttle from job to job and continually find themselves on the wrong side of the law. Despite their best efforts to look out only for themselves, they usually end up involved with alien crooks, shady black market baby schemes, and space sickness-inducing drugs. They're on the loose and on the run -- from everyone!


From IDW Publishing comes Cosmic Scoundrels by the Emmy- and Annie-award winning Andy Suriano (Samurai Jack, Star Wars: The Clone Wars) and Matt Chapman (Disney's Gravity Falls, Disney XD's Two More Eggs, Homestar Runner).
To find out more about the coming comic, DF spoke with artist/co-writer Andy Suriano.
Dynamic Forces: So, Andy, what does it mean to finally have this hysterical web comic coming to print?
Andy Suriano: Getting the opportunity to partner with IDW and bring Cosmic Scoundrels to more readers is a dream for Matt and myself. I have a great history with IDW doing the Samurai Jack series so it's like keeping it in the family. A family you love at times more than your own.
DF: Tell us about your protagonists, Love Savage and Roshambo.
Andy Suriano: Our goal with Love Savage and Roshambo was to create two outrageously inept, yet larger than life everymen who are still completely relatable. We want people to love and hate them, to love to hate them and hate to love them. Either way, love is a factor!
DF: What can you tell us about both the overall storyline as a whole for the book, and also about issue #1 coming in February?
Andy Suriano: The overall theme of Cosmic Scoundrels is a journey from a life of cosmic swashbuckling bachelorhood to realizing and discovering one's purpose and place in the universe—whether accidently, or for better or worse—and issue #1 coming out March 1st will find the boys in that "worse" part.
DF: Any hints at the ID of the big-bad for #1?
Andy Suriano: There are actually TWO: The Dimetrotron Bros! Space lizard, dinosaur-type French Legionnaire siblings -- you will love them, if you're into those sort of things.
DF: A zany duo needs foils. Who are some of the supporting characters?
Andy Suriano: Matt and I wanted to do brand new material as incentive for fans of our web-series, so we've included back-ups of Karl and Party Steve! Cosmic crooks need accountants—even retired CPAs spending their midlife crisis journeying across the galaxy writing travel blogs—and of course it wouldn't be a party without Party Steve!
DF: You are co-writing with Matt. How do those duties go down in producing the book?
Andy Suriano: Matt and I actually broke the entire storyline years ago while working on separate productions at Disney TV animation, so we've known where we were going this whole time; however, we've kept the work dynamic loose enough to be able to add, change things on the fly, as well as take little thematic detours when it helps our story. It's sort of like jazz improvisation—with kazoos.
DF: Andy, you are also the artist on the book. What can you say about designing the world of our two adventurers? Which was your favorite character/set piece to design and why? What has been most challenging as an artist for you on Cosmic Scoundrels?
Andy Suriano: I love the world-building aspect of Cosmic Scoundrels and especially like drawing the Scoundrels' ship, the SS Fistpuncher, the remarkably shaped and aptly named "Gypsy Class" space vessel.
DF: Are there different ways you approach a book when you are both writer AND artist, as opposed to handling the art chores alone? Do Writer Suriano and Artist Suriano ever have disagreements? (laughs)
Andy Suriano: Writer Andy doesn't want Artist Andy to sleep ever again!
DF: Tell us about your Annie and Emmy award wins. Exciting!
Andy Suriano: Ha! My mom and dad were very proud! I've been very fortunate to work on such amazing animated series like Samurai Jack, Star Wars: Clone Wars, Batman: Brave and the Bold, Mickey Mouse shorts, Teenage Mutant Ninja Turtles to name a few—and each has informed my art and storytelling in some way.
DF: Andy, any current or near-future projects you'd like to tell us about?
Andy Suriano: I will have VERY exciting animation news that I'm dying to share, but am not allowed to say anything until 2018! As far as comics, I'm hoping to have new books on the shelves that I've been working on with Tony Fleecs (My Little Pony) and Quinton Peeples (Marvel's Iron Fist and Runaways)! I hope you will still want to talk to me when those happen!
Dynamic Forces would like to thank Andy Suriano for taking time out of his busy schedule to answer our questions. Cosmic Scoundrels #1 from IDW hits stores Feb. 22nd!
For more news and up-to-date announcements, join us here at Dynamic Forces, www.dynamicforces.com/htmlfiles/, "LIKE" us on Facebook, www.facebook.com/dynamicforcesinc, and follow us on Twitter, www.twitter.com/dynamicforces
---
NEW! 1. 11/25/2020 - STEVE SKROCE
4. 11/16/2020 - RYAN O'SULLIVAN
5. 11/16/2020 - RYAN O'SULLIVAN