SEAN LEWIS

SEND THIS TO A FRIEND!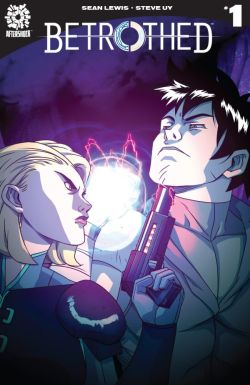 DF Interview: Sean Lewis marries fun to fantasy in Betrothed
By Byron Brewer
Kieron and Tamara are both seniors at the same high school. They've never paid much attention to each other, even though they are the only kids at school who are orphans. On the eve of their 18th birthdays, they discover a lifelong secret: in a dimension far away, they are each the leader of an army that is at war with one another ... and what's more, when they turn 18, they're to be Betrothed or Fight to the Death!
From writer Sean Lewis (The Few) and artist Steve Uy (Uncanny X-Men, Avengers Initiative, Grumpy Cat) comes Betrothed, a sci-fi series with a fun mix of Archie and Saga. To learn more, DF spoke with scribe Sean Lewis.
Dynamic Forces: Sean, after some dark and serious times with Saints and The Few, it looks like your next venture, Betrothed, has an aspect of light and fun fare, at least in part. Am I mistaken?
Sean Lewis: Nope, you are dead on. I think with each comic I have wanted to do something completely different from the last one. I haven't done a lighter, funnier, superhero-tinged book. Which is funny because I grew up on those comics. When I had the idea for Betrothed, I got excited because it was a real change for me.
DF: Introduce us to Kieron and Tamara as characters. Who are they and are they reflective of any subtext that might be playing in the series background at all?
Sean Lewis: Kieron is an outcast. Very emo. Very angsty. Tamara is over-achieving. Student president/head cheerleader type. They have absolutely nothing to do with one another on Earth but now in this other world, called Priam, they are dependent to one another.
I just kept thinking about how high school is that time in life where everything feels like the end of the world and I thought, well, what if it actually was the end of the world?
DF: Happy 18th birthday! These two have a big secret even they didn't know about [but it's not TOO secret since it's in the solicits]. Can you tell us the situation and elucidate a bit please? Does the fact that both Kieron and Tamara are orphans factor into this at all?
Sean Lewis: Yes. They are orphans because they've been hidden away from their real lies. Kind of like if Switzerland were a neutral state during a World War, Earth is neutral for these warring armies. It also allows the characters to not be tethered to anything. There is a level of questioning and searching that goes along with being an orphan -- "What are my roots?" "Who am I?" "What am I connected to?"
Most of us wrestle with some form of this question but having no direct parent to connect the questions to just exacerbates the entire feeling.
DF: What other characters might readers need to know about for this series?
Sean Lewis: There are a lot of characters. I think people will end up liking Fat Andy a lot. He's the comic relief. He's kind of like one of those kids who gets assigned to show new people around the school. But he's also socially awkward and sex obsessed. Little does he know his friendship with Kieron is going to take him to other worlds. Literally.
DF: Tell us about collaborating with artist Steve Uy.
Sean Lewis: Steve's great. And insanely fast. It allows me a lot of time to mull over text because I have the roughs so far in advance. He's also very smart as a reader so can point out things in the scripts as they come in that really help improve them.
DF: Sean, I am not sure how many of our readers know that you are also an award-winning playwright. Any news of your work on that front?
Sean Lewis: Ha! It's been busy. I have a play called Dogs of Rwanda that recently had productions in Chicago, Philadelphia, Atlanta and Indianapolis. It was named one of the best productions of the year in Philly. And I'll open a new play about two existential hitmen in the spring.
DF: And for equal time, what projects in the comic book field might readers be looking for from your kinetic keyboard?
Sean Lewis: If people aren't reading Coyotes, they should. It's with Cailtin Yarsky and published at Image. The book is bananas and Caitlin's art is unreal. The AfterShock guys have been great and Betrothed is one of two books I am doing with them this year. The other is a brutal and funny swords and sorcerers book called Clan Killers with Antonio Fuso. And Hayden Sherman and I have just finished the first issue of our follow-up to The Few. It's called Thumbs. And it's gonna be pretty great.
Dynamic Forces would like to thank Sean Lewis for taking time out of his busy schedule to answer our questions. Betrothed #1 from AfterShock hits stores March 14th!
For more news and up-to-date announcements, join us here at Dynamic Forces, www.dynamicforces.com/htmlfiles/, "LIKE" us on Facebook, www.facebook.com/dynamicforcesinc, and follow us on Twitter, www.twitter.com/dynamicforces.
---
NEW! 1. 01/21/2021 - RORY MCCONVILLE
5. 01/07/2021 - DARICK ROBERTSON