CHIP ZDARSKY

SEND THIS TO A FRIEND!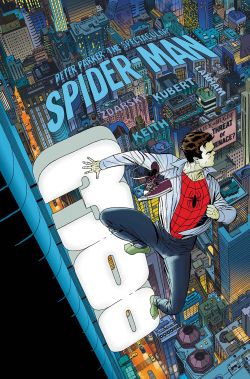 DF Interview: Chip Zdarsky swings into history with Peter Parker the Spectacular Spider-Man #300
By Byron Brewer
An over-sized anniversary epic, told in the Mighty Marvel Manner!
For weeks, the Tinkerer has been launching a campaign against his do-gooder brother, the Mason, and Spidey's nearly met his maker more than once trying to stop their sibling rivalry. With a little help from a tech-heavy team of Marvel heroes, Spider-Man takes the fight directly to his foe. But the Tinkerer's got tech of his own … and it's out of this world!
From writer Chip Zdarsky and artists Adam Kubert & Juan Frigeri comes the historic Peter Parker the Spectacular Spider-Man #300! DF had questions up the ying-yang about this issue's Mighty Marvel Milestone so we sat down with scribe Chip Zdarsky.
Dynamic Forces: Chip, Peter Parker the Spectacular Spider-Man #1 debuted in 1976, shortly after I graduated high school. The second spin-off of Amazing (after Marvel Team-Up) by Gerry Conway and Our Pal Sal Buscema (as Stan used to say in the Soapbox), the book really was designed to give more focus to Pete's voluminous supporting cast – including Peter Parker himself. After all these years and a return in Marvel Legacy, how would you say the book is doing in that area?
Chip Zdarsky: Not very well! We went pretty big out of the gate with guest stars and Spidey action, so now I'm looking forward to checking in with Pete's supporting cast more. The identity revelation to Jonah in issue #6 was the beginning of that, and we really start to play with it in the next arc of #301-303, "Amazing Fantasy," with Joe Quinones on art. It's gonna get pretty interesting, to say the least.
DF: Captain Obvious question: How does it feel to be involved in such an important part of Spider-Man's legacy (in a manner of speaking, laughs) as writing this issue, #300?
Chip Zdarsky: Ha! CRAZY. I mean, I got to do an issue #1 AND an issue #300 in less than a year!
But for real, I remember buying issue #100 when I was a kid, and how monumental that felt. It featured Black Cat and so I went and put her in this issue as well in our backup story drawn by Goran Parlov. It's so beautiful. I feel incredibly lucky to work with Adam, Juan and Goran on this.
DF: For the uninitiated (you know who you are), tell us just a few plot threads that will be reaching culmination in the over-sized #300. Will there be anything spinning off the heartfelt Spider-Man/J. Jonah Jameson showdown issue earlier this year, for example? Other threads to be tied?
Chip Zdarsky: Well, after the revelations in issue #299, we finally discover what the Tinkerer's ultimate plan is. It's bigger than anyone imagined and has Spidey and Teresa scrambling to thwart him AND Agent Mintz. Everyone has to step up.
DF: Tell us your perceptions of the Tinkerer, who has been used to great effect here, as a villain. Any other Rogues Gallery villains gonna show their faces in this issue?
Chip Zdarsky: The bad guys in this one are Whiplash, Beetle, Shocker, Vulture and Boomerang. And of course, the Tinkerer. He's been fun to work with, 'cause he's a little underestimated. But this is the guy who supplied so many villains with technology, that it's CRAZY to underestimate him. By the time we leave him, he'll be a massive threat to Spidey down the line, if he survives.
DF: Marvel never does anniversary issues (even Legacy ones) without a plethora of guest-stars. Anyone showing up to aid Spidey's cause in this 56-page extravaganza?
Chip Zdarsky: Yeah! Torch, Hawkeye, Black Panther, Vision and Ironheart are the heroes holding the villains at bay! And Jonah and Betty get into the action as well. It's pretty nuts how many characters are in this one.
DF: Something more fun: Talk Adam Kubert art. Go!
Chip Zdarsky: He's the MASTER of big action! Since this issue is so huge, he's just doing layouts for it, but the intensity and imagination of the action sequences are really stunning. Juan Frigeri is doing the final art over Adam's layouts and he's one of those artists where you're going to want to get in on the ground floor so you can say you knew his work back in the day.
DF: In a non-spoilery manner, can you give readers some hints as to what will be coming in the next arc of Peter Parker the Spectacular Spider-Man? (Aw, c'mon!)
Chip Zdarsky: "Amazing Fantasy" has Peter, Teresa and Jonah going back in time! So we get a really fun team-up between Peter now and Peter starting out as Spidey. And both Teresa and Jonah go on personal journeys that'll change the way they view Peter and themselves. It's a wild three issues! And then Adam's back for "Green America"!
Dynamic Forces would like to thank Chip Zdarsky for taking time out of his busy schedule to answer our questions. Peter Parker the Spectacular Spider-Man #300 (!) from Marvel Comics hits stores Feb. 28th!
For more news and up-to-date announcements, join us here at Dynamic Forces, www.dynamicforces.com/htmlfiles/, "LIKE" us on Facebook, www.facebook.com/dynamicforcesinc, and follow us on Twitter, www.twitter.com/dynamicforces .
PETER PARKER SPECTACULAR SPIDER-MAN #300 SIGNED BY ADAM KUBERT
PETER PARKER SPECTACULAR SPIDER-MAN #300 SIGNED BY STAN "THE MAN" LEE
PETER PARKER SPECTACULAR SPIDER-MAN #1 ULTRA-RARE B/W VARIANT SIGNED BY ADAM KUBERT!
PETER PARKER: THE SPECTACULAR SPIDER-MAN #1 SIGNED BY "JAZZY" JOHN ROMITA SR
PETER PARKER: THE SPECTACULAR SPIDER-MAN #1 SIGNED BY STAN "THE MAN" LEE
STAR WARS: VADER DOWN #1 - 1:4999 JAXXON SPOTLIGHT VARIANT BY CHIP ZDARSKY - CGC GRADED 9.8!!!
HOWARD THE DUCK #1 - 1:25 RETAILER VARIANT BY CHIP ZDARSKY!
SEX CRIMINALS #1 RARE FOURTH PRINTING PHOTO COVER GOLD SIGNATURE SERIES ELITE EDITION SIGNED BY MATT FRACTION!
---
NEW! 1. 11/25/2020 - STEVE SKROCE
4. 11/16/2020 - RYAN O'SULLIVAN
5. 11/16/2020 - RYAN O'SULLIVAN