CULLEN BUNN

SEND THIS TO A FRIEND!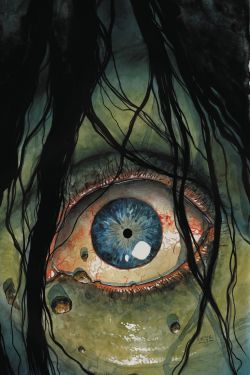 DF Interview: Harrow County ending; Cullen Bunn talks final arc
By Byron Brewer
[NOTE: On Tuesday, some time after this interview was conducted on Harrow County's coming arc, it was announced the long-running Dark Horse comic will conclude in June with #32. Below, co-creator/writer Cullen Bunn talks about the beginning of the book's four-part finale which starts with March's #29.]
An old enemy is back with a vengeance and is dead-set on reclaiming her power over Harrow County. And Emmy is the one person who can stop her. So, guess who's the first target?
From writer Cullen Bunn and artist Tyler Crook comes the finale arc of Harrow County. Issue #29 begins a tale unlike any other for Emmy and the rest of the series' characters.
To get the lowdown on this venerable comic's swansong storyline, DF sat down with scribe Cullen Bunn.
Dynamic Forces: Cullen, for what started out as a serialized prose story (Countless Haints) on your website, Harrow County has become one of the most anticipated ongoings on the Dark Horse roster. There must be some creator satisfaction in that?
Cullen Bunn: Absolutely! It makes me so happy that so many people dig what Tyler and I are doing with Harrow County. All those years ago when I "retired" the prose version of this story, I knew that I'd return to it one day. It haunted me the way haints haunt the people of Harrow County. When Tyler and I started working on this together and I started seeing his art for the book, I knew we had landed on something special.
DF: In March, Harrow County returns with a new arc. I know every jump-on point is designed to be new reader friendly, but is it possible that you can summarize for the uninitiated what the book is and what essentials we may need to know entering into issue #29?
Cullen Bunn: Harrow County is the story of Emmy, a young woman who has grown up in the backwoods, surrounded by tales of ghosts and goblins and things that go bump in the night. On the eve of her eighteenth birthday, though, she discovers she is more connected to these legends than she ever knew. She learns that she is believed to be the reincarnation of Hester Beck, a fiendish witch that prowled the area long ago. This revelation turns her world upside down and the townsfolk against her. That's just how the story starts! From there, we take readers on a journey full of twists and turns. In the end, Harrow County is about much more than mere witches, but you'll need to read the series to see what I'm talking about.
DF: Give me the elevator pitch for your new Harrow County storyline which starts in #29.
Cullen Bunn: Heh. Well, for 29 issues, our lead character Emmy has dreaded the return of Hester Beck, the all-powerful witch who once ruled over Harrow. That night has finally come. Hester is back, and she plans on taking what is rightfully hers. The only person who stands in her way is Emmy.
DF: Since Emmy plays such a big role, give readers a little insight as to who she is as a character please.
Cullen Bunn: Emmy is one of my favorite characters. She's sweet and innocent, sure, but she also possesses vast power—unimaginable power, really. Despite all the "magic" at her disposal, Emmy struggles with what many young people struggle with. The world, she finds, is much bigger and often much scarier than she realized, and she is having trouble finding her place. She's trying to figure out who she really is. That's a big part of Harrow County (along with all the ghosts and murder and witches).
DF: What other characters might we need to know about for this storyline? Any new ones making a debut? If so, can you introduce us?
Cullen Bunn: The new story focuses on Emmy and the witch Hester Beck. Emmy's best friend Bernice will play a significant role as always. Bernice is perhaps the breakout star of Harrow County. She started out as a "normal" young woman, but she has been trained in "hedge magic" to help protect the people of Harrow from evil. While Bernice's magic is nothing in comparison to Emmy's, she has a lot of gumption and she can put real hurt on evil forces when she needs to.
DF: With the beginning of this new arc, and maybe before, you and artist/co-creator Tylor Crook may be approaching some modern-day collaboration record on the same title. Very comforting to us old-schoolers who remember how upsetting it was when Ditko left Spidey and The King departed the FF. Talk about your collaboration with Tylor a little, and how you guys have come so far on Harrow County.
Cullen Bunn: Tyler is one of the greats. He's a great artist and a great storyteller and a great collaborator. We're both engaged and invested in this story. It means something to the both of us. When you find a collaborator like that, you want to work with them again and again. Maybe it's a modern day record, but it's gone by too fast. I feel the same about Brian Hurtt (The Damned, The Sixth Gun) and Danny Luckert and Marie Enger (Regression) even though that series is in its infancy compared Harrow County. I hope to work with these folks as often as possible for as long as possible.
DF: It's already been duly noted that Cullen Bunn is writing every comic for every publisher. That understood, tell us a few things – any new things – you have coming up in the near-future.
Cullen Bunn: You'd be surprised how few books I'll be writing in the near future, but for now I'll be keeping busy. I'm still working on a number of very cool creator-owned comics, such as Regression (a horror story dealing with past-life regressions) from Image, The Damned (a noir gangster story with demons) from Oni Press, Shadow Roads (which is a kind of sequel to The Sixth Gun) also from Oni Press, and a few others that I can't mention just yet. I'm also writing Pumpkinhead (a horror story based on the cult classic horror movie) for Dynamite and co-writing (with JimmyZ) Subspecies (another cult horror movie series continuing in comics form) for Action Lab. I have many other projects in the works, too, and I'm sure they'll be announced soon.
READ: Byron Brewer's March 2015 interview with Cullen Bunn as he discusses the coming of his new book … Harrow County #1! Here: http://bit.ly/2nthczF
Dynamic Forces would like to thank Cullen Bunn for taking time out of his busy schedule to answer our questions, and also thank he and Tylor Crook for their great work on this series. From Dark Horse Comics, Harrow County's final arc begins in #29 which hits stores March 21st!
For more news and up-to-date announcements, join us here at Dynamic Forces, www.dynamicforces.com/htmlfiles/, "LIKE" us on Facebook, www.facebook.com/dynamicforcesinc, and follow us on Twitter, www.twitter.com/dynamicforces.
VENOMVERSE #1 ULTRA-LIMITED SYMBIOTE SILVER EDITION - SIGNED BY CULLEN BUNN
X-MEN: BLUE #1 SKOTTIE YOUNG VARIANT ULTRA-LIMITED BLUE SIGNATURE SERIES SIGNED BY CULLEN BUNN
DARTH MAUL #1 ULTRA-LIMITED CRIMSON RED SIGNATURE SERIES EDITION SIGNED BY CULLEN BUNN
DEADPOOL BACK IN BLACK #1 SIGNED IN BLOOD RED BY CULLEN BUNN
MICRONAUTS REVOLUTION #1 SIGNED BY CULLEN BUNN
CIVIL WAR II: X-MEN #1 SIGNED BY CULLEN BUNN
---
NEW! 1. 11/25/2020 - STEVE SKROCE
4. 11/16/2020 - RYAN O'SULLIVAN
5. 11/16/2020 - RYAN O'SULLIVAN