DAVID F. WALKER

SEND THIS TO A FRIEND!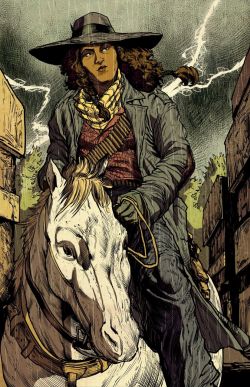 DF Interview: David F. Walker imagines a world where the Civil War turned out differently in 'The Hated'
By Byron Brewer
Imagine a western set in an alternate history where the American Civil War ended very differently. That is what writer/publisher David F. Walker did in a coming project for his Solid Comix imprint. The Hated has art by Sean Damien Hill with colors by Shaun Struble.
The Hated is a project Walker has been developing for a long time. It is a gritty homage to spaghetti westerns, blaxploitation films, and the unsung exploits of black gunslingers and outlaws.
DF sat down with the creator behind the comic, David F. Walker.
Dynamic Forces: David, was there any particular inspiration for your coming comic book, The Hated?
David F. Walker: I love westerns – especially spaghetti westerns. Nearly thirty years ago, I wrote a western screenplay, which was very much a mash-up of the old Eurowesterns and blaxploitation. It was my first screenplay to make the rounds in Hollywood, and even though it was well received, it never went anywhere. Like so many other writers with unsold screenplays, I thought about turning it into a comic. But that's easier said than done. For one thing, what I was happy with in my 20s wasn't the best I could do in my 40s or 50s. But I still wanted to do a western, so I took that old screenplay, and did some very significant and radical rewrites.
DF: I know this story takes place in an alternate timeline. Can you tell us where history diverges, how, and its resultant change(s)?
David F. Walker: The American Civil War didn't end the same way. In the world of The Hated, the war ended with no victory for either side, just a truce. The result is two nations – the Confederate States and the Union States – and a lot of lingering hostility. The Confederate States still have slavery. The Union States are free, but there's a lot of resentment towards blacks over the war. As the story unfolds, we see that the war to end slavery is still going on, and that conflict between the states is still very real.
DF: The Hated seems a homage of sorts to some genres – spaghetti westerns, blaxploitation films – that I would not generally lump together or expect to find in one book. Tell readers more about this decision for the book.
David F. Walker: There were a handful of blaxploitation westerns, and even one blaxploitation spaghetti western – a film called Take a Hard Ride. I love both genres, but as a kid, I was always disappointed about the lack of black characters in westerns. It was as if black folks simply weren't around in the old west, and that's untrue. In my teens, I started researching blacks in the old west, and discovered an incredible history. That originally informed much of that early screenplay years ago. There were lawmen like Bass Reeves, cowboys like Bill Pickett and Deadwood Dick, outlaws like Cherokee Bill and Rufus Buck, and of course, the incredible Stagecoach Mary. These were real people, with incredible lives, but they were largely left out of the mythic western that emerged from Hollywood. I've always wanted to do something that paid homage to this largely forgotten aspect of western lore. As I began to rewrite that old screenplay and turn it into a comic, I thought about rewriting the larger myths of the old west as it has been crafted by popular entertainment. And from there, I started thinking about messing with history. If you watch some of the old European westerns, they play fast and loose with the truth – almost as much as American westerns have done. When you really study that genre, it's all about creating these epic myths, and that's what I wanted to do. And it's what I've done.
DF: What is the general storyline for The Hated?
David F. Walker: The Hated will be a series of short-run stories (two to four issues each), which take place in this alternate timeline. This story follows Araminta Free, a former slave, who is now something of a bounty hunter. Araminta specializes in crossing over into the Confederate States, and liberating those that are still enslaved. She also hunts down war criminals. And if that's not enough, she's looking for her children, who were sold off when she was still a slave. Everyone in the Confederacy wants her dead. Imagine a cross between Harriett Tubman and Pam Grier in Jackie Brown, and that's Araminta.
DF: Introduce us to your protagonists and tell us a little bit about them and their function in The Hated.
David F. Walker: Everything revolves around Araminta and her quest to find her children, liberate those that are enslaved, and kill war criminals. She's ruthless – the most badass character you'll ever see. Her love interest is a sheriff named Everett Kane, but he's more of a sidekick. Everett is Araminta's lifeline to her humanity. Usually in westerns, this role is filled by a dutiful woman, but I didn't want to do that. I wanted a strong female protagonist, the likes of which we seldom see.
DF: Talk a bit about the work of artist Sean Damien Hill and colorist Shaun Struble.
David F. Walker: I've been a fan of Sean Hill for years. He's one of those guys that is killing it in the indie world. I started courting him about five or six years ago. I had him in mind for a few other projects, but those fell through. As The Hated started to take shape, I thought he'd be perfect for the gig. Turns out I was right. Shaun Struble is someone I've known for almost twenty years. I met him at San Diego Comic Con, and he was this annoying kid. But I liked him because even though he was a pest, he has a great heart. We've stayed in touch, and as he's developed as a colorist, I kept my eyes on him. As it was with Hill, it was much the same with Struble. I needed to be sure that their work would be compatible, and it has been. I'm about to close the deal with the letterer, and then the team will be complete.
DF: David, I know you have been staying busy. Tell readers what other projects, inside or outside comics, you might be involved in.
David F. Walker: Over at Image I've got Bitter Root, which I'm doing with Chuck Brown and Sanford Greene. At DC I'm co-writing Young Justice with Brian Michael Bendis, and we'll be back with our other title, Naomi. I'm self-publishing The Hated through my Solid Comix imprint, as well as a book called One Fall. I'm way behind on One Fall, but it's a fun book I'm doing with Brett Weldele that deals with professional wrestlers, supernatural beings, family dysfunction, and the evils of pay-per-view television. Last but not least is my webcomic, Discombobulated, which is about to get much bigger. I'm adapting it into a live-action show, preferably for streaming. That's taking up all the time that my other projects and my teaching job aren't devouring.
Dynamic Forces would like to thank David F. Walker for taking time out of his busy schedule to answer our questions. The Hated from Solid Comix is slated to debut this spring. Watch DF News for further updates on the series.
For more news and up-to-date announcements, join us here at Dynamic Forces, www.dynamicforces.com/htmlfiles/, "LIKE" us on Facebook, www.facebook.com/dynamicforcesinc, and follow us on Twitter, www.twitter.com/dynamicforces.
LUKE CAGE #1 SIGNED BY DAVID WALKER
SHAFT #1 RARE Denys Cowan "VIRGIN ART" EDITION FEATURING SILVER ELITE EDITION SIGNATURE BY DAVID WALKER
SHAFT: IMITATION OF LIFE TRADE PAPERBACK
SHAFT: A COMPLICATED MAN TRADE PAPERBACK
SHAFT'S REVENGE PAPERBACK NOVEL
---
NEW! 1. 11/25/2020 - STEVE SKROCE
4. 11/16/2020 - RYAN O'SULLIVAN
5. 11/16/2020 - RYAN O'SULLIVAN