ED BRISSON

SEND THIS TO A FRIEND!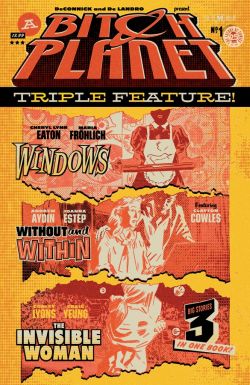 DF Interview: Ed Brisson takes aim with Bullseye
By Byron Brewer

Daredevil, Elektra, Punisher ... You name 'em, Bullseye beat 'em. But that was just business. This? This is pleasure.
What does the world's greatest assassin do for fun? Find out what Bullseye gets involved in for laughs, way down in South America, as the hitman stars in his own Marvel Comics series from writer Ed Brisson and artist Guillermo Sanna.
To learn more about this deadly new mag, DF spoke with its scribe, Ed Brisson.
Dynamic Forces: Ed, Bullseye is just one of those '70s characters that folks never get tired of (at least in my comics reading den). Why is now the assassin's time to shine?
Ed Brisson: Over the past decade, Bullseye's largely been out of commission because he's been dead, then resurrected, paralyzed, confined to an iron lung, then killed again and raised from the dead once more (by The Hand, of course).

But, now he's back and he's itching to shake off the ring rust and get back in the fight. He's looking for an opportunity to test his skills and make up for several years of being out of the game.
DF: Our fave hitman is not on business in this new 5-issue mini, but instead is on a little "pleasure" jaunt. Can you give us a hint? What DOES the world's greatest assassin do "for fun"?

Ed Brisson: Bullseye's a man who loves his job. He loves killing, causing mayhem and making money. In the series, he's on a work vacation that's going to result in copious amounts of all three of those things.
DF: Bullseye has to be one of the most psychologically complex comics characters this side of Batman. Will we be touching on that aspect of the masked man's persona here?

Ed Brisson: To me, Bullseye's a guy who says that he wants one thing, or promises he'll do something, but is always playing the angles and looking for an opportunity that is going to benefit him the most -- or, at the very least, keep him entertained. He may seem reckless, but Bullseye is incredibly smart and conniving. He gets bored with the same old same old and is always looking for a challenge.

I mean, you look at Bullseye: A Perfect Game (2010) and you've got Bullseye plotting out a hit over the course of a year. At that point, he was bored of just taking people out and moving on. He wanted to utterly destroy his target and so dedicated himself to doing it in a way that would be deeply personal ONLY to the target. Most recently, he tried doing the same to Daredevil from the confines of his iron lung. He's sick and he's twisted, looking for ways to inflict the most amount of damage -- be it physical, psychological or emotional -- so that he can remain engaged. But, that said, there are other times where he just wants to cut loose and go nuts. It's always hard to pin down which approach he's going to take, which I think makes him interesting.
DF: Can you tell us about any of the new (or old) characters we might meet in this series? What is their relationship (if any) with Bullseye?

Ed Brisson: In the series, we're going to meet a new up-and-coming crime family in New York -- the Losani Family. They've been able to rise in power thanks in part to "Civil War II". Heroes fighting heroes gives the everyman-style criminal a chance to move a little more freely.

When Bullseye does get to Colombia, his target is Teodor Zarco, the head of the Black Knife Cartel -- a badass gang that runs a good chunk of the city. Teodor is the perfect fight for Bullseye in a lot of ways. Teodor is also a sick, twisted killer who likes to dole out psychological and physical pain in equal measures. Everyone in the country is terrified of him.

We've also got Joy Jones, an FBI agent with a deeply personal beef with Bullseye. Through the series, she proves that she'll hunt him to the edges of the earth to bring him to justice for what he's done.

Some older faces making an appearance are Bullet and Shotgun -- both older Daredevil villains that I first came to love during the Ann Nocenti/John Romita Jr. run back in the '80s. As a kid, I was obsessed with both characters and always wanted to see more of them. This series was a chance for me to bring them back and try to make them characters that newer readers will dig. They were a ton of fun to write.
DF: Will we see any familiar heroes in this run (Daredevil, Black Widow, Hawkeye)?

Ed Brisson: There will be some familiar faces popping up in the later issues, but I'm not spoiling anything!
DF: Ed, many times writers will pour so much into the locale of a comic it almost becomes a character. Since we will be traversing "from the mean streets of New York City to the jungles of South America," what kind of research have you done to bring those regions (especially the latter) alive?

Ed Brisson: I've spent quite a bit of time in NY over the past decade, so I just drew on what I already knew about the city. Colombia, however, I've never been to. Most of my research into that has been on Cartels. We're all familiar with Pablo Escobar, but I've done a lot of reading on other cartels that have operated through the region. It's one of those cases where this is the type of stuff I'm reading in my free time anyway, so I just brought that into my writing. It seemed to fit nicely.
DF: How does it feel to be sharing a book with your character's co-creator. Marv Wolfman had a great run on Daredevil! Does his back-up dovetail with your story at any point? Did you guys confer at all on the book?

Ed Brisson: The stories are stand-alone, so readers get treated to two for the price of one!
That said, it's great! While I've not that much contact with Marv, I am a big fan of his and was thrilled to see that he was doing a back-up story.
DF: What does artist Guillermo Sanna bring to this miniseries? I know he knocked it out of the park on Deadpool!

Ed Brisson: Guillermo is hands down one of the best artists I've ever had the pleasure of working with. He's got really strong storytelling chops and his action sequences are out of control. There are a few fight scenes which are just absolutely mind-blowing. I'm really, REALLY happy with how this series looks and that's all thanks to Guillermo.

Hoping that this isn't the last time we work together.
DF: Ed, do you have any projects current or near-future you'd like to tell readers about?

Ed Brisson: I've got Iron Fist, with artist Mike Perkins, coming up in March and beyond that a couple of things that I'm sworn to secrecy on -- but they're exciting as hell. I can say, though, that Adam Gorham and I are slowly chipping away at The Violent Vol. 2. Look for sometime in 2017.
Dynamic Forces would like to thank Ed Brisson for taking time out of his busy schedule to answer our questions. Bullseye #1 from Marvel Comics hits stores Feb. 1st!
For more news and up-to-date announcements, join us here at Dynamic Forces, www.dynamicforces.com/htmlfiles/, "LIKE" us on Facebook, www.facebook.com/dynamicforcesinc, and follow us on Twitter, www.twitter.com/dynamicforces
---
NEW! 1. 11/25/2020 - STEVE SKROCE
4. 11/16/2020 - RYAN O'SULLIVAN
5. 11/16/2020 - RYAN O'SULLIVAN