RICH TOMMASO

SEND THIS TO A FRIEND!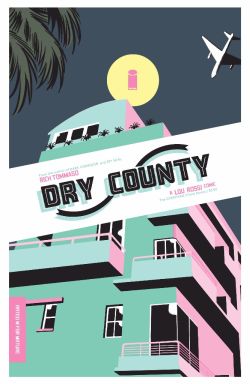 DF Interview: Rich Tommaso dishes out the crime drama in Dry County
By Byron Brewer
Miami. Early 1990s – but still suffering a hangover from the 1980s. Young Gen-Xer Lou Rossi has fallen for a lady, and fallen hard. So when she goes missing, he'll have to play amateur detective to get her back.
Critically acclaimed cartoonist Rich Tommaso (Spy Seal, She Wolf) will launch Dry County, an all-new crime series, this March from Image Comics. DF sat down with the artist/writer to discuss the book.

Dynamic Forces: Rich, before we hop into the world of your new series, Dry County, tell me about your love of crime drama and it as a vehicle to tell great comic book stories.
Rich Tommaso: It was the first genre I approached, when working on my first "legitimate" comic book, Clover Honey. At the time, I knew nothing about crime fiction other than what I had seen in movies like The Killing, Goodfellas. Pulp Fiction and Reservoir Dogs. After Clover Honey was released, I started reading crime novels – mainly the works of Jim Thompson and Dashiell Hammett – and I was hooked on them pretty quickly. I think there's two things that attract me to crime fiction: First would be my fear of being arrested for doing ANYTHING illegal. The fact that someone would commit a crime like robbery, for instance, and face jail time or death, both fascinates and frightens me. I've always thought while reading a heist story: "Why are they putting themselves through all this? Why don't they just get a job?" This would be my thinking as a very practical person with a fairly good work ethic. Having said that, after 20+ years of drudgery, working for the food service industry and other low wage institutions like the comics industry, my imagination tends to dream up many criminal schemes to escape that drudgery … Which brings me to my second attraction: unlike any other genre, it is one where I can delve into ANY personal business I wish to write about. The only "fantasy" that is added to the story – and it's a fantasy only if you haven't ever committed a crime in real life -- IS the crime aspect. Everything else can be as realistic as you like. Also, crime fiction is the one thing I am the MOST voracious reader of, I just flat-out love the genre when it comes down to it.
DF: For the uninitiated, introduce us to your character, Lou Rossi. He's doing a bit of coming of age here, eh? Is there any part of Rossi reflective of his writer?
Rich Tommaso: Lou Rossi was created as my stand-in for what I had initially planned to be a series of graphic novels. Each of them would be set in places I'd lived around the country from my late teens to my late thirties. They would all be very closely based on my own experiences, but the drama would be heightened by the particular crime theme weaved into the story. Lou is VERY closely based on myself, the only difference is – like I'd stated earlier – he would always somehow get himself involved in the criminal underworld to solve his personal problems. He starts out here in Dry County as a very naive, good-hearted, virginal young man. He wants to make good in life, but the forces around him are always against him.
DF: Give me the elevator pitch for Dry County.
Rich Tommaso: It's The Maltese Falcon, but instead of the hard-nosed Sam Spade, the detective is more like Benjamin Braddock from The Graduate.
DF: How important is new love interest Janet Laughton in this saga? Who is she as a character?
Rich Tommaso: She is as enigmatic as the girl in my own life was to me. I can say, she was more of a grown-up than I was. She had a better, more stable job, she owned a car, owned a house with her boyfriend, was more together than I was. We started seeing each other because she was very unhappy with her current boyfriend. I was definitely "too young" for her, not in years but in the sense that I was still a lay about who lived with his parents when we first met. We spent very little time together, all told. And before we could really begin dating each other, I had to move away, back home to my parents in New Jersey, because all of my prospects in Florida had fallen through.


DF: This tale, I believe, takes place in 1990s Miami. It was one of THE hot spots back then. How are you working, as artist and scribe, to bring this town to life here, make it a character in and of itself?
Rich Tommaso: 1990-91 was the time period I lived in Florida and there were many dramatic things going on at the time that make for a perfect spring board – and Florida the perfect backdrop – for a crime story. Not a traditional one, mind you, but an odd amateur detective story. I was getting into a lot of current music at the time – after mainly listening to '60s rock until then. I became interested in what was just being called "alternative rock" and I caught up with fringe music that had come before the '90s, like Cocteau Twins, The Misfits, The Butthole Surfers, Ministry, Seven Seconds and bands like that. But, yes, I'd like to make Florida as much a part of the story as the characters are. It's a backdrop that I find myself going back to often in crime and horror fiction, not so sure why. I never loved it down there – the two times I lived in Florida – but I've always missed it. Probably the tropical surroundings. Hard to explain. Maybe it's the way Florida is portrayed in my favorite crime novels, TV shows and movies.
DF: What can you tell us about some of the other characters in the book?
Rich Tommaso: Rob is an interesting amalgamation of friends I've had over the years, guy with fearlessness and muscle and who've had my back in threatening, physical altercations. This is something that has become a theme in some of my past books like The Cavalier Mr. Thompson. The big guy who isn't a dumb bully, but a fair-minded protector of his friends in trouble. I see this trope all the time in comics – and sure, I've experienced my fare share of bullies – but I've been trying to show a different type of that character based on my own experiences. This comic is so close to autobiography that when it came time for Lou to do some audacious sh*t like breaking into someone's home or place of business, or roughing someone up, I just couldn't imagine him doing it, because I couldn't imagine myself doing it. That's where Rob conveniently comes in.
DF: As an aside, I think fans have been enjoying your mag Spy Seal. When will that title be returning? Can you talk a little about it for new readers?
Rich Tommaso: Hopefully, some time next year. I've been writing extensive notes for the next series and am looking forward to working on it, but there are a few other projects in the way right now and I need all the time I can get to properly illustrate the next one – the Spy Seal book's not easy to draw.
DF: Rich, what other projects are you involved in that you can tell our readers about?
Rich Tommaso: There are two other pending projects in the very near future, one is a done deal and the other is close to being a done deal. But I can't really talk about them more than to say that they'll both be in the fantasy/science fiction vein and I'm excited about both projects.
Dynamic Forces would like to thank Rich Tommaso for taking time out of his busy schedule to answer our questions. Dry County #1 from Image Comics hits stores in March 14th!
For more news and up-to-date announcements, join us here at Dynamic Forces, www.dynamicforces.com/htmlfiles/, "LIKE" us on Facebook, www.facebook.com/dynamicforcesinc, and follow us on Twitter, www.twitter.com/dynamicforces.
ADVENTURE TIME MARCELINE AND THE SCREAM QUEENS #6 - 20 COPY RETAILER INCENTIVE VARIANT BY RICH TOMMASO!
---
NEW! 1. 11/25/2020 - STEVE SKROCE
4. 11/16/2020 - RYAN O'SULLIVAN
5. 11/16/2020 - RYAN O'SULLIVAN