MIKE WOLFER

SEND THIS TO A FRIEND!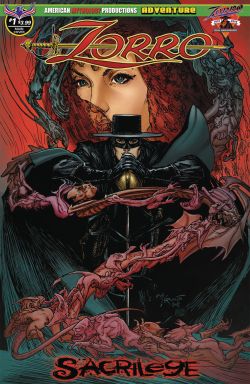 DF Interview: Mike Wolfer sends a hero against unspeakable horror in 'Zorro: Sacrilege'
By Byron Brewer
The legendary hero Zorro must face something more terrifying than even the living dead – demonic possession of the innocent! Something evil has festered into the soil itself of a newly-constructed canyon community as a wave of demons turn simple farming folk into bloodthirsty vile fiends. Zorro must find a way to end the corruption and send these foul spirits back to the netherworld. Can even the incredible swordsman stand against the blackest of supernatural forces when that entity has the power to infest the holiest of sites, the mission church itself? Join us for a new brand of horror/adventure that pits a legendary hero against supernatural threats and horrors!
From American Mythology comes Zorro: Sacrilege, a dose of derring-do and dread drama from writer Mike Wolfer and artist Mauricio Melo. DF wanted to learn more about this new form of Zorro adventure, so we sat down at a quaint restaurante with el escritor, Mike Wolfer.
Dynamic Forces: Mike, what does it feel like to be a part of writing as iconic a hero as Zorro, and – AND – during his centennial celebration?
Mike Wolfer: This assignment really caught me off-guard, one of those things that comes along that I jump at because it's an exciting, new storytelling prospect for me. When someone says, "Hey, would you like to write a Zorro series," most writers will say, "Of course I do!" But it wasn't until after I began doing research for Zorro: Sacrilege, and re-reading some of the old novels that it really hit me: One hundred years! And I'm now adding my voice to that extensive catalog of adventures. It really is an honor.
DF: As well as writer of the coming Zorro: Sacrilege, you are editor-in-chief of American Mythology. Where did the idea to mash up Zorro with horror and the supernatural for his latest adventures come from? Obviously, in 100 years, it IS fresh ground.
Mike Wolfer: Zorro is one of the leading names in a genre that barely exists anymore – the pulp novel, heroic adventure tale. It's sad, but characters with their roots in the pulps just don't resonate with today's comics readers, and I think that part of the reason is because the time period in which they're set is so far-removed from modern audiences. Most readers today don't have relatives who were alive in the time that the old pulp novels were set, so there's not even a peripheral, personal connection. The late nineteenth century is no longer within anyone's living memory. But the stories, the characters, the thrilling adventures are just as valid today as they were one hundred years ago. So, to appeal to modern audiences, we thought that it would be best to say, "Listen, you might not be able to relate to the core subject matter, but you do like horror, right?" We bring them in with the horror, but then hopefully they'll be hooked by the character and setting, and we'll have a new convert to the cult of Zorro!
DF: What can you tell us about the storyline for this new adventure, Sacrilege?
Mike Wolfer: It's the second of our new, supernatural mini-series. The first was Zorro: Swords of Hell, written by David Avallone and illustrated by Roy Allan Martinez. Sacrilege takes place after the events of Swords, but it's designed to be a stand-alone story. In my story, Don Diego de la Vega (Zorro) is at a point in his life where he desperately needs time to think, and to contemplate his victories and losses. He has agreed to make a business trip on behalf of his father, who has privately funded the construction of an Asistencia, which is a smaller version of a mission, far from El Camino Real, where everyone knows of the legend of Zorro. But in San Leticia Asistencia, "El Zorro" means nothing, they've never heard of him, so Don Diego figures that this is the perfect place for him to spend a short vacation, in peace. You do know that's not going to happen, right?
DF: Without spoilers, what type of terror will The Fox and his masterful sword be facing this go-round?
Mike Wolfer: This series, to me, is horrifying on two different levels: one historical, the other supernatural. In the time that this story is set, California was still Alta California, and was being colonized by the Spanish. In their effort to firmly establish themselves as the owners of the land, missions were built, and the Native American inhabitants of the land were tricked into moving into the missions, where they were indoctrinated into Christianity, and basically enslaved. Their customs, beliefs, and even languages and histories were eradicated… and that's the backdrop for Sacrilege. But the "villain" of the story, if you can call it that, is an ancient evil that has infiltrated San Leticia Asistencia, a force that is capable of raising the dead, conjuring ghosts, and possessing the living. It's a real horror show. And Zorro is trapped right in the middle of it all.
DF: Mike, give us your take on who Zorro – Don Diego de la Vega – is: as a character, a man and a hero.
Mike Wolfer: You know Batman, right? He's Batman, except with a horse, a whip and a sword. But seriously, Batman and so many other crime-fighters with dual identities all sprang from the Zorro archetype. The secret identity thing is familiar to anyone who enjoys comics or movies. But the one aspect of Don Diego that I find most compelling and different from, say, Bruce Wayne, is that Zorro is his crime-fighting alter-ego, but "Don Diego" is, in itself, an act as well. In order to ensure that no one ever connects Don Diego to Zorro, he has created a false identity for himself as Don Diego, that of the bored, disinterested, poetry-loving rich kid. Around others, he acts more interested in his clothing than in women, and he vehemently detests violence. So, it's interesting. In essence, he has two identities, and perhaps the true identity of Don Diego is the one that he never shows to anyone.
DF: What does artist Mauricio Melo bring to this iconic table?
Mike Wolfer: Mauricio's work is very stark, and very simplistic; very clean, exact lines, but he uses a lot of black ink, too, which really lends itself well to this kind of story. It's very crisp, and his interior background work is really exceptional. For me, settings are absolutely vital to comics storytelling, and I really detest floating heads against solid color backgrounds. I need to feel like I'm there, because that creates an immersive experience, and it's something that Mauricio does quite well.
DF: So how exciting is it to have the main covers of Zorro: Sacrilege be drawn by comics legendary artist Michael Kaluta?
Mike Wolfer: That was another of those things that caught me off-guard. We were prepping cover art, deciding on who's doing what, and I'm told, "Oh, yeah, we've been talking to Michael Kaluta, and he wants to draw a Zorro cover." "Uh. Oh, yeah, okay. Cool." Meanwhile, my brain is melting. I really can't believe it, because I've been enjoying Mr. Kaluta's work since his House of Secrets covers, and the piece that he's done for Zorro: Sacrilege is everything that you'd expect, and more. It's stunning.
DF: Mike, what else are you working on as a writer these days – inside comics or out?
Mike Wolfer: Wow. Where do I begin? Aside from Zorro: Sacrilege, I've written a new, three-issue series that's going to blow everyone's socks off called The Land That Time Forgot: Fearless for American Mythology's Edgar Rice Burroughs line, and I'll also be writing a new Pellucidar mini-series for the same line. I'm currently working on a four-issue Casper series that I'm developing with Eric Shanower for Casper's Spooksville, as well as writing some of the back-up stories for that series, featuring characters like Hot Stuff, Wendy and the Spook-Cats. I'm also lending a hand over on Underdog with some Tooter the Turtle tales ("Help me, Mr. Wizard!"), and we've also been working on the next two chapters of our Eternal Thirst of Dracula series. Even with all of that on my plate, I've still found time for a few other things that I can't discuss at this time, but I will have some ridiculously exciting news to share in the next few months.
Dynamic Forces would like to thank Mike Wolfer for taking time out of his busy schedule to answer our questions. Zorro: Sacrilege#1 from American Mythology hits stores Feb. 27th!
For more news and up-to-date announcements, join us here at Dynamic Forces, www.dynamicforces.com/htmlfiles/, "LIKE" us on Facebook, www.facebook.com/dynamicforcesinc, and follow us on Twitter, www.twitter.com/dynamicforces.
---
NEW! 1. 11/30/2020 - SKYLAR PATRIDGE
5. 11/16/2020 - RYAN O'SULLIVAN