TYLER BURTON SMITH

SEND THIS TO A FRIEND!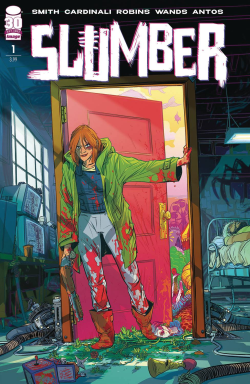 DF Interview: Tyler Burton Smith brings nightmares to life in paranormal serial killer series, 'Slumber'
By Byron Brewer
Stetson is a nightmare hunter. A dream detective. She runs a shoddy back-alley business where she helps clients sleep at night by entering their dreams and killing their nightmares. But Stetson's past comes back to haunt her when she tracks down a literal living nightmare – a serial killer that murders people in their sleep.
From the twisted minds of writer Tyler Burton Smith (Kung Fury, Child's Play) and artist Vanessa Cardinali springs the forthcoming thriller, Slumber. This all-new ongoing series launches from Image Comics in March, but right now I am going to release onto a deserving daytime world what scribe Tyler Burton Smith has told me about his monstrous mag.
Byron Brewer: Tyler, having had nightmares of my own from various Chucky iterations of your Child's Play, I am curious if it was perchance some type of wild dream/nightmare of your own that might have inspired Slumber? If not, what?
Tyler Burton Smith: Slumber stems from my long obsession with dreams. A big part of that inspiration comes from nightmares I've experienced. In my early 20s I had recurring nightmares where I was visited by this dark figure that could emerge out of any shadow. He would just suddenly appear out of a dark corner or crawl out of a shadow on the floor. Truly terrifying stuff.
I was haunted by nightmares like this for months and was deeply sleep-deprived. I kept thinking to myself "I wish I could pay somebody to go into my dreams and shoot this goddamn nightmare in the face." That's where the premise of this comic comes from. It answers the question of what would happen if you could hire somebody to erase your worst nightmares, and all the complications that build from that.
Byron: The roaming around in others' dreams is fodder for a lot of comic cosmic sagas, chief among them in my mind Dr. Strange's very first adventure in meeting the Marvel dreamweaver Nightmare. What type of world(s) of the dreamscape are you and artist Vanessa Cardinali building here for Slumber and how might they stand apart from what comics readers have before experienced?
Tyler Burton Smith: Part of the fun of this comic is that every dreamscape Stetson enters is a representation of her client's inner psyche with its own distinct feel and set of rules and selection of strange characters. When we enter a client's dreams, we'll learn who they truly are and unpack their darkest truths through the dream world we're experiencing. That gives us a lot of creative liberty to explore dreams with drastically different looks, from sprawling psychedelic landscapes to eerie claustrophobic settings, but the feel of the dream is always intrinsically linked to the subject of the dream and what they're going through.
Byron: Introduce us to your protagonist Stetson, and tell us what you can about her (without spoilers, of course). She certainlty has an interesting occupation.
Tyler Burton Smith: Stetson is a glorious mess of a human being. She enters clients' dreams and erases their nightmares for a living, so her job requires a clear set of rules. Stetson breaks them all. She'll steal items from your dream to decorate her apartment. If there's a bar in your dream, then she'll probably get drunk. She's got a roguish sense of mischief and deeply self-sabotaging behavior. Probably the last person you want meddling with your dreams, but unfortunately for her clients she's the only one with the technology to do it.
Stetson has a tragic backstory that led her to this line of work. We'll learn about that as the comic progresses, but what I can say is that the demons of her past come back to haunt her as she discovers connections between her past and the case she's currently pursuing.
Byron: What other characters might we be meeting in issue #1 or soon upcomings of this ongoing? Can you spotlight a few here?
Tyler Burton Smith: One of my personal favorites is Stetson's nightmare hunting sidekick, Jiang. He's a nightmare creature – a vampire/zombie from Japanese horror movies – that Stetson rescued from the dreamscape to work for her. He's a fun sardonic presence and is usually hungry for human flesh.
We'll also meet Finch, a homicide detective who's investigating a series real-life murders committed by individuals who claim they were asleep when these murders took place. They call it The Sleepwalker Killings. These murders are mysteriously linked to Stetson's business and her clients, which creates an interesting cat and mouse dynamic between Finch and Stetson.
Byron: I do not want to mention too much about the character/creature Stetson eventually tracks down, except he is murderous. For some reason, though, I have a feeling that her life has been involved with his/hers/its in some way? Any comment on that theory?
Tyler Burton Smith: This case is deeply personal for Stetson. I will say that this mysterious nightmare serial killer is directly inspired by the shadow person nightmares that I experienced years ago. We'll gradually reveal more about this character as the comic progresses.
Byron: Talk a little about the art of Vanessa in this mag. I love what you said in one interview about her artwork depicting "the perfect marriage" of "the surreal world of dreams that is meant to be as weird, funny, unsettling and unpredictable" as what we've all experienced.
Tyler Burton Smith: I'm really excited for people to see the wild worlds that Vanessa has created. She has a beautiful style that is playful, twisted and emotionally resonant. We explore a lot of different kinds of dreams and Vanessa adapts her style to what we're exploring, but she always roots her art in these characters and their journey.
Byron: As long as I have you, if you don't mind and would be so kind and patient, I would love to know a little about the thought process that goes into one of your films like Child's Play as opposed to how you might approach a comic of similar flavor like Slumber. These things fascinate me.
Tyler Burton Smith: For me, no matter the medium, storytelling always starts with creating an engaging character story and then building a world around it. It all starts with character for me. Writing for movies and comics are similar in that you are essentially creating a blueprint for artists to interpret. However, film is a much more dialogue-driven medium, whereas comics require more focus on telling story through visuals. The old storytelling adage "show don't tell" is even more important in comics. I love the challenge that presents.
Byron: Tyler, in wrapping up, can you tell readers a little about any projects, inside or outside comics, coming up in which you might be involved?
Tyler Burton Smith: I wrote a movie called Boy Kills World, starring Bill Skarsgard and produced by Sam Raimi, which is set to start filming soon. I'm extremely excited for that. It's a story I'm really proud of and I think it's shaping up to be a very special movie. Slumber is my first comic, but I would love to dive more into the medium in the near future.
Dynamic Forces would like to thank Tyler Burton Smith for taking time out of his busy schedule to answer our questions. Slumber #1 from Image Comics is slated to be on sale March 16th!
For more news and up-to-date announcements, join us here at Dynamic Forces, www.dynamicforces.com/htmlfiles/, "LIKE" us on Facebook, www.facebook.com/dynamicforcesinc, and follow us on Twitter, www.twitter.com/dynamicforces.
---
NEW! 1. 11/28/2023 - CULLEN BUNN
4. 11/08/2023 - OLIVIA CUARTERO-BRIGGS
5. 11/02/2023 - ETHAN SACKS & NAOMI SACKS