ERIK BURNHAM

SEND THIS TO A FRIEND!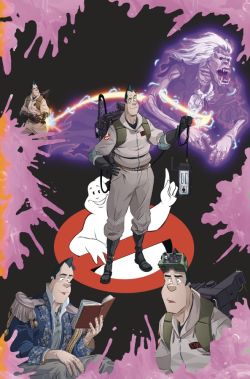 DF Interview: Erik Burnham reveals early cases from the Boys in Grey in 'Ghostbusters: Year One'
By Byron Brewer
In anticipation of the new Ghostbusters feature film coming to theaters this summer, IDW Publishing is looking back at the Boys in Grey's first year on the job. Being interviewed for a book on the Ghostbusters, Ray Stantz will relate some of his earlier days working with Venkman and Spengler, as well as tell the tale of their first concrete encounter with a ghost... AND the eventual fate of that spectral librarian that chased them out of the New York Public Library!
From the fan-favorite creative team of writer Erik Burnham, artist Dan Schoening, and colorist Luis Antonio Delgado comes Ghostbusters: Year One, never-before-seen adventures from their earliest cases.
DF missed the boat on issue #1 (something about the celebration of a new-born King and a new-born year), which is in stores now and we discuss in our interview with scribe Erik Burnham. But never fear! Issue #2 coming in February offers lots more surprises and answers some questions for longtime franchise fans. Hop aboard the Ecto-1 and let's get 'bustin'! Who ya gonna call?
Dynamic Forces: With the coming of a new Ghostbusters film this summer, what better time to look back at the Boys in Grey? Erik, you must be pretty excited.
Erik Burnham: I'm absolutely excited -- excited to be working on more Ghostbusters, excited for the movie, and especially excited for all the positivity I've been seeing from the bulk of fans over the works.
DF: Before we talk this special limited series, Ghostbusters: Year One, tell readers about your own history with this iconic franchise. How much have you written about the team in its various iterations, and were you a fan of the films?
Erik Burnham: Oh, I've been a fan from go. Saw the ending of the movie -- Slimer flying at the camera -- at a relative's house when I was young. We'd just arrived for a visit and that had stuck with me. They rewound the tape and I experienced the movie for the first time, and loved it. The Real Ghostbusters followed and really solidified things for me.
I've technically been writing Ghostbusters-related works since 2010, when I was given the go-ahead to write the Infestation tie-in, and in that time I've handled just about every character (and added several more!). I've worked on games, some prose, and trading cards in addition to the comics… and I'm not ready to stop if they're still happy with me! There's too much fun yet to have.
DF: What is the storyline for the 4-issue miniseries?
Erik Burnham: This takes place just after the Ghostbusters have stopped Mr. Stay Puft. A publisher decides to do a quick cash-in biography, and puts a writer on the project. They interview everyone they can, and, in the case of the Ghostbusters, get insight into scenes the first movie hinted at, but never showed… such as Winston's first bust. We never actually saw him do any busting onscreen until the climactic Gozer battle.
DF: Before we go forward, for those new to Ghostbusters or those who have just been under a rock (and today, who can blame them?), can you briefly introduce our cast of characters?
Erik Burnham: Briefly (and don't worry, they're all introduced in every issue with a handy dramatis personae page), we have Winston Zeddemore, the first recruited Ghostbuster. a former Marine and the most level-headed of the group. Drs. Egon Spengler, Ray Stantz, and Peter Venkman -- varying shades of loony, these three men were released from their positions at a university for being charlatans. Peter is a fast-talker with a psychology degree, the other two are the brains behind the research and development of ghost-hunting technology. Those are the Ghostbusters in a nutshell.
DF: Via a publisher ready to cash in on Team Grey's fame, the first adventures we saw in issue #1 (already on sale) were those of Winston Zeddemore. Let's not spoil those times, even though in stores now. Instead, tell us a little about your take on this character.
Erik Burnham: The short answer? Winston's a good man drawn to service and practicality, which makes him the best contrast to the other three. He's not a fast talker, he's not distracted by the next shiny idea, and he's empathetic, to my mind. He's the adult on the team.
DF: In #2, coming in February, our intrepid writer talks with Ray Stantz. Can you hint at any of the adventure(s) Ray might discuss? Anything that might have had threads from the first Ghostbusters film?
Erik Burnham: The interviewer straight out asks Ray about the Librarian ghost, their first encounter with the supernatural. Once they'd developed proton packs and traps, did they ever go back after the one that got away? The answer is yes, and we show that here. My favorite scene is in this issue as well; it's only a few panels, but it shows Peter introducing Ray to Egon back in their college days. (The HAIR Dan drew on them!)
DF: In our excitement and nostalgia, I don't want to forget the awesome art of Dan Schoening! Tell us a little about Dan's work on this book.
Erik Burnham: With every new story, Dan and colorist Luis Antonio Delgado have upped their game and with the art almost done on this entire series, I can tell you for a fact that the same is true on Year One. Tons of detail, subtle acting, clear action and added gags from Dan; amazing mood and ambiance from the palette of Luis. It's just beautiful work, and words, in this case, can't do it justice. Check out the introduction of #1's ghost as exhibit A!
DF: Erik, besides calling the Ghostbusters, what other projects do you have coming for your devoted fans?
Erik Burnham: Launching the SAME DAY is the first issue of Red Sonja: Age of Chaos, or a story of Red Sonja meeting the Chaos characters.
I'm also still slowly working up a few creator-owned things, but won't try to do anything with them until they're done, or at least further along. I have one I may draw myself, and once it's written and at least 10 pages are finished, I'll just start posting it at my Patreon page (www.patreon.com/erikburnham) which is currently filled with scripts, lost pitches, gag comics twice a week, and assorted other tomfoolery.
There are a couple of other things I just put pitches in for as well that have gotten good response -- now I'm just waiting to hear the word "go". Hopefully that'll be soon, and I can share the news with everybody!
Dynamic Forces would like to thank Erik Burnham for taking time out of his busy schedule to answer our questions. Ghostbusters: Year One #2 from IDW Publishing hits stores on Feb. 26th! Issue #1 is in stores now!
For more news and up-to-date announcements, join us here at Dynamic Forces, www.dynamicforces.com/htmlfiles/, "LIKE" us on Facebook, www.facebook.com/dynamicforcesinc, and follow us on Twitter, www.twitter.com/dynamicforces.
RED SONJA: AGE OF CHAOS #1 - ATLAS EDITION SIGNED BY ERIK BURNHAM
TEENAGE MUTANT NINJA TURTLES GHOSTBUSTERS #2 BLANK VARIANT EDITION SIGNED & REMARKED BY KEN HAESER WITH A HAND-DRAWN SLIMER SKETCH IN GREEN!
RED SONJA: AGE OF CHAOS #3 - LUCIO PARRILLO CGC-GRADED COVER
RED SONJA: AGE OF CHAOS #1 - COSPLAY COVER SIGNED BY SHANNON KINGSTON
RED SONJA: WORLDS AWAY VOL. 4 - THE BLADE OF SKATH TRADE PAPERBACK
VAMPIRELLA/DEJAH THORIS TRADE PAPERBACK
RED SONJA: WORLDS AWAY VOL. 2 TRADE PAPERBACK
KISS: THE ELDER VOL. 2 - ODYSSEY TRADE PAPERBACK
KISS: THE DEMON TRADE PAPERBACK
CHASTITY VOL. 2 #5 - CATHERINE NODET LIMITED VIRGIN COVER
---
NEW! 1. 11/23/2020 - CHUCK BROWN
3. 11/16/2020 - RYAN O'SULLIVAN
4. 11/16/2020 - RYAN O'SULLIVAN