GABRIEL HARDMAN

SEND THIS TO A FRIEND!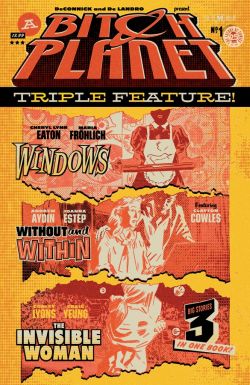 DF Interview:
Ascend Gabriel Hardman's Belfry at your own risk
By Byron Brewer
When an airliner crashes in a remote jungle, everyone walks away unscathed only to find you can't escape the lush, brutal world of The Belfry.
From Hugo Award-nominated writer/artist Gabriel Hardman (Invisible Republic, Kinski, Star Wars Legacy), The Belfry is a self-contained one-shot that may just strip you of your humanity.
To get the full 411, DF caught up to storyteller Gabriel Hardman.
Dynamic Forces: Gabriel, tell us a little about how The Belfry, a one-shot you've done for Image Comics that will be coming readers' way in February, came about. How did you develop the concept?
Gabriel Hardman: The original spark for The Belfry came from a pin-up I drew for a horror anthology a few years ago. The image depicted a woman with bat wings lying on the floor of a cave while people with flashlights approach in the distance. It was just a concept I came up with quickly and gave little thought to at the time. But the imagery in that pin-up stayed with me. The more I thought about it, the more I felt there was a story in that world I'd like to explore … so that's exactly what I did.
DF: What is the storyline in this self-contained adventure?
GH: It's a horror story -- like a violent and atmospheric episode of Twilight Zone with a much bigger budget for creature effects. And I'm pretty sure Rod Serling couldn't have pulled off the number of crazily sadistic bat people I've populated this book with.
DF: The plane crash and mysterious circumstances remind me a little of the TV show Lost.
GH: While there is spookiness and some ambiguity in The Belfry, unlike Lost the plane crash has a very direct cause connected to the creatures on the island. And I'm not going to string you along for five years, this story is over in 22 pages!
DF: Hah! … Is the outside world aware of the plane crash? What exactly is occurring outside the jungle that we may need to know about, even if the passengers do not?
GH: The Belfry is set in the late 1940's so everyone on this island is completely cut off from civilization. It was important that it be set at a time when it didn't feel like every corner of the Earth was documented. That there still could be horrors out there that GPS or a satellite phone can't protect you from.
DF: Who are the naked bat people, and what is their back story … or at least as much as you can reveal?
GH: I feel like it's really important that the reader get the chance to come to their own conclusions about stuff like this. So much of how I like to tell a story is by inviting the reader to meet me half way – to engage in the story and find the meaning. That's the kind of book I like to read and it's the kind of experience I want to provide.
DF: Gabriel, this is a very different story for you as writer. Why go so dark?
GH: Honestly, things in the world have been going in a dark direction, particularly here in the United States. I wrote and drew The Belfry in September of 2016 but you could argue that it's my way of grappling with a lot of the unpleasantness going on in the country then using the story as an outlet for those feelings.
DF: In contrast, the art style you adopt for this book is very lush, having a particular beauty all its own. An unusual juxtaposition for a comic, no?
GH: I wholeheartedly believe in juxtaposition and contrasts. It just makes sense to me to present a dark and horrific story in a visually appealing way. A great example of this is David Lynch's film Blue Velvet. It goes to very grim places but the lush, colorful photography of Fredrick Elms acts as the perfect counterpoint.
DF: Your character design, again, is very detailed. Was there a particular character or set piece either you really enjoyed or that presented a particular challenge? Maybe the bat people?
GH: Clarity is always the challenge with character design. In a way the bat people are easy because they have a big obvious signifier – bat wings. Making the human characters distinctive is the bigger challenge, especially since I rely so heavily on the visuals to carry the story.
DF: Do you enjoy being your own creative one-man band – being writer and artist – over collaborations? How do you approach each circumstance differently?
GH: I love to collaborate and I also love to create a book all on my own. They each have challenges and benefits. But even when I'm collaborating on a comic, I think it's best to have the smallest team possible. On Invisible Republic, our long form sci-fi series from Image, we have a very small crew. Corinna Bechko and I write it, I draw it, Jordan Boyd colors, Simon Bowland letters and Dylan Todd does design work. Comics are great because no matter what you can make a book with a small team of collaborators – even as small as one person. By the way, Dylan Todd also helped me out on The Belfry. He did an amazing job designing the logo.
DF: Gabriel, what other projects current or near-future might you want to tell us about?
GH: Invisible Republic #15 is out in February. It's the last issue of our third arc and marks the halfway point for the series, which is very exciting for us. There is another project we're working on – a big two freelance project – but that's not announced yet. I also spent last year storyboarding Logan, the third Wolverine movie but I can't talk about that until it's in theaters. The one extra thing that I hope to get finished is a comic of horror short stories by Corinna and myself. We've been working on these for a while and would like to put together a couple of the stories in a special issue that we print up and sell at Emerald City Comic Con in Seattle in March. That'll be a lot of fun.
Dynamic Forces would like to thank Gabriel Hardman for taking time out of his busy schedule to answer our questions. The Belfry one-shot from Image Comics hits stores Feb. 22nd!
For more news and up-to-date announcements, join us here at Dynamic Forces, www.dynamicforces.com/htmlfiles/, "LIKE" us on Facebook, www.facebook.com/dynamicforcesinc, and follow us on Twitter, www.twitter.com/dynamicforces
JOHN CARTER: THE END #1 RARE GABRIEL HARDMAN "VIRGIN ART" EDITION
ARMY OF DARKNESS: FURIOUS ROAD #1 (OF 6) RARE GABRIEL HARDMAN "VIRGIN ART" EDITION
ALIENS / VAMPIRELLA #1 (OF 6) RARE GABRIEL HARDMAN "VIRGIN ART" EDITION
MASKS 2 #1 COVER O HIGH-END ULTRA-LIMITED - GABRIEL HARDMAN "VIRGIN
---
NEW! 1. 11/25/2020 - STEVE SKROCE
4. 11/16/2020 - RYAN O'SULLIVAN
5. 11/16/2020 - RYAN O'SULLIVAN