STEVE ORLANDO

SEND THIS TO A FRIEND!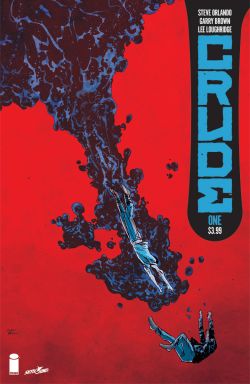 DF Interview: Steve Orlando drills for vengeance in Crude
By Byron Brewer
Killers once feared Piotr Petrovich. Now, they've sent his son home to him—in a body bag.
Haunted by his failures, Piotr journeys across Russia to learn what type of man his son really was, while hunting the bastards who killed him. And once Piotr finds them, they will learn to fear him once more …
From writer Steve Orlando, artist Garry Brown, colorist Lee Loughridge and letterer Thomas Mauer comes the gritty revenge thriller Crude. Seeking even greater knowledge for you, the reader, DF sat down with scribe Steve Orlando.
Dynamic Forces: Steve, give us the elevator pitch for Crude.

Steve Orlando: Piotr Bilibin spent years as a government assassin, a dangerous life for a dangerous man. And there was no one he wanted to protect from that life more than his son, Kiril. So he lied, and the man he was drove a wedge between him and Kiril. These were two men hiding who they really are, a toxic distance that drove Kiril to drastic measures in search of freedom: the rugged but free life of Blackstone, the far east refinery city. After a year with no contact, Blackstone sends Kiril back in a body bag. Now, too late, Piotr sets out to discover who his son truly was, and crack his boot against the jaws of those that took Kiril from him.
DF: Tell us the inspiration for this new Skybound series.
Steve Orlando: The world! This is a book about the tragedy of stoicism, lost relationships and foregone understanding told through the lens of explosive, hyper-masculine violence. The inspiration is my own upbringing, watching men communicate, and my time living in Russia, in Vladimir, where even more is lost to being unsaid.
Here, the losses are monumental. A son that abandoned a father he thought could never accept him, and a father that never bothered to say he did. Now Kiril is dead, and Piotr responds in the most violent way possible. Yet still, now in a revenge narrative, his emotions are excused. It's tragic that it's easier for Piotr to admit his love for his son once Kiril has been killed, as he now has a primal motivation, a cthonic drive, beyond simple love.
DF: Who is Piotr Petrovich Bilibin as a character? Are there any aspects of his character reflective of his creator?
Steve Orlando: I'm certainly not an assassin! Piotr Bilibin is a former government fixer, a legendary killer among the black ops community, who so feared his life hurting his son Kiril that he closed himself off from him. Piotr hid in the lie of the bland insurance salesman, the distant father, and ended up driving Kiril away anyway, putting him in danger.
So that's not me. But Piotr's rage and not doing more when he could have, not saying what he should have when he could have, comes directly from me. He feels ultimate impotence, he cannot bring his son back to life. And that rage drives him in ways I empathize with on a smaller scale, absolutely.
DF: Wow. … What other characters do readers need to know about as they approach this new series? Can you introduce some to us?
Steve Orlando: There is Kiril, a son that grew up seeing his father as stoic, reserved and weak. A shell of a man with no accomplishments. He didn't know his father was an iconic government killer. He saw only the man that settled for a small life. So he expects the worst of Piotr, and abandons him for life on Blackstone where he can live openly as bisexual. As polyamorous. As a leader.
And Blackstone, the refinery city hell built up out of the oil slick oceans of the Russian Far East, needs leaders. It is engulfed in a turf war between PetroPinnacle, its original owners and builders, and Meshe Adam, an organized crime group that's every bit as corrupt, but masquerades as freedom fighters. The true losers are the workers, the different and dismissed of the world, who come to Blackstone for the myth of freedom paid for by hard, bone-breaking work.
They need a champion, and they might have one in Prava, the newest group popping up on Blackstone to fight Meshe Adam and PetroPinnacle both. The leaders of Prava are mysterious … for now.
DF: Kiril is obviously a huge part of this saga. Any more you can tell us about this motivating character?
Steve Orlando: Kiril is someone who is sick of living in hiding in Vladimir. After years living and loving in hiding, he's fed up. He lives in a world where Occupy Pedophilia tricks queer men into traps and tortures them, where Chechnya puts them in concentration camps. Kiril doesn't even consider his father could accept him, and jumps right to the decision to move to Blackstone. Kiril has furious convictions, and an iron willed optimism. He is so tired of being in the closet, of being hidden and ashamed, that he will gladly trade Blackstone's harsh work conditions for the fact that when he clocks out, he can live openly and be free.
He didn't think he'd have to trade his life for it, though.
DF: Tell us more about Blackstone.
Steve Orlando: Based on actual oil refinery towns, Blackstone is one part Kowloon Walled City and one part Minis Morgul, an industrial monolith of a city rising out of the ocean, propelled by greed and corruption on the Far East Russian frontier. As with the outskirts of any country, including our own, people keep to themselves here, respect privacy, and value hard work above all else.
It's dangerous, just like any frontier. But it's also where people can live their most vital lives, if PetroPinnacle and Meshe Adam would only let them.
DF: How has it been collaborating with artist Garry Brown? What does he bring to this table?
Steve Orlando: Garry is amazing! The book has been a true collaboration, and so Garry brings an immense amount of style and creativity to the table. Most of the book was written plot-style, which has given him room to innovate with his page layouts and designs. It's a riskier style of work, requiring trust, but it's also I think the most rewarding way to make a comic. We are truly a team, sharing risk, making something better than either of us could create on our own. The look of the book, its storytelling modes, its energy, all are owed to Garry's constantly exciting work.
DF: Steve, are there any other projects current or near-future you can tell us about?
Steve Orlando: MILK WARS! Upcoming from DC Comics and Young Animal, it's the first time the two universes meet, with bookends co-written by me and Gerard Way, as well as the two of us overseeing the entire event. It's the proudest thing I've done so far at DC, as well as the project that reunites me with Midnighter's ACO, doing his most beautiful work yet. It's the heroes of the DCU versus the evils of the monoculture, beginning the last week of January and running through February weekly!
Dynamic Forces would like to thank Steve Orlando for taking time out of his busy schedule to answer our questions. Crude #1 from Skybound Entertainment hits stores April 11th!
For more news and up-to-date announcements, join us here at Dynamic Forces, www.dynamicforces.com/htmlfiles/, "LIKE" us on Facebook, www.facebook.com/dynamicforcesinc, and follow us on Twitter, www.twitter.com/dynamicforces.
JLA/DOOM PATROL SPECIAL #1 SIGNED BY STEVE ORLANDO
SHADOW/BATMAN #1 - SIGNED BY STEVE ORLANDO
BATMAN/SHADOW #1 ULTRA LIMITED SHADOW SILVER SIGNATURE EDITION SIGNED BY STEVE ORLANDO
MIGHTY MORPHIN POWER RANGERS #0 ULTRA-LIMITED RED RANGER SIGNATURE EDITION SIGNED BY STEVE ORLANDO
MIDNIGHTER AND APOLLO #1 SIGNED BY STEVE ORLANDO!
SUPERGIRL #1 SIGNED BY STEVE ORLANDO
SUPERGIRL REBIRTH #1 SIGNED BY STEVE ORLANDO
---
NEW! 1. 11/30/2020 - SKYLAR PATRIDGE
5. 11/16/2020 - RYAN O'SULLIVAN