STEVE ORLANDO

SEND THIS TO A FRIEND!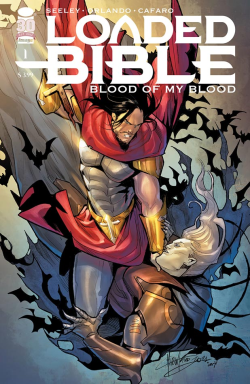 DF Interview: Steve Orlando discusses the return of 'Loaded Bible' and its new vampire mini-series, 'Blood of My Blood'
By Byron Brewer
Decades after the events of the original cult series, Loaded Bible, Jesus' vampire-hunting clone is a bigger outlaw than ever, and now, he has to face a threat like no other. The church has cut a deal with the vampire nations to unite under their cloned savior – Dracula.
Loaded Bible is back, courtesy of Tim Seeley (Hack/Slash, Nightwing) and Steve Orlando (Commanders in Crisis, Marauders), with art by Giuseppe Cafaro (Suicide Squad, Red Sonja). A 6-part monthly mini-series starting on Ash Wednesday!
I checked with my buddy, co-writer Steve Orlando, about this new installment, Blood of My Blood, and by the time our discussion was completed, it was an interview.
Byron Brewer: Steve, to set the tone for this return of a legendary comic series – and I know it was your co-writer Tim Seeley and not yourself who got this ball rolling – sum up as best you can what the first series (basically spread out one-shots) was about please.
And by the way, congrats and appreciation to whatever genius arranged to have this come out on Ash Wednesday!
Steve Orlando: So, it's actually a little of both. Tim absolutely created Loaded Bible and got that ball rolling. But as to who got this specific Loaded Bible: Blood of My Blood ball rolling, I think Tim would agree I've been badgering him about doing more with this series since we first met at the DC YOU summit in 2015. It's been a journey! But I loved the blockbuster satire present then, and I love it now. What we hope will end up as the first book of this epic is what came before, consisting of three one-shots: Loaded Bible, Loaded Bible 2: Blood of Christ, and Loaded Bible 3: Communion.
Before our series begins, these series cover the discovery of the vampire clans, and present the fact that the church has become much more fanatical in response to the vampiric emergence. All that is before the church spurns a nuclear global war, which leaves Earth nearly uninhabitable but for a few church-founded cities which exist under strictly enforced moral law. As this new world dawns, the church's hubris is greater than ever. They clone Jesus Christ himself, intending for him to be the living symbol of their superiority and power. But they cloned him too well, and Jesus turns against them, intent on saving humanity not just from vampires, but from the church's oppressive hypocrisy.
Byron: In this new six-issue miniseries from Image Comics, we are decades removed from the original books. What has transpired in that time and where do we find Jesus' vampire-hunting clone?
Steve Orlando: I don't know about decades, but there's certainly been a narrative pause. We've already seen Jesus break away from the church and become a hero of the forsaken. Since the last series, he's had more time to put that mission into action. He's found a powerful ally in one of his own family. He's discovered the wreck of one of the church's failed interstellar missions, and around it, built a community where those the church has judged can thrive – where love is the law. Love yourself. Love your neighbor. Or get the f*ck out.
The permanence of that community represents a growing threat to the church, which is why they've been forced to consider pacts they never would've in the past, and resurrections even more unholy than cloning the son of God.
Byron: Do I understand that in this time period, the Christian churches have actually cut a deal with vampires nations to unite … under Dracula?!
Steve Orlando: That's right! To maintain their power, the church has cut a deal with the vampire clans. Church leaders are desperate to sustain the control they have over the populace, one they keep fed by fear, judgment, and intimidation. New Vatican City cannot fall, the church will stop at nothing to ensure that. They've turned from scapegoating vampires to scapegoated Jesus's community of saved folks. And in return for the vampires coming under their wing, they've offered to resurrect a vampire icon, Dracula himself, and install him as the new pope. With Dracula as a strong hand to unite the vampire clans and the church, the New Vatican has its best chance of destroying Jesus and his crew of unfortunates, and securing power for generations to come.
Byron: This is awesome story stuff, reminding me of Marv Wolfman's Tomb of Dracula arc where Dracula fathered a mortal son that was then possessed by an angel. I am expecting readers will find both a dang good slobberknocker 'twixt JCC (Jesus Christ Clone?) and Drac as well as some seriously satisfying heady themes?
Steve Orlando: Between Tim and me? Absolutely. This is a blockbuster satire with heart, but it does have strong ideas about radical love, radical acceptance, and the lengths to which evil will go to in order to maintain power. In a lot of ways, this is a gonzo continuation of my work on Wonder Woman, since both books star warriors who put love first, and will do anything to protect those cast aside by the world.
Byron: Talk about the pulse-pounding art of Giuseppe Cafaro, and your team-up here with creator Tim Seeley.
Steve Orlando: Both of these creators are a vital part of this book's existence. Giuseppe's art, which is just bristling with blockbuster energy, is unquestionably the book's heart. And Tim, as our spiritual north star and the concepts co-creator, is the book's soul. All these forces align to keep us on the right creative track. But Giuseppe has truly done something special here, especially. He's taken an incredibly challenging world and dove right in to make it his own. This at once feels like the world of the past volumes, but also like a meatier, bigger tentpole reinvention. He knows this is a world of action heroes and villains, and with every page Giuseppe turns in, he raises the bar and crushes the assignment.
Byron: Steve, you are a self-admitted fan of Tim's early work with this story-matter. What made this grindhouse pop culture so appealing to you as a reader?
Steve Orlando: I love a bit of subversion, especially when it's seeded with a powerful truth. That, to me, was Loaded Bible. The book wasn't what I expected when I first picked it up, and to me, that's the best experience. I expected something that was going to mock Christian mythology, but what it truly casts an eye on are the hypocrites and the hateful that malign concepts like love, forgiveness, and acceptance. And in their face, a figure I'd become highly acquainted with from my Milton studies in college – a messiah who turned mountains upside down in the war against Lucifer, who was willing to fight to the bone for the ideals woven into the very fabric of his being. Those same ideals we so often get wrong as humans – the love, the forgiveness, and the acceptance.
Byron: What other projects in which you are involved can you tell readers about?
Steve Orlando: Marauders is the big one! The annual kicks off our run in January, with art by Crees Lee that just delivers kick-ass classic comics. From there, in March, Eleonora Carlini and I kick off the main series, with covers by Kael Ngu, and we're going places you've never seen before. Joining the X-Office has been one of the most exciting moments of my career, and everyone there's operating at peak ability. Marauders is going to be huge on its own, introducing thousands of years of secret mutant history, but what's coming from the X-Men line in general in the next few years is going to be even wilder still. We're all keeping each other at the top of our game, and it's the readers that are going to benefit the most.
Dynamic Forces would like to thank Steve Orlando for taking time out of his busy schedule to answer our questions. Loaded Bible: Blood of My Blood #1 from Image Comics is slated to be on sale March 2nd!
For more news and up-to-date announcements, join us here at Dynamic Forces, www.dynamicforces.com/htmlfiles/, "LIKE" us on Facebook, www.facebook.com/dynamicforcesinc, and follow us on Twitter, www.twitter.com/dynamicforces.
THE SHADOW/BATMAN HARDCOVER - SIGNED BY STEVE ORLANDO
STAR WARS: LIFE DAY #1 SIGNED BY STEVE ORLANDO
WONDER WOMAN 80TH ANNIVERSARY 100-PAGE SUPER SPECTACULAR SIGNED BY STEVE ORLANDO
SEARCH FOR HU #1 SIGNED BY STEVE ORLANDO
EXTREME CARNAGE TOXIN #1 SIGNED BY STEVE ORLANDO
DARKHOLD ALPHA #1 SIGNED BY STEVE ORLANDO
EXTREME CARNAGE PHAGE #1 SIGNED BY STEVE ORLANDO
MARVEL'S VOICES: PRIDE #1 SIGNED BY STEVE ORLANDO
HEROES REBORN MAGNETO AND MUTANT FORCE #1 SIGNED BY STEVE ORLANDO
AVENGERS: CURSE OF THE MAN-THING #1 SIGNED BY STEVE ORLANDO
---
NEW! 1. 02/10/2022 - SIMON SPURRIER
4. 01/31/2022 - TIM SEELEY & AARON CAMPBELL
5. 01/27/2022 - TYLER BURTON SMITH