KELLY SUE DECONNICK

SEND THIS TO A FRIEND!
1. As a fellow Pacific Northwestern comic creator, maybe you can help me sort this out. How in the world did we become the massive funnybook nerd empire? I pretty much grew up here, so for me it wasn't a case of being drawn from somewhere else. How did you find your way to Portland, and what makes you stay?

Beats me, bud! You're from here, shouldn't you have better insight into the history of the place and how the migration happened?

I know in our case, my husband dated a girl in college who was from here and kind of fell in love with the town. So it was always on our short list. When we sat down over dinner to decide Where, it came down to Portland, Seattle or Austin. I'd grown up in Austin and we wanted someplace that was new to us both, so Austin was out. I thought Seattle was breathtakingly beautiful, but too expensive after Kansas City... Portland won by default.

The Bendises put us up for a couple weeks when we moved and they were so gracious, that pretty much sealed the deal.

You'll never get rid of us now.

Mwah ah ha ha ha ha ha ha...
2. By all accounts, you really brought down the house with your panel appearances at the Image Expo. How does it feel to know that your words carry a fair amount of weight with your audience? Does it affect your spontaneity in those Q&A sessions/open discussions, or do you still just run with it?

I'm very comfortable on panels, so I mostly just try to have fun. I got nervous during the Image Expo keynote — I hadn't really given any thought to it until I was waiting backstage and suddenly was like, "um… now would be a good time to come up with an elevator pitch for this book, jackass."

The panel stuff, though. That's just… try to be honest and don't say anything that will get you fired. Those are my Prime Directives.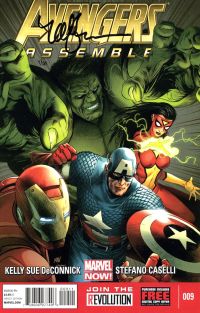 3. As a parent and a comic creator, what kind of future would you like to see for your children – as fans, and/or professionals – from the industry as a whole?

I'd hope that they would be made to feel welcome, as fans, primarily, but as pros if they're willing to bust their butts and that's the path they choose.
4. Okay, let's talk about actual comics now. It seems like your plate is almost constantly full these days. What are you working on currently?

Oh good lord.

A bunch of stuff I can't talk about mostly.

Plus Avengers Assemble, Captain Marvel, Ghost, Bitch Planet and Pretty Deadly.

Barbarella was just announced, but I'm actually already done with that.

Too much, still. It's a luxury problem to be sure — I shouldn't complain. I'm just tired and I don't want to be doing so much that the quality suffers. That scares the hell out of me. But there are so many things I want to do, it's hard not to take on too much
5. Would you mind explaining PRETTY DEADLY for the folks who haven't caught on yet, and talk a little bit about the inspiration behind that book?

We've taken to describing it as a mythological Western. It's a supernatural story played out on a Western landscape. The story is told like a fable by a dead bunny to a butterfly. Part of it is in verse. It begins as the tale of a mason who falls in love with a great beauty but soon lets fear and possessiveness poison that love. Afraid of losing her, he imprisons his bride in a stone tower. Separated from the sun and the sky and everything that brings her joy, she begins to wither and die. Death comes to take her, but he too falls in love. He sires a child with her, but the girl is not enough to tether her to our world and she dies. Death takes the child, alive, names her Ginny, and raises her as a reaper of vengeance, in between the land of the living and the dead.

That's sort of the launching point.

There are sword fights and rivers of blood and men with rabbit skulls for faces. You know, FUN STUFF!
6. Do you find that your stylistic approach differs depending on which publisher you're writing for? And is there a difference in your working method when you're doing something creator-owned?

No difference in the working method. Stylistic approach varies more book to book than publisher to publisher, I think. I'm sort of a broken record with themes, though, I fear.
7. The fans have really embraced CAPTAIN MARVEL, as well they should. There is an almost constant buzz surrounding the Hollywood potential of Carol Danvers. Even though we both know it never happens this way, do you think Captain Marvel could be adapted right off the page? Bonus points if you'll share your favorite actress for the role.

Ah, man. I have been wrestling with how to answer this question for a while. It comes across so rude for me to say "I super don't care," you know? But it's kind of true…? I mean, don't get me wrong, I LOVE the Marvel movies and if they made Carol one…? Hell, I'd be first in line. And when she laid the smack down, I'd clap and hoot and holler and have a blast… no doubt.

But it's not a thing I sit around thinking about. Not because I have anything AGAINST the movies, but because I'm much MORE interested in the comics. Does that make sense?

My pat casting answer is Kathleen Turner, circa 1984.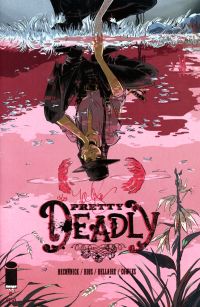 8. If you could take one obscure character to bring out into the limelight, and be guaranteed a massive renaissance, who would it be?

Uh… I dunno. Spider-Woman's not exactly obscure, but I'd love to see her go A-list. Modesty Blaise. Sasori.

I'm rewatching BUCK ROGERS IN THE 25TH CENTURY right now and I'm kind of loving it. Wilma Deering and Hawk FTW.


9. Do you think that the industry is making any kind of tangible progress toward improving how female characters are presented?

Blargh. I dunno. Sure. Maybe? We'll have to leave it to the statisticians to say for certain.

10. Final question: Between you and Matt, who has the weirdest search history on their computer at this moment?

Fraction. Hands down.

---
NEW! 1. 01/21/2021 - RORY MCCONVILLE
5. 01/07/2021 - DARICK ROBERTSON