KURTIS J. WIEBE

SEND THIS TO A FRIEND!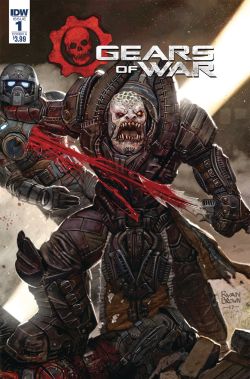 DF Interview: Kurtis J. Wiebe tells the backstory of a villainous icon in Gears of War: The Rise of RAAM
By Byron Brewer
The most iconic villain in the Gears of War universe takes the spotlight! Years before he became the bane of humanity on Emergence Day, RAAM rose through the ranks to take leadership of the Locust Horde armies thanks to his intelligence, strength and ruthlessness.
Now, witness that swift and brutal ascent in Gears of War: The Rise of RAAM from writer Kurtis J. Wiebe and artist Max Dunbar. DF wanted to give you the full story of this epic villain's origin, so we sat down with scribe Kurtis J. Wiebe.
Dynamic Forces: Kurtis, right out of the gate (as we say here in Kentucky horse country), were you a fan of the video game Gears of War? If so, what drew you to that franchise in particular?
Kurtis J. Wiebe: It was a love/hate relationship. I really loved the design and the world that Gears existed in, but I hated it because it routinely kicked my ass and I'm an impatient person.
DF: So … why a prequel tale of sorts about the property's most famed and diabolical villain?
KW: I think a comic is the perfect opportunity to tell other stories that would be difficult to pull off in a AAA game. And the first time I saw RAAM in the game, I wanted to know more about him. I'm always most interested in the villain, their motivation, where they come from. So, when we discussed the story with the Coalition, and we knew we wanted to return with something familiar, I pitched the idea of telling the other side of the story. And RAAM was the perfect way to do it.
DF: For the uninitiated (you know who you are!), clue us in as to who RAAM is before your book tells us how he got there, if you would?
KW: Well, I'm not going to say too much as that's the main plot of the story, but I can say that he isn't the powerful high general we see in the first game. This story is all about how he rose through the ranks and changed the course of Locust history.
DF: What can you tell us about the subterranean reptilian hominids known as the Locust Horde?
KW: At the beginning of our story, the Locust are a myth to the humans that live on the surface. Boogeymen to keep the children in line. There's a huge history and lore that's been established for the race known as the Locust, so it will be hard to summarize them in a few sentences.

But, at the start of our story, they have been engaged with a war on a mutational race known as the Lambent, creatures that have been changed by their interaction with a precious fuel source called Imulsion.

Their entire existence is threatened by the seemingly endless horde of glowing monsters, and that is where our story in Rise of RAAM begins.
DF: What other characters, familiar or new, might we be seeing in the book? Can you introduce some to readers?
KW: RAAM is the obvious one, but we also have Skorge who has been revealed in the teaser. A few other awesome Locust characters show up later on in the series, but I want those to be a surprise.

I've also created a few new characters that have become part of the Gears canon, and I can't wait for the fans of the series to read them.
DF: What are the difficulties and/or pleasures of bringing a franchise with its origins in video gaming into the comics media? Of dealing with licencors, et al?
KW: The Coalition has been really amazing to work with. They've given me a lot of room to play in their world and it's easy to forget sometimes that I'm working with something that's already been established.
DF: Talk about the art of Max Dunbar. What does Max bring to this awesome table?
KW: Have you seen the pages? Good god. The detail in the environments is some of the best I've seen in years. Max has the ability to take the concept I have and blow it out into something far grander than I'd envisioned. Working with artists of that caliber is absolutely inspiring.
DF: Lastly, Kurtis, tell us about how it felt to be presented with the Outstanding Comic Book Writer Shuster Award for your contribution to the critically-acclaimed Green Wake?
KW: It was pretty surreal, and completely unexpected. I was so new to the industry that I never even considered for a second that I would win. Grateful, really, to be recognized by the Canadian comic industry, one I'm super proud to be a part of.
Dynamic Forces would like to thank Kurtis J. Wiebe for taking time out of his busy schedule to answer our questions. Gears of War: The Rise of RAAM #1 from IDW Publishing hits stores Jan. 24th!
For more news and up-to-date announcements, join us here at Dynamic Forces, www.dynamicforces.com/htmlfiles/, "LIKE" us on Facebook, www.facebook.com/dynamicforcesinc, and follow us on Twitter, www.twitter.com/dynamicforces.
---
NEW! 1. 11/25/2020 - STEVE SKROCE
4. 11/16/2020 - RYAN O'SULLIVAN
5. 11/16/2020 - RYAN O'SULLIVAN