MATT WAGNER

SEND THIS TO A FRIEND!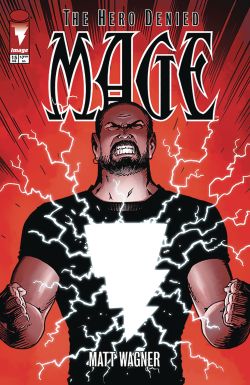 DF Interview: Matt Wagner shuts the mirrored door on 'Mage: The Hero Denied'
By Byron Brewer
Writer and illustrator Matt Wagner once described his great comics opus Mage as an "allegorical autobiography" in which the hero, Kevin Matchstick, is a stand-in for the author, and "[a]ll the other characters he encounters and situations he endures are metaphors from my own life... told through the lens of a fantasy adventure."
With February's issue #15, his third and final volume of the trilogy, Mage: The Hero Denied, indeed ends. DF caught up with the creator and asked about these past 35 years with his comic book alter ego, and what it will be like to see the saga end.
Dynamic Forces: Matt, after 35 years all told, what will it be like to bring the saga of Mage to an end? And why is this the right time to do that?
Matt Wagner: I knew from the very beginning that Mage would ultimately be a trilogy. So many classic fantasy sagas are trilogies and that motif corresponds to the three stages of the archetypical Hero's Journey. So I always knew the story would eventually reach an end…but I didn't have any idea at the beginning that it would take this long. Since Mage is so autobiographical, I now realize that's simply the way it had to go. As a result, I've always said that I don't decide when it's time to work on Mage. Mage decides when it's time for me to work on Mage. And, this time around...it felt like the right moment to bring it all to its ultimate conclusion.
DF: What has the comic meant to you: career-wise, and personally?
Matt Wagner: Mage was where I basically grew up as a comic artist. That's particularly true in the first series, The Hero Discovered, wherein the reader can actually see my skills and creativity developing, almost in direct correlation to the main character—Kevin Matchstick— accepting and developing his own power. As such, this is definitely the most personally resonant story I've ever done. I've had a lot of people ask me if it feels bittersweet to reach the end and, honestly, it doesn't. It feels like the culmination of many years of effort and a lot of creative energy—neither bitter nor sweet, per se. More like…accomplished. You could even use the analogy that the three parts of the trilogy were like me earning my Bachelors, Masters and PhD degrees. So, basically…I just got my doctorate in Mage!
DF: I always detest requesting this, but it does the job: For those who have been under a rock most of the last three decades, can you capsulize what Mage is about please?
Matt Wagner: Mage tells the story of Kevin Matchstick, a somewhat cynical Everyman who encounters a wily street wizard and discovers that he is heir to a legendary power and the heroic destiny that entails. As I said, the entire saga is presented as a trilogy with each Book representing a distinct and different phase of the hero's life and maturation. And at each stage of his journey, our hero is mentored and challenged by a different incarnation of the title character…his Mage.
DF: I know over the years many have called Kevin Matchstick your alter-ego, in a sense. Tell us about who this hero is and has become, and how that echoes for Kevin's creator.
Matt Wagner: It's not unusual for comic artists to use their characters as their artistic alter-egos. I think everybody realizes that Charles Schultz was poor ol' Charlie Brown in so many respects. Dave Stevens was the young and eager Rocketeer, Neil Gaiman is the dreamer Morpheus and Jeff Smith is even Bone! In my case, I didn't quite realize exactly how much of an allegorical autobiography Mage would become until about halfway through the first series, The Hero Discovered. Initially, I was simply basing my character designs and settings on people and places I knew. Instead of larger-than-life identities with sleek and fancy costumes and weaponry, my heroic casts were ordinary folks, dressed in t-shirts and jeans. They wandered the city streets and drove an old car with a baseball stashed under the seat. As the saga progressed into the second and third books of the trilogy, the locales and cast have changed with each stage, but the basic premise of heroism being acted out on an everyday level has remained firmly in place. As we said, the model for that structure in Mage is my own life and that's part of the reason there was so much time between each of the three parts. I had to wait for my own life to unfold in order to write and draw about it…to mythologize it.
DF: Issue #15 of Mage: The Hero Denied brings this long-continuing story to a conclusion. What do the uninitiated need to know to still pick up and enjoy this finale Wagner tour de force?
Matt Wagner: Well, I've tried to design each book of the trilogy to be enjoyed by any new reader without being particularly lost in regards to the narrative. There was a decade gap between the first and second series and two decades between the second and third. And I realized that, with each new part, a lot of readers who might be seeing Mage on the shelves of their local comic book store might in fact be seeing it for the first time. So I'd say anyone can pick up either The Hero Discovered, The Hero Defined, or The Hero Denied and still get thoroughly caught up in that leg of Kevin's journey. In fact, I've had many, many readers tell me that's how they first got into Mage, later tracking down the parts they hadn't yet read. But I don't really know if it's possible to pick up The Hero Denied #15 and enjoy it cold. I mean, it's the grand finale of over a thousand story pages…so I'd recommend picking at least this series up with the most recent trade collection (out of six total volumes), Mage – Book Three: The Herod Denied Vol. 5, available from Image Comics.
DF: There is something deeply personal to a creator when he is both writing AND drawing his own creation in a comic; been there. How has handling those chores worked with you and Mage, and has this situation ever been a DIS-advantage?
Matt Wagner: Unlike almost anything else I work on, I try to not over-think Mage. I don't take many notes or even do much in the way of layouts. It really is kind of a Zen journey for me, with each new step leading me towards the ultimate goal, which of course is the point of the journey itself. The way I produce Mage is to draw the story first, with no premeditated script. I sit down and after some initial, really scribbly thumbnails, just start drawing and let the story take me where it will. At the same time, I'm "writing" the script internally as I go…thinking, "So-and-so is saying this here," etc. The only disadvantage to this method of working is that you're really hoping it all comes together and makes sense at the end! For the final issue of The Hero Denied, I actually had to make a list of all the many narrative elements that needed answered or explained…I really had to stick the landing with this one! Luckily, it worked…yet again! Like I said, for me… Mage is something special.
DF: With an 8-page gatefold and weighing in at 56 pages, your creation is certainly going out in style! Did you ever think, when Mage first premiered as part of the indie comics boom in the 1980s, it would ever be this celebrated?
Matt Wagner: Well, of course every creator dreams that their art is going to have an impact. But when I first started Mage, I was only 23 years old…just a young punk trying his damnedest to make it in the, at that point, fledgling field of independent comics. I never imagined it would take me this long to see the whole saga through to fruition…but I consider myself incredibly lucky to have made it this far and with so much fanfare. I've always tried to deliver my best efforts, no matter what the narrative, and on many levels Mage is the culmination of everything I've drawn and written over the course of a long and happy career.
DF: Matt, what's next?
Matt Wagner: Mage might be a culmination of sorts…but it's not the end of my artistic journey. I've got a lot more stories to tell and I'm already hard at work on my next big project but…of course, I can't tell you about it yet. An official announcement will be forthcoming, shortly following the final issue of Mage: The Hero Denied #15, which arrives in stores 2/27/19!
Dynamic Forces would like to thank Matt Wagner for taking time out of his busy schedule to answer our questions. As Matt told you above, Mage: The Hero Denied #15 from Image Comics hits stores Feb. 27th!
For more news and up-to-date announcements, join us here at Dynamic Forces, www.dynamicforces.com/htmlfiles/, "LIKE" us on Facebook, www.facebook.com/dynamicforcesinc, and follow us on Twitter, www.twitter.com/dynamicforces.
MATT WAGNER'S THE ART OF GRENDEL
THE SHADOW: THE DEATH OF MARGO LANE LIMITED EDITION HARDCOVER - SIGNED BY MATT WAGNER
WILL EISNER'S THE SPIRIT #1 RARE MATT WAGNER "VIRGIN ART" EDITION - REMARKED BY MATT WAGNER
WILL EISNER'S THE SPIRIT #1 RARE MATT WAGNER "VIRGIN ART" EDITION - SIGNED BY THE CREATIVE TEAM OF MATT WAGNER, DAN SCHKADE AND BRENNAN WAGNER
WILL EISNER'S THE SPIRIT #1 RARE MATT WAGNER "VIRGIN ART" EDITION
DJANGO / ZORRO #1 - RARE VIRGIN RETAILER FOC INCENTIVE COVER BY MATT WAGNER!
THE SHADOW: YEAR ONE #1 WITH HAND DRAWN SHADOW ORIGINAL PIECE OF ART BY THE MASTER ARTIST MATT WAGNER
THE SHADOW: YEAR ONE #1 MATT WAGNER REMARK
---
NEW! 1. 11/25/2020 - STEVE SKROCE
4. 11/16/2020 - RYAN O'SULLIVAN
5. 11/16/2020 - RYAN O'SULLIVAN