DAN SCHAFFER

SEND THIS TO A FRIEND!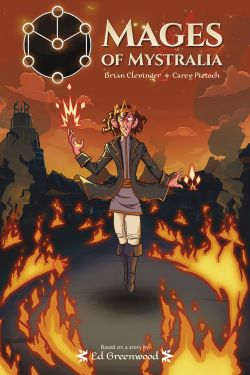 DF Interview: Dan Schaffer brings horror, sex, darkness and off-the-wall humor to Malefic
By Byron Brewer
Young doctor Evelyn Freust gets a chance to redeem her disgraced career when she signs on at a mysterious asylum harboring diabolical paranormal neurotics: The Pit. Freust must treat their supernatural disorders and survive the madness. But a destructive battle of wits begins with Inmate Eleven, who may or may not be … the Devil.
To get more of the 411, DF sought out the writer for this book from Devil's Due/1First Comics, Dan Schaffer.
Dynamic Forces: Dan, tell us about the inspiration for your forthcoming comic Malefic.
Dan Schaffer: I wrote Malefic for everyone who keeps asking me for more Dogwitch. This one has a similar vibe. It's got horror, gore, sex, crazy characters, darkness and off-the-wall humor. In terms of inspiration, I'm still playing around with my usual pet themes, identity, feminism, equality, weird sex, weirder love, and, my old favorite, the psychology of evil.
DF: What can you tell us about this world, and what is The Pit?
Dan Schaffer: The Pit is an ancient, isolated asylum run by a secret religious order. It's a dark, horrible, malevolent place, and home to the supernaturally insane.
DF: Tell us about the character of Dr. Evelyn Freust. What makes her "tick"?
Dan Schaffer: Freust is a disgraced shrink who gets a second chance when she's offered a job at The Pit. But when she's faced with a smorgasbord of supernaturally gifted psychopaths, she has to unlearn everything she knows and master a whole new fringe science before they chew her up and spit her out.
DF: Who is the mysterious Inmate Eleven? Anything you can tell us about this person (without spoilers)?
Dan Schaffer: Inmate Eleven is The Pit's oldest inmate. No one knows anything about her but, rumor has it, she may be the Devil. Freust accidentally starts a war with her on her first day on the job and, from that moment on, life at The Pit becomes a whole new kind of hell.
DF: What other characters might we look for in the book?
Dan Schaffer: Every issue contains new iconic villains for Freust to tackle, each with their own unique supernatural psychosis and desire to kill Freust in the most disturbing way possible. And there's The Nurse. I think she'll go down well with the kinky crowd.
DF: As writers, we often reflect ourselves in our characters. What part of Dan Schaffer is reflected in young Dr. Freust?
Dan Schaffer: She's always looking for the good in bad people, she will still attempt to help someone who's trying to kill her, she's immune to institutionalization, she gets things done despite her unorthodox methods, she f*cks up a lot, she's slightly crazy.
DF: As an artist yourself, tell us about working with David Miller on Malefic.
Dan Schaffer: David Miller's interior art is amazing, really atmospheric and quirky. I've collaborated with writers before, but this is the first time I'm working as a writer with an artist and David's been making it easy for me. He's a naturally brilliant visual storyteller.
DF: Dan, many know you from comics but you also are a screenwriter. Can you describe the differences in process for you of putting together a film script vs. a comic book script?
Dan Schaffer: Well, you can get away with some avant garde punk sh*t in comics that you can't in film. 1First Comics lets me get away with murder on Killdarlings, for example. That comic was all about setting fire to the rulebook. Even White, my four-issue shark story, pushes the rules of storytelling into a niche. The real major difference is probably job satisfaction. In comics (indie comics, at least), the writer has more control over the final piece of art. In film, there are hundreds of people messing with the script at every stage, and the director has his or her own vision which is rarely the same as the writer's so the film never quite comes the way you imagined. But that's OK because it's fun watching the process and seeing how the final thing comes out.
DF: Finally, if I am not mistaken, Dan, you have a film in development called Peripheral. What can you tell us about the movie?
Dan Schaffer: Peripheral is a trippy, headf*ck sci-fi movie directed by Paul Hyett and starring Hannah Arterton. It was filmed at the end of 2016 and is due out sometime in 2017. There's a graphic novel version coming out at the same time, published by 1First Comics. The official synopsis is – "A young writer enters a Faustian pact with her publisher and finds herself battling an artificial intelligence that seems to want to write her book for her. As the machine manipulates her work to suit its own nefarious ends, Bobbi begins to suspect that she is being controlled in ways far more sinister than she suspected and may, in fact, be a pawn in a conspiracy of social mind control."
Dynamic Forces would like to thank Dan Schaffer for taking time out of his busy schedule to answer our questions. Malefic #1 from Devil's Due/1st Comics hits stores later this year!
For more news and up-to-date announcements, join us here at Dynamic Forces, www.dynamicforces.com/htmlfiles/, "LIKE" us on Facebook, www.facebook.com/dynamicforcesinc, and follow us on Twitter, www.twitter.com/dynamicforces
---
NEW! 1. 01/21/2021 - RORY MCCONVILLE
5. 01/07/2021 - DARICK ROBERTSON