JUSTIN JORDAN

SEND THIS TO A FRIEND!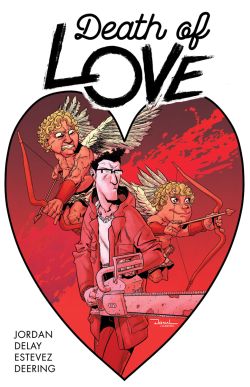 DF Interview: Justin Jordan on the cruel cuts of love – with a chainsaw! – in Death of Love
By Byron Brewer
Love sucks. Philo Harris is going to do something about it.
After gaining the ability to see the Cupidae that make love work – after a particularly bad drunken decision – Philo ends up going to war with Love itself.
With a chainsaw.
From writer Justin Jordan and artists Donal Delay and Omar Estevez comes Death of Love. To discover the whole 411, DF chatted it up with scribe Justin Jordan.
Dynamic Forces: Justin, whoever planned this on-sale date (if indeed it was planned) is a marketing genius. What better promo for a title called Death of Love could there be than being released on Valentine's Day? Thoughts?
Justin Jordan: That was actually the suggestion of Eric Stephenson, the publisher at Image. Originally, we were planning on releasing this, The Family Trade, and the Luther Strode hardcover all in October of last year.

Which Image thought, and I suspect correctly, was a bad idea. So Eric suggested Valentine's Day, which was indeed a pretty brilliant time to put out a book about murdering little Cupids.
DF: Give us the elevator pitch for Death of Love.
Justin Jordan: Basically, Philo Harris has been unlucky in love, and when he gains the ability to see the Cupidae responsible for love, he tries to find out why. Things go poorly, and he basically ends up at war with Love itself.
DF: Venus is an old Timely character and even the Mad Titan Thanos' brother's name is Eros, but what was the particular inspiration for this miniseries?
Justin Jordan: My goofy random thoughts on social media.

So Death of Love has kind of a unique behind-the-scenes story. I have a habit of posting random stuff that passes through my brain up on social media, usually Facebook. Just whatever passing thoughts I have. Some of these are deeeeeeply stupid. Some can become something.
One of these was just the image of a guy attacking Cupid (well, cherubs, really, as there was more than one) with a chainsaw. What inspired that, I don't know. My brain does weird things.

At that point, I'd been friends with Donal for a bit, so when I posted that, he decided to do it as a warm up sketch. Which I liked. And since I liked Donal's art, I asked him if he wanted to do that as a series. And he did.

So then I had to work out WHY a guy would be going after winged babies with a chainsaw, and Death of Love is the story that eventually came out of that.
DF: Tell us about your main protagonist, Philo Harris.
Justin Jordan: Philo is a Nice Guy. And the capital letters there are very intentional. He's a guy who hasn't had much luck in the relationship department, and makes friends with girls in an attempt to win them over by being nice to them. Without really caring much about them.

So he's an asshole. He gets to be less of an asshole as the series goes on, but as protagonists go, he's not necessarily one that's easy to like or cheer on. Happily, he has actual friends who aren't jerks, so you've got some people who don't deserve the terrible things that happen to them.
DF: Who are the Cupidae?
Justin Jordan: Cute little baby looking dudes with wings and adorably tiny bows and arrows. And a notably salty attitude. They are responsible for making sure that love and relationships actually happen, and they're usually invisible to us humans. They're extensions of the god Eros, who turns out to not be anywhere near as mythological as we might have hoped.
DF: Is there any behind-the-scenes story on Philo's weapon of choice, a chainsaw? I keep thinking of Ash and the Army of Darkness.
Justin Jordan: Basically that if you're going for ridiculous comedic gore, then a chainsaw is going to be your weapon of choice. Which is probably why Ash ended up using one too, if I had to guess. But I think it's just an inherently funny image, in its way.
DF: Talk about the art of Donal Delay and Omar Estevez.
Justin Jordan: I was really lucky to get them on board for the book. Donal has a very strong sense of how to make comedy work visually, and he takes the stuff I put in the scripts and just runs with and riffs on it. It's been a really great, really fun collaborative process.
Omar has then really taken that and elevated it with the colors. He has a great eye for how to really make Donal's art work, and a great sense of how to use color to emphasize the emotional content of a scene.
Which is all rounded off by the lettering from Rachel Deering. I think lettering is underappreciated as to how much it can add (or, when bad, detract) from a book. It's almost subconscious, but a good letterer can add a lot to the feel of a book. And Rachel is a great letterer.
DF: Justin, aside from this new mini, what else can readers expect to see from your kinetic keyboard?

Well, there's the stuff I can talk about. Sideways, which I'm co-writing with Dan DiDio and with art from Kenneth Rocafort, comes out the same day as Death of Love. I've got another book from DC called Curse of Brimstone that comes out in April, I think.

Plus, as usual, a bunch of stuff I can't actually talk about.
Dynamic Forces would like to thank Justin Jordan for taking time out of his busy schedule to answer our questions. Death of Love #1 from Image Comics hits stores Feb. 14th – Valentine's Day!
For more news and up-to-date announcements, join us here at Dynamic Forces, www.dynamicforces.com/htmlfiles/, "LIKE" us on Facebook, www.facebook.com/dynamicforcesinc, and follow us on Twitter, www.twitter.com/dynamicforces.
DEEP STATE #1 SIGNED BY JUSTIN JORDAN!
SPREAD #3 FIRST PRINTING SIGNED BY JUSTIN JORDAN!
SPREAD #2 SECOND PRINTING VARIANT SIGNED BY JUSTIN JORDAN!
SPREAD #1 THIRD PRINTING VARIANT EDITION SIGNED BY JUSTIN JORDAN!
SPREAD #2 FIRST PRINTING SIGNED BY JUSTIN JORDAN!
SPREAD #1 SECOND PRINTING ACTION FIGURE VARIANT EDITION SIGNED BY JUSTIN JORDAN!
GREEN LANTERN: NEW GUARDIANS: FUTURES END #1 3-D MOTION ULTRA-LIMITED GOLD SIGNATURE SERIES ELITE EDITION SIGNED BY JUSTIN JORDAN!
GREEN LANTERN: NEW GUARDIANS: FUTURES END #1 3-D MOTION ULTRA-LIMITED EDITION SIGNED BY JUSTIN JORDAN!
SPREAD #1 FIRST PRINTING SIGNED IN BLOOD RED BY JUSTIN JORDAN!
EVIL ERNIE: GODEATER PAPERBACK
---
NEW! 1. 11/25/2020 - STEVE SKROCE
4. 11/16/2020 - RYAN O'SULLIVAN
5. 11/16/2020 - RYAN O'SULLIVAN