JEREMY BASTIAN

SEND THIS TO A FRIEND!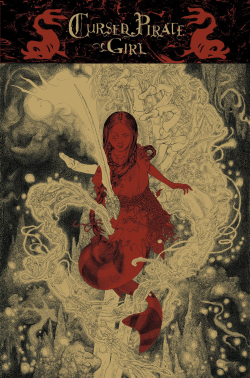 DF Interview: Cult comic of Jeremy Bastian returns in 'Cursed Pirate Girl: The Devil's Cave' one-shot
By Byron Brewer
In the long-awaited continuation of Cursed Pirate Girl, her loyal companion PepperDice reveals that there's still time to bring back her father, the Pirate Captain Douglas.
If she can escape the Sea King's Palace with The Bright Star, will she be bold enough to enter The Devil's Cave in the hope of bringing her father back? Or will the Devil Jonah and his minions stop her?
A longtime fan of swashbuckling, derring-do and Jeremy Bastian's art, I sought out the storyteller and got the downlow on this particular adventure of Cursed Pirate Girl!
Byron Brewer: Jeremy, for a comics property that originally self-published as a pilot issue in 2006, if memory serves, it seems Cursed Pirate Girl has done the impossible: both maintain the greatest in-continuity of story as well as gather a cult following worldwide. With this one-shot expanded issue coming from BOOM! Studios, why was now a good time to return all us readers as well as yourself to Cursed Pirate Girl?
Jeremy Bastian: After chapter 4 came out, I was a little burned out from working on Cursed Pirate Girl. That one chapter turned into a 54 page issue that took about 3 years to complete. I was invited to participate in a couple of gallery group shows and I got a little carried away with other projects that I felt I couldn't abandon. I would find myself trying to get back to working on Cursed Pirate Girl and have to pause because I had agreed to draw something for someone else. This went on for the first 2 years after chapter 4 came out.
After that, I decided I really needed to focus on CPG and developed a strict policy of saying "no" to other offers. Once I finally put my foot down and concentrated on finishing chapter 5, I've moved slowly but steadily on accomplishing that. It takes a lot of patience and focus to try to make each page better than the last. Not to mention how long it takes to finish a page or even just a panel sometimes. To give you a good idea, from conception of layout to finished inks, the 4 page spread in this chapter took about 6 months of work. So in half a year I only finished four pages...
Luckily the very generous and patient folk at BOOM! have made it very clear they believe in me and Cursed Pirate Girl and have given me the space to proceed at my own pace. This book would definitely not be what it is now if I had published with a deadline hovering over my head.
Byron: For the uninitiated, can you highlight some of the in-story backstory of this character here please?
Jeremy Bastian: What we know of Cursed Pirate Girl so far is that she is an orphan of a Pirate Captain who sails the black waters of the Omerta Seas.
In Chapter 2, she finds her way to the Omertas with the help of a talking parrot named PepperDice and is joined in her quest to find her father by two armored swordfish.
In Chapter 3, she gains a treasure map to The Bright Star. Chapter 4 is where CPG discovers her father was actually killed in a great battle with another Pirate Captain, but the map she has to The Bright Star might be the key to bringing him back.
Byron: As you can, with no spoilers, of course, give the readers a summary of what happens in The Devil's Cave chapter.
Jeremy Bastian: The Bright Star is only half of the equation of bringing CPG's dad back. The other element lies in The Devil's Cave. Will she be able to bring the pieces together and bring her father back from death? Or will Captain Corey and the ruler of The Devil's Cave, Jonah, stop her before she can?
Byron: Aside from Cursed Pirate Girl, what other characters should we know about who are important to this chapter of your continuing story? Can you (re)introduce some here?
Jeremy Bastian: In the order in which they appear, there is PepperDice the parrot, who climbed into a fish to protect his feathers from getting wet under the water. The swordfish brothers, Sir Haftu and Sir Halek, that just might have been crushed to death by falling rocks as we saw in chapter 4.
Jockunde, one of Captain Corey's men who has been thrown out of the story but lurks in the gutters between panels. Mother Bliss, whose son is Captain Bliss of the Honey Boar, she is also the last of the Sea Witches. Captain Corey, they call him the Reaper of the Omertas, the Pirate Captain who strikes from the depths and sends all his victims to... The Devil Jonah, this world's Davey Jones, his domain is known as The Devil's Cave and it is where all the souls lost on and below the Omerta Seas end up.
Byron: What is "the Devil's Cave?"
Jeremy Bastian: A cave usually barely guarded that all find their way to eventually. A cave none can leave without the permission of its ruler, of him they name Devil Jonah. It is called the final harbor.
Byron: Your presentations over the years of this franchise have been phenomenal as far as keeping a long-standing continuity both viable and advancing, as well as selling in different platforms. Tell readers about your dedication to this creation of yours.
Jeremy Bastian: I had an idea of a book that would feel like a fairytale and have all the texture and ornamentation of that kind of world. I wanted to create something that was as light and fun as it was dark and creepy. And I wanted to fill each panel from corner to corner with information so you could keep coming back to it and maybe see something you didn't see the first time. To me, Cursed Pirate Girl is a challenge, I see every new character or setting as a chance to outdo what I've come up with before. It keeps me diving at new depths of my imagination and pushes me to think of things in different ways.
Byron: Your art has taken on a life of its own over the years, so detailed and intriguing, reminiscent of 15 th century engravings despite the fact that you use a brush and ink, I believe. How did you develop this art style and how did you come to employ it for Cursed Pirate Girl?
Jeremy Bastian: Before taking up the brush, I did the majority of my artwork with microns. Even with the 005 though I wasn't getting the fine line that I wanted. At that time, I was really obsessing over the etchings of Gustave Dore's work and that was the line I wanted to impersonate. I was working at an art store on the campus of Eastern Michigan University but wasn't a student there. I have never done etching but was convinced I could imitate it in ink. I picked up a 00 kolinsky sable brush by Escoda and found exactly what I was looking for.
I was collecting books on Gustave Dore, Arthur Rackham, Kay Nielsen and pretty much every classic illustrator I could find. At the art store I worked at during those formative times, we'd get Dover publishing catalogs to order from and I basically made up my own master list of books to order and would add some from my list to the store's list whenever we'd place an order.
I wanted to create my own fairytale so I studied the illustrators that created some of the most lasting fairytale images. The etchings of Albrecht Durer became the pinnacle of artistic ambition to me. Add to that every other artistic hero I discovered for myself like Hendrik Goltzius, William Hogarth, Cranach the Elder and then throw in the illustrated books of Alan Aldridge, Kinuko Craft, and Andrej and Olga Dugin, mix all that my love of the medium of comics and you get a very time consuming story that *hopefully* gives you something you haven't seen before.
Byron: Jeremy, where will we see your work next and also where will we next be able to read more Cursed Pirate Girl?
Jeremy Bastian: I am currently working on a couple of commissions I've been putting off since my strict cut off of "outside projects". When I finish these, I go straight back into the next chapter of the story. Chapter 6 was originally going to be the last chapter of the story but working on something like this for the length I've been working on it, well... you come up with additions. So I had to add a chapter. Hah!
Many exciting things coming up that I've been looking forward to drawing since I first wrote the first draft back in 2006. With the release of Cursed Pirate Girl: The Devil's Cave there will only be 3 books to look for as it pertains to the entirety of the series: Cursed Pirate Girl Vol. 1 contains Chapters 1,2, & 3. Cursed Pirate Girl 2015 Annual No. 1 is Chapter 4. And Cursed Pirate Girl: The Devil's Cave is Chapter 5. If you have all those, you're as caught up as I am.
Volume one is still in print and can be ordered from your local comic book store or online, the Annual (or the red book as I like to call it) I have available on my big cartel store, you might be able to find it online as well. And of course you can always find it on Comixology.
I have a patreon page that I'm really bad at updating with posts, but sometimes I do post upcoming stuff I'm excited about. Like with the 4 page spread, that got posted on there as I progressed on it. It might take a while before chapter 6 comes out, but I can assure you, I'll do my best to make it is worth the wait.
Dynamic Forces would like to thank Jeremy Bastian for taking time out of his busy schedule to answer our questions. The Cursed Pirate Girl: The Devil's Cave one-shot from BOOM Studios is slated to be on sale January 19th!
For more news and up-to-date announcements, join us here at Dynamic Forces, www.dynamicforces.com/htmlfiles/, "LIKE" us on Facebook, www.facebook.com/dynamicforcesinc, and follow us on Twitter, www.twitter.com/dynamicforces.
---
NEW! 1. 05/30/2023 - DAN ABNETT
4. 02/10/2022 - SIMON SPURRIER