KARL WAHLGREN

SEND THIS TO A FRIEND!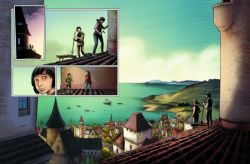 DF Interview: Kari Wahlgren gives voice to your favorite toons
By Byron Brewer
With animation such a big part (and we mean BIG!) of the 2016 box office, voice actors are finding new popularity and are no longer simply unsung heroes of entertainment. One of the best is actress Kari Wahlgren.
You probably know many of Kari's alter egos from the toon world – and others! DF thought it would bring you some news on the woman herself – Kari Wahlgren.
Dynamic Forces: Kari, first off, thank you for speaking with us today. According to my research, in your career thus far as a voice actress you have provided distinctive voices for over 100 cartoons, anime and video games. Quite a testimony to this unique talent, eh?
Kari Wahlgren: Well, thank you! I've been pretty fortunate to work on a number of projects during my career … for those who may not know what I've done and are interested, you can find a number of my past gigs listed on IMDB.com.
DF: Tell us about your training and career in acting, and how this eventually led to voice acting.
Kari Wahlgren: I was always involved in plays and singing growing up, and I eventually got a Theater degree from the University of Kansas. After I graduated, I started doing some voiceover jobs in Kansas City, and then I continued to audition for voiceover and on-camera work when I moved to Los Angeles. The voiceover side just took off….
DF: There is a story I heard about a young Kari Wahlgren and some inspiration from the Disney Princesses?
Kari Wahlgren: Oh yes, I was obsessed with Disney Princesses as a child! I would act out the movies for anyone who would listen, and I always had a strange understanding that someone was doing the voices of my favorite characters. I told myself at a very early age that I wanted to be a voice in a Disney cartoon!
DF: What have been some of your more recent voice performances: some folks would know right away, and some people may be rather surprised by?
Kari Wahlgren: It's always hard to tell which credits will surprise people … I'm the voice of Jessica on Rick and Morty, as well as Rick's spaceship … I was Shandra Jimenez on Gravity Falls … and I was the voice of the Siri-type robot "Gadget" in the TV and web commercials for IBM with Carrie Fisher … that's a pretty obscure one for the fans!
DF: What has been the voice acting role that has brought you the most notoriety, would you say? And which is your personal favorite, a character you'd love to do over and over (and maybe have)?
Kari Wahlgren: I've done a lot of different types of voiceover, but I'd say my anime roles are still some of my most popular. My very first cartoon role as Haruko in FLCL remains a fan favorite … I still sign a lot of Haruko things at conventions.
DF: As a performer of both, what are the major differences (besides the obvious, of course; we're thinking mental prep, etc., here) in voice acting vs. acting on stage or on screen?
Kari Wahlgren: The technical elements of voice acting are different than stage and screen. And you have to communicate everything through your voice in VO … you can't rely on facial expressions or body language … it sounds simple, but it's a whole different mindset as an actor.
DF: Is there an on-camera role you would love to have, if the offer (or perhaps "right offer") came your way? Some role from the remake of a beloved movie, book, etc.?
Kari Wahlgren: I'd really love to play a character in an on-camera sci-fi show … just to do something like that … even a small role … would be a dream come true.
DF: Kari, what current or near-future projects are in the works that you can tell us about?
Kari Wahlgren: I've done a few video games that have just come out or are about to come out. I'm reprising my role as Tessa in Skylanders: Imaginators which is out now, and I'm back as Shelke in World of Final Fantasy, which has launched. I'll be playing Aranea Highwind in Final Fantasy XV. We've recorded the new season of Rick and Morty and I have a few other cartoon projects I can't quite talk about yet … but stay tuned!
Dynamic Forces would like to thank Kari Wahlgren for taking time out of her very busy schedule to answer our questions. Fans that want to stay connected can find her on Twitter @KariWahlgren or on Instagram @kari_wahlgren or on Facebook at the Kari Wahlgren Offical Fan Page.
For more news and up-to-date announcements, join us here at Dynamic Forces, www.dynamicforces.com/htmlfiles/, "LIKE" us on Facebook, www.facebook.com/dynamicforcesinc, and follow us on Twitter, www.twitter.com/dynamicforces
---
NEW! 1. 11/25/2020 - STEVE SKROCE
4. 11/16/2020 - RYAN O'SULLIVAN
5. 11/16/2020 - RYAN O'SULLIVAN