DF INTERVIEW: FRANCHESCO!

SEND THIS TO A FRIEND!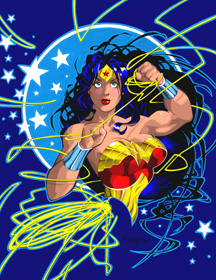 Franchesco! is a comic book artist and all around great guy that you can easily meet at any of the conventions. Dynamic Forces' Beth Delaney interrupted Franchesco's life to get some questions answered for all the DF readers out there.

Beth Delaney: Have you legally changed your name so that the exclamation point is part of it? I figured maybe you didn't want to go as far as making it just a symbol like Prince but to have something more than Madonna.

Franchesco!: LOL I haven't changed my last name to an exclamation point legally-- yet... but it could still happen.

BD: What are you working on currently? In order to pimp you out properly I need to know what the product is and then of course, I'll want 10%.

F!: Hah, good one-- but nope, sorry no deal... not gonna part with one percent much less 10%. That's the beauty of creator owned... I don't have to share my toys with anyone if I don't wanna. I am doing more with my creator-owned character... XSTACY. I have been having fun working on characters for various publishers from sea to shining sea throughout my career, but nothing compares to doing my own thing. I'm also working on: Create a SuperHeroine Contest for Image Comics. Shadowline is looking at writers' proposals as we speak. We've received more than a thousand entries so far, and counting. The finalists will be screened out by editorial, and made public for the people to vote on. We'll then get the party started on the three issue mini-series with the People's Choice winner.

So far so good and the best is yet to come!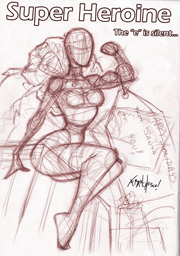 BD: How do you feel about the Hollywood take over of comics in the past decade? Do you have high hopes for any of the upcoming films like Iron Man, The Dark Knight or the Justice League?

F!: Not exactly sure how that translates. For example: I hear numbers of issues sold of a Batman comic does not increase, when say a new Batman movie hits theaters. Why is that? One would think if a comic shop normally sells 100 issues of Batman on any given month... they should be selling thousands of issues more when hundreds of thousands of people go see a movie about Batman that same week. Unfortunately, that's just not the case.

I've been at this long enough to remember that a movie made of a comic book character was like hitting a grand slam home run... a veritable Holy Grail. Today it's almost like: "Yeah, whatever. A few million here, a few million there... no big deal." Even though super heroes on the big screen are not as rare as it once was... it's still a pretty big deal. I have high hopes that any project that uses superheroes as their source material does really well... because that's when everybody wins in one way or another. Or at the very least, the hope is that no one loses, and lives to regret it.

BD: Has your artwork ever appeared someplace strange that you didn't expect (tattoos, lunchboxes, underwear…)?

F!: Not that I know of... why? What have you heard? What is it that you're not telling me?

Funny you should mention underwear... the second thing that comes to mind when you say that, is "laundry" ...and not just because I have a dirty mind.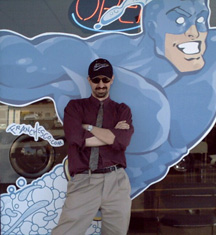 I was hired to design artwork for a new business venture in my town. It was not something I would generally consider, but the sky was the limit, and they were inspired by the comic art on my website-- they said I could do something with a superhero if I wanted to. That not only got my attention, it held my interest. They wanted to design an identity for a laundry mat... located on a 6 lane road that runs a few minutes from O'Hare International Airport. The idea of seeing my artwork super-sized on the side of a building was already a big bonus, but having countless people who normally wouldn't step foot into a comic book store, or go to see a comic book movie, be exposed to a larger than life superhero in an unlikely place --is what got me to ultimately jump into it head first.

But that's not the "unexpected place" part of where I saw my artwork... I received an email from someone who is part of a group of people who appreciate the esthetics of Laundromats. I know, right-- who knew? I couldn't be more flattered when someone drove past the Laundromat featuring my artwork. Stopped the car and took a picture of it, and posted it on the group. I received a link asking for permission to feature my stuff ...of course I said yes. Not only did someone of impeccable taste pleasantly surprise me, but a totally classy gesture to even ask for permission...

BD: If you could pick any comic book title to work on, what one would it be and what role you play?

F!: Oh, wow... good question but a really tough one to answer. There are so many characters I would love-love-love to work on. I just have a passion to pencil, ink, and color... so when I can put the passion for the process, together with the love of comic books. The rest is all gravy.

BD: Let's talk about the convention circuit.

F!: Okay, let's... (laughter)

BD: (laughter) You seem to always have a great time like you're just happy to be at your booth and shaking hands with Darth Vader whether or not you are talking about your work. What's your favorite part of a convention? (and please don't say the food)

F!: The food. (evil grin)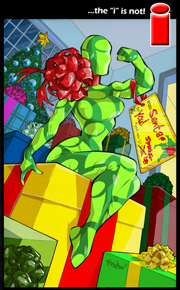 BD: I asked you to please not say the food.

F!: Sorry, but when folks tell me 'not' to do something, it makes me want to do that very thing even more. You made food 'taboo' for me now. (grin)

BD: Okay, what's your favorite part of a convention? (and please only talk about food, and don't talk about anything else)

F!: It's the people. Meeting and greeting the fans. Seeing great friends again. Crossing paths with creators whose work I enjoy, and meeting childhood idols... and of course, making new friends. It's the people... the people, the people.

BD: Do you have a convention calendar for 2008 so fans can find out where you'll be appearing?

F!: I don't have any appearances set in stone yet... but in all probability I'll be at Wizard World Chicago... and possibly a few more Wizard Worlds this year, as usual. San Diego Comic Con International is always a good time. Baltimore was all kinds of awesome last year, so I would love to go back.

BD: Do you ever just attend cons as a visitor rather than an exhibitor?

F!: You mean like if I have a secret identity? Blend in, be a fly on the wall... just go to go... kind of like the witness protection program? Nope, never have. After the first few minutes of walking around, I would probably miss setting up too much to enjoy myself the entire weekend.

BD: Is there another artistic arena that you'd like to branch out into; for instance, television, movies, or animation?

F!: Yes, yes, and yes. Have your people talk to my people.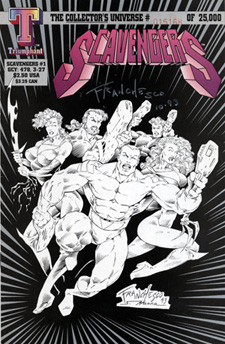 BD: You've supported the Wonder Woman Day fundraiser for the past two years with the Oregon and New Jersey events. What other charity work do you do?

F!: Not that much really. I pride myself on not missing my deadlines... and projects are stacked really close together now. I rarely have down time to slip the occasional piece between projects anymore. It's become increasingly more and more difficult.

BD: What draws you to a particular fundraiser?

F!: The intended recipients for a charity is important, but if a high percentage goes to the intended recipients is also important. Too many times something seems like a good idea, and appears to be a worthy cause... but most of the money raised goes to having fancy parties and renting limos and stuff. Those kinds of events should be banned. It's using and swindling people in need, to support a lifestyle of the rich and famous on someone else's dime... all the while leaving the intended recipients out in the cold.

BD: Are there times when you get too many solicitations for charities where you have to turn some away?

F!: Unfortunately, yes. Even worthy charities, structured accordingly that speak to my heart and do really good work. When all is said and done, there is only so much time in the day to do everything I'd like to do.

BD: At this point in your career, do you still look to other artists past or present that you would say influence your style or subject matter?

F!: It's impossible not to. Any creative person is influenced in one way or another by everything in their environment. Comic books and comic book art is a big part of my world. Our experiences are like a fingerprint. It's impossible to touch a glass with a bare hand without leaving an impression of some kind. Even if it's hard to see with the naked eye... the contact was made. How much that contact affects our lives varies on the type of exposure to the experiences we have. The effects can be felt in lots of ways; in some cases, the effects are still being felt many years later.

BD: Do you have time to read comics on a regular basis and if so, what's on your pull list?

F!: I don't have a pull list. I prefer to go into the comic shop and browse the shelves. Although I don't have time to read all the comics I would like to, I still buy tons of them, and enjoy them at my leisure. I'm an artist, so I collect primarily for the pretty pictures. Comic art is what got me into comics in the first place thanks to John Byrne's awesome artwork back in the day. Once I get a few issues of a series together, I read them all at one sitting... which can be very satisfying. 'Cause reading comics is fun!

Franchesco! on the web

www.franchesco.com
http://www.myspace.com/franchesco
http://franchesco.deviantart.com/



---
NEW! 1. 09/23/2021 - CONOR MCCREERY & NEIL GIBSON