TEE FRANKLIN

SEND THIS TO A FRIEND!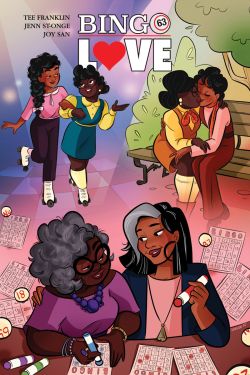 DF Interview: Tee Franklin brings a story of courage, resiliency like no other in Bingo Love OGN
By Byron Brewer
When Hazel Johnson and Mari McCray met at church bingo in 1963, it was love at first sight. Forced apart by their families and society, Hazel and Mari both married young men and had families. Decades later, now in their 60s, Hazel and Mari reunite again at a church bingo hall. Realizing their love for each other is still alive, what these grandmothers do next takes absolute strength and courage.

From writer Tee Franklin (Nailbiter: The Outfit, Love is Love) and artist Jenn St-Onge (Jem & The Misfits), the Bingo Love OGN brings a story of love, family and resiliency that spans six decades.
DF was honored to sit down with creator Tee Franklin to discuss this unique tale.
Dynamic Forces: Tee, it is an honor to speak with you. But I have to know: whose great idea was it to release your already-famous Bingo Love graphic novel on Valentine's Day? Genius marketing, whoever it was. Thoughts?
Tee Franklin: It's totally my pleasure, Byron. That would be me, it was my idea to have Bingo Love come out on Valentine's Day 2018. V-Day 2017 was when I announced to the "Twitterverse" that Jenn St-Onge, Joy San, Cardinal Rae, Erica Schultz and myself were bringing Bingo Love to life, and that we would be taking this love story to Kickstarter in order for it to be funded. I felt that there was no other date that would do Bingo Love justice than having a Valentine's Day release date.
DF: Before asking about the book proper, and I know you tire of questions like this, but tell us your outlook on the importance of inclusivity in the comics industry, if you would not mind.
Tee Franklin: Two words. Representation Matters.
DF: Introduce the readers please to Hazel Johnson and Mari McCray.
Tee Franklin: When we first meet Hazel Johnson as a child, you can tell she's a bit shy, kind-hearted, sweet and dainty. Mari McCray is the exact opposite -- sarcastic, outgoing, laid back and cool. Both girls are from opposite coasts and Mari's just moved to New Jersey and Hazel is tasked with showing Mari the ropes in the school.
DF: Tell us a little about the storyline and what inspired for you their wonderful love story?
Tee Franklin: Bingo Love is Academy Award-winning Moonlight meets Black Mirror's San Junipero episode, with a dollop of bingo.
I was actually inspired by a NYC heart commercial. Not entirely sure what I was watching, but I saw these two black senior citizens sitting on the brownstone steps, they get up and when they started to power walk, a handsome black man caught their attention and they giggled like school girls.
I remember pausing the commercial and submerged myself into their lives, but instead of a man catching their attention, I wanted it to be a woman. I wanted these two older black women to have the hots for each other, I picked up my pen and pad and just started to write this world that they live in with the focus on it being happily-ever-after.
DF: What other characters from Hazel and Mari's lives are important to Bingo Love (love that title, knowing the storyline)? Can you introduce a few?
Tee Franklin: I'm glad you adore the title. Bingo Love truly fits as it's where Hazel is smitten by Mari's presence.
In this volume, we focus on Hazel's family -- her husband James, her sons Isaiah and Joshua, and her daughter Marian. The family dynamic changes when about fifty years later Hazel runs into Mari at bingo.
DF: Can you tell us some of the challenges Hazel and Mari had to face in their lives and in their families early-on (non-spoilery, of course)?
Tee Franklin: Being a lesbian was something that just wasn't allowed back in the 1960s. Actually, my mother said to me a few weeks ago after she read the book, "They'd accept if you were promiscuous than if you were a lesbian." And my mom was in her late twenties back then, so she'd know.
Heck, even now you can be disowned if you come out of the closet to your parents, some children are even physically hurt by their parents when they come out. So Hazel and Mari had to deal with their own consequences when the truth finally comes out and they're caught.
DF: Talk about the art of Jenn St-Onge. Great work on Jem and the Misfits!
Tee Franklin: Blessed. Truly blessed to have worked with Jenn. I put out a call on Twitter looking for artists for a paid gig. Jenn and I were going to work on a different project together, but things didn't fall in place for that project. So I had asked Jenn if she'd like to work on Bingo Love, and she said yes.
Jenn's work is majestic. Every single time she sends me pages I wound up in tears. Then when Joy San sent me the colors, more tears fell. Joy and Jenn are beyond talented. When I hired Joy, I explained to her that I wanted Hazel to be a darker-skinned black woman and that her complexion changes in response to sunlight and moonlight. She did such a fantastic job! And Jenn, my favorite page is how she took care in getting the hair of Hazel's granddaughter correctly.
Representation is important. So when you see yourself in books, and it's not done correctly, you feel let down. I wanted to make sure that the readers see not only themselves, but their family members and friends -- Jenn and Joy understood that and made it happen.
DF: Wow. … Tee, I probably will never be able to even imagine the challenges you may have faced already in this industry and in life as a woman, as a member of the LGBTQ community, as a person of color. You have oft spoken eloquently on these challenges. But as someone with a disability myself, I wonder if you can talk briefly on any challenges or prejudices you may have experienced in this area?
Tee Franklin: As you said, I've spoken on the challenges that I experience as a woman, as a black woman, as a queer black woman, and as a disabled queer black woman several times online. It's hard. From being told by an editor-in-chief that I need to "behave", to being labeled as an "angry black woman" because I speak out on the lack of representation in comics, to being repeatedly called the N-word by people. I won't even touch on the threats that I get sometimes daily.
It's so damn hard and stressful; I'm tired of it.
When it comes to my disability, I have to fight harder -- hell, I have to fight harder, just because I'm a black woman. In this industry, it's all about making deadlines, and if you're known for not making your deadlines, well … you can forget having a decent career. In my case, it CAN be hard for me to make my deadlines if my body doesn't want to "act right", but all I can do is push myself harder to get it done. As a freelancer, you're really not afforded "paid sick days" because there's someone out there who'll do the work that you couldn't do without complaining.
My biggest challenge that I've faced being disabled is conventions NOT understanding that I'm disabled and I can't walk far, or need to be near the bathroom and at the corner of tables for my mobility device. Last year, the cons I attended had me all the way in West Bubblef*ck, damn near a block or two from the bathroom. It was very inconvenient, but apparently people's requests trumps medical necessities when it comes to placement in artist alley.
I will say Heroes Con and NYCC went above and beyond to help me and made sure everything was accessible.
DF: Something a lot of folks probably never even think about, thanks. … Finally, what other projects might you have going currently or in the near-future you can tell readers about?
Tee Franklin: There are a few things in the works -- a horror series and a YA graphic novel should be coming your way in 2018. And of course Bingo Love will be out in comic shops on Valentine's Day and in bookstores on Feb. 20th!
Dynamic Forces would like to thank Tee Franklin for taking time out of her busy schedule to answer our questions. The Bingo Love OGN from Image Comics hits stores on Valentine's Day, Feb. 14th!
---
NEW! 1. 11/30/2020 - SKYLAR PATRIDGE
5. 11/16/2020 - RYAN O'SULLIVAN