PHIL HESTER

SEND THIS TO A FRIEND!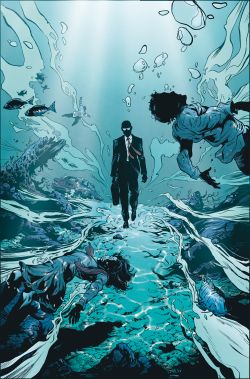 DF Interview: Phil Hester ties true love to apocalypse in 'Stronghold'
By Byron Brewer
Our planet is actually a prison designed to both trap and shelter an amnesiac alien entity of incalculable power. Now known as Michael Grey, this cosmic angel of destruction currently believes himself to be an ordinary, midwestern insurance underwriter, who belongs to a global secret society dedicated to making sure he never discovers the truth about his past. To make matters worse, our hero has fallen in love with Michael Grey. And for their love to be born, Earth must die.
In AfterShock's new series Stronghold, Phil Hester (The Coffin, Deathstroke, The Darkness) and Ryan Kelly (The Wicked + The Divine, Lucifer, Saucer Country) weave a tale of cosmic horror, high adventure and tragic romance unlike anything else in comics. DF spoke to the scribe to discover more.
Dynamic Forces: Phil, just reading the solicit, Stronghold is obviously going to be one complex cosmic ride! What can you tell us about the genesis of how this comic came about?
Phil Hester: It's an idea that I've been kicking around for a decade or so at this point. Comics, and pop culture in general, is chock full of the secret destiny/hero discovered trope. In most of those stories, the protagonist discovers some hidden destiny or power that winds up saving the world. I wanted to do a story in which a character's secret destiny should have stayed a secret.
Of course, in a lot of heroic fiction the hero pays a heavy personal price for pursuing their quest, but I thought it would be fun to explore a character pursuing a quest that would mean bad news not only for them, but for humanity in general.
DF: Can you expound (in a non-spoilery manner, of course) about Earth being a prison designed to both trap and shelter the amnesiac alien who is your protagonist? You mean, that is ALL the planet has been since the Big Bang and spinning out of the Sun?
Phil Hester: Haha -- well, maybe not that early, and I don't want to spoil too much. We're going to learn that a lot of human history has been influenced by the presence of this strange entity. Many of our venerable cultural institutions and societal practices have been warped by the presence of this being we've all been sentenced to live beside.
For example, the Drake Equation says the universe should be teeming with alien civilizations, but we haven't heard from any of them. Maybe it's not because we're too far away or too primitive, but that we're simply off limits. We're prohibited space due to the presence of Michael Grey on Earth.
DF: Tell us the initial storyline for Stronghold.
Phil Hester: It's about Michael Grey awakening to the fact that he's more than human, and learning there is a worldwide secret society called The Stronghold designed to prevent this awakening. One day you're an insurance underwriter in St. Louis, the next you're a super-human entity on the run from a quasi-religious organization that's equal parts S.H.I.E.L.D. and the Knights Templar.
Just as Grey is starting to feel his current reality crumbling, a member of The Stronghold loses her faith. Claire, a Stronghold agent assigned to monitor Grey, believes this is all a crock. She's young and independent, and secretly in love with Grey. When she tries to free him from The Stronghold's grip, she realizes the awful truth behind the faith she abandoned. With both of their lives destroyed, Grey and Claire can only cling to each other, but will that be enough to survive the cosmic conflagration they've set off?
DF: What more can you tell us about the intriguing Grey?
Phil Hester: I don't want to spoil anything here, but as I said he thinks he's an insurance adjuster working for a huge corporation in the midwest. He has a dull, vague ache in the middle of his inner life. He sees a therapist because he has no real memories of his past. This therapist fills in the holes, claiming all his blank spots are due to childhood trauma. In actuality, the therapist works for The Stronghold, desperate to keep Grey's identity from coming to the surface. His life is boring by design. He's in a literal bubble built by this organization.
When that bubble bursts, Grey discovers that not only is he more than human, in a lot of ways, he is much, much less.
DF: What if anything can you tell us about The Stronghold itself? (Secrets within secrets. I love it!)
Phil Hester: They're like the CIA if the CIA was a cult. They have strict tenets, like any religious organization, but also magnificent technology. They've developed alongside normal human culture, a parallel civilization. They move among us, seeming to be normal folks with normal jobs, but they are all tasked with protecting Grey from us, and us from Grey.
DF: Tell us more about the tragic romance aspect of Stronghold.
Phil Hester: Claire is a member of The Stronghold who breaks from her faith, driven by her affection for Grey. Grey is drawn to her as she's the only Stronghold agent who treats him like a human being. When the truth about his past hits both of them, their respective worlds are destroyed. What starts off as a flirtation ends as a cosmic conflict. Now Grey and Claire are alone, hunted by both The Stronghold and the otherworldly forces who put Grey here in the first place, forces capable of annihilating the galaxy. If you found your one true love but it meant the end of the world, what would you do?
DF: Talk about artist Ryan Kelly. If his cover to issue #1 AND his work on The Wicked + The Divine are indicators, you are gonna have a heck of a mood-filled, beautiful book.
Phil Hester: Ryan's a gem. I feel very lucky to have landed him for the project. He's sort of comics' secret MVP. He can draw anything. He brings so much to the table in terms of character and environment. As an artist myself, I recognize the strengths in other artists' work pretty quickly, especially when they're strengths I don't share. If they make me envious, they're good. Ryan fills me with envy.
We're also joined by lettering master Simon Bowland and exciting new colorist Dee Cunniffe, both of whom bring their own accomplished voices to the story.
DF: Phil, what other projects can you tell readers about?
Phil Hester: I'm writing ANOTHER secret society/SF book for Ariela Kristantina to draw called The Gulf that will come out some time in 2019. I'm drawing a thing with Jeff Lemire for Image called Family Tree slated to come out in 2020.
Dynamic Forces would like to thank Phil Hester for taking time out of his busy schedule to answer our questions. Stronghold #1 from AfterShock Comics hits stores Feb. 20th!
For more news and up-to-date announcements, join us here at Dynamic Forces, www.dynamicforces.com/htmlfiles/, "LIKE" us on Facebook, www.facebook.com/dynamicforcesinc, and follow us on Twitter, www.twitter.com/dynamicforces.
GODZILLA: KINGDOM OF MONSTERS #1 DYNAMIC FORCES EXCLUSIVE - SIGNED BY ARTIST PHIL HESTER!
GREEN ARROW #2 - SIGNED VERSION
DOCTOR SPEKTOR #1 HIGH-END PHIL HESTER "VIRGIN ART" ULTRA-LIMITED
MAGNUS: ROBOT FIGHTER #4 HIGH-END PHIL HESTER "VIRGIN ART" ULTRA-LIMITED
MASQUERADE VOL. 1 TRADE PAPERBACK
GREEN HORNET VOL. 4: RED HAND TP
GREEN HORNET VOL. 5: OUTCAST TP
THE BIONIC MAN VOL 2: BIGFOOT TPB
GREEN HORNET OMNIBUS VOLUME 1 TRADE PAPERBACK
GREEN HORNET VOL. 6: LEGACY TPB
---
NEW! 1. 11/25/2020 - STEVE SKROCE
4. 11/16/2020 - RYAN O'SULLIVAN
5. 11/16/2020 - RYAN O'SULLIVAN