KEN GARING

SEND THIS TO A FRIEND!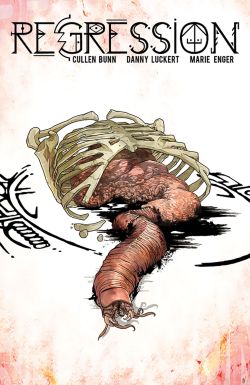 DF Interview: Ken Garing's world of Planetoid returns in Praxis
By Byron Brewer
From writer/artist Ken Garing comes the long-anticipated sequel to the popular 2012 miniseries Planetoid. In Planetoid: Praxis, the inhabitants of a distant planetoid have fought off their robot overlords and established a thriving settlement on the planetoid's mechanized surface. Now, years later, their de facto leader, Onica, must grapple with a new complication when their isolated way of life is threatened by the arrival of an unexpected visitor.
To get to the heart of this new original SF series, DF spoke with its one-man-band creator, Ken Garing.
Dynamic Forces: Ken, after four-plus years how does it feel to be continuing the saga of your very popular miniseries, Planetoid?
Ken Garing: I never really stopped working on Planetoid. After finishing the first series I worked on a couple of projects (some of which didn't pan out), but all the while I kept thinking of other stories that could take place in the Planetoid world. It's been a long haul but I'm really happy with the series and eager to get it out there.
DF: I realize we have moved on, but what would the new reader need to know from Planetoid so as to more thoroughly enjoy this new series from Image Comics?
Ken Garing: All the Planetoid comics are designed to be as easily readable as possible, even for non-comic readers. As a reader myself I always liked self-contained stories and read a lot of miniseries and one-shots. Obviously I'd like for people to read Volume 1 but it's not necessary.
Basically, the Planetoid is a small wayward planet partially covered with a mechanized surface (the ruins of a vast mining operation). A small human population lives there and after having fought off their robot overlords (in Volume 1) have created a settlement. Praxis takes place some years after those events and the settlement must now deal with an entirely new threat.
DF: Some time has obviously passed between the two series. What can you tell us about this "universe" we are about to explore in Praxis?
Ken Garing: It's the same world as in Volume 1, but a new presence has made itself known. There is also more background explanation about what is going on in the outside universe, mainly regarding the war between the human colonial government and the Ono Mao (an alien race that controls the planetoid) ... all of which has a direct impact on the lives of the people of the settlement.
DF: Introduce us to Onica. Who is she, how did she become the leader (if such she is) and what makes her "tick"?
Ken Garing: Onica crash-landed on the Planetoid with her family when she was young. Her family was killed by robots that roamed the surface. Since then, she's been forced to survive in a very harsh environment. Her identity is anchored in that. But now she's in s situation where her skills and her willingness to fight may not be enough. She's also now a mother in addition to being the de facto leader of the settlement. So she's pretty heavily burdened by all of this.
DF: What other interesting supporting characters might we be on the lookout for?
Ken Garing: I really wanted to explore some of the background characters from Volume 1. They sort of sprang out organically on the page but Volume 1 was very plot-based and there wasn't much room to flesh them out. Praxis is much more character-driven and the conflicts among the characters are more deeply explored.
Onica's two children Aden and Zuri were introduced at the end of Volume 1 and we get to see them mature in this series and explore more of the Planetoid's surface. Also there's Nkunda. He was kind of a mysterious character who domesticates the reptiles living on the surface. He's now partnered with Onica and we go into his background some more in Praxis.
DF: It's rumored that a mysterious visitor is on the way that will make Onica's life less bliss, if indeed it is. Is there anything you can hint at about that (non-spoilery, of course)?
Ken Garing: Life on the Planetoid has been characterized by the fact that anyone flying too close to the surface is brought down to the surface by the planet's electromagnetic radiation. So those living on the surface are isolated from the outside universe. With Praxis, that has changed. Visitors can now freely descend onto the Planetoid. The Settlement has managed to function for years but the introduction of these new visitors disrupts everything and the characters are unsure of how to react.
DF: Writers usually have some of themselves in their protagonists. Which part of Ken Garing does Onica reflect?
Ken Garing: Maybe subconsciously, but honestly I try to keep an objective distance from the characters. Probably, Nkunda represents my own thinking more. As we'll see in Praxis, Onica can be a bit harsh.
DF: As artist on the series as well, did you design a lot of new characters for the book? Is there one character/set piece that presented a greater challenge for you and/or was the most fun? Did Artist Garing ever have any complaints for Writer Garing, or vice-versa? (laughs)
Ken Garing: I had to design a lot of new characters and locales for this book. In particular, there was a large crowd scene that takes place at the settlement that was kind of tricky. I wanted to explore the scene from different angles and the only solution I could come up with was to make a 3D model in Goggle Sketchup to use as reference. I know that other artists do this sort of modeling, but for me it was a first and required a lot of work. The good thing is, once you have the model you can use it repeatedly.
In terms of writing, I tend to think of the imagery first and build scenes around narrative imagery so in that sense the writer (me) accommodates the artist (me).
DF: Ken, any projects ongoing or upcoming you can tell us about?
Ken Garing: I'm wrapping up work on Praxis now. But I'm hoping to do more original science-fiction comics with Image after finishing the series.
Dynamic Forces would like to thank Ken Garing for taking time out of his busy schedule to answer our questions. Planetoid: Praxis #1 from Image Comics hits stores Feb. 1st!
For more news and up-to-date announcements, join us here at Dynamic Forces, www.dynamicforces.com/htmlfiles/, "LIKE" us on Facebook, www.facebook.com/dynamicforcesinc, and follow us on Twitter, www.twitter.com/dynamicforces
---
NEW! 1. 11/30/2020 - SKYLAR PATRIDGE
5. 11/16/2020 - RYAN O'SULLIVAN