DAVID F. WALKER

SEND THIS TO A FRIEND!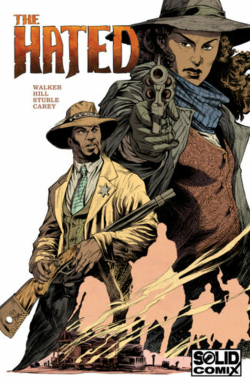 DF Interview: David F. Walker talks about the adaptation of 'The Hated' into a live action western TV series, and much more
By Byron Brewer
Netflix has acquired the action comic The Hated by my friend, David F. Walker, for a potential live action western series. The prime mover is reportedly Michael Starrbury, the Emmy-nominated writer who teamed with Ava DuVernay on When They See Us and Colin in Black & White, the Netflix series on Colin Kaepernick. Starrbury will be executive producing along with Prime Universe Films' Adrian Askariah, Walker and Sean Owolo.
When I heard the news, I tracked down my favorite former Shaft scribe and David was kind enough to talk, as much as he could, about The Hated, his other properties in various stages of moving from one medium to another, his dedication to working in comics, and more.
Byron Brewer: David, you and your creations have certainly been busy these days. The latest example, at least of this writing – your news moves fast! – is Netflix acquiring your Solid Comix action comic The Hated for development into a live action western series. The mover and shaker here is rumored to be writer Michael Starrbury. Tell us what you can about this, and will you have any active part in a series should it comes to fruition?
David Walker: Oh, we're too early in the process to share any of the good details. What I can tell you is that I was connected to Michael through producer Adrian Askarieh, and both of them really understood and connected with what The Hated was really all about. I've been working on The Hated with artist Sean Damien Hill for quite some time, and for me it's been a labor of love. My goal was always to make a solid comic, and any thought of translating it to other media was always contingent on people understanding what the story was really about. There were people who looked at the premise, and for some reason they felt it was first and foremost another slavery drama, and that's not what it is. The Hated is a western, plain and simple. Now, the lead heroes are all African Americans, and former slaves, but if you're telling a story set in the 1870s, and you have Black gunslingers and outlaws, chances are pretty good they were slaves at one point, and to ignore that, or not have it be part of their character and the world…well…that's sh*tty storytelling. But that said, The Hated is not about slavery, it is about revenge and justice and all the moral ambiguity that makes for the best westerns.
Byron: I know well the constraints under which you are placed during such dealings, but is there anything you can tell readers as to what a TV iteration of The Hated may be about. If not, at least spotlight the comic book for the uninitiated.
David Walker: Everything is still in the early stages of development, but the one thing I'd like to see in a TV iteration is an overall expansion of the world. The Hated is very much a traditional western, but it is set in an alternative historical timeline where the Civil War ended in a truce, and now there are two Americas, the Union States and the Confederated States. My plan for the comic was to start out with smaller storylines, and gradually expand to include more characters and scenarios. For me, it made more sense to start the comic small and grow the world, in part because the comics medium is more limited by page count and space. But in TV you can do more, and I think that if The Hated is to make the leap to live action, the nature of that medium demands starting out big, and then narrowing the focus – or something like that.
Byron: In a very general sense, if you can, is there any area of the comic you would yourself like to change for its adaptation for a television streamer?
David Walker: I plan on getting bigger with the comic – that's always been the plan. There are a bunch of characters I have yet to introduce in the comic, including some inspired by real life figures, and hopefully some of them will make it into the show. But by and large, I'm really happy with the comic, and I want to make sure that the comic remains the comic, and the show has the opportunity to grow into what it needs to become.
Byron: Also Naomi is about to become more than just a name as the DC Comics property co-created by you and Brian Michael Bendis will soon begin life as one of the DC-inspired series on The CW. What can you tell us about the comic book and the coming TV production?
David Walker: I have not been involved with the show, and all I know is what the public already knows. Brian, Jamal, and I are all back to do a second mini-series for DC, which is scheduled to debut in March. The comic we're doing is a direct sequel to the series that introduced Naomi, and if there's any similarity to the comic we're doing and what's happening in the show, I'm not aware of it.
Byron: One of your greatest comic books IMHO has been Bitter Root, created with Chuck Brown and artist Sanford Greene. If memory serves, the property being adapted is set at Legendary with Regina King directing and Ryan Coogler producing. Tell readers, if you would, the marvelous story of the Bitter Root families and, if you can, any news on the iteration coming.
David Walker: Bitter Root is about a family of monster hunters during the Harlem Renaissance, and the monsters they fight are people who have been transformed by hate and racism into demonic creatures. Chuck, Sanford, and yours truly wrapped up the larger story we were telling last year, and now we're working on a nice little follow up. The problem is that our schedules aren't lining up at the moment, but there will be more Bitter Root, either later in 2022 or early 2023 (hopefully). As for the movies…honestly, that's all above my pay grade. It is still happening, and I believe we'll be seeing a new draft of the script within a month or two. Coogler is busy working on the new Black Panther movie, and Regina King is busy just being a superstar. Legendary remains committed to the film, and Chuck, Sanford, and myself are committed to the comic.
Byron: What has it been like for you to go from the comic book page to other media with your ideas? Has it at all made the comic books themselves less important to you as a writer?
David Walker: I do my best to compartmentalize – the comics are the comics and the other media is the other media. My job is to be the best comic writer I can be, and I have no control over what happens in other media – at least not at the moment. With the exception of Naomi, everything I'm involved with is still in an abstract form – no one has been cast, production hasn't begun, and as a result, it doesn't always seem real to me. Honestly, the comics are more important than ever, and my position as a writer is still important to me. The one thing that has changed significantly is my attitude about creating new characters in a work-for-hire capacity, which is to say I highly doubt that I'll ever create another character for a comic publisher unless I own the rights to that character. That attitude may change if publishers start treating creators fairly and compensating them better, but until that happens…
Byron: I know that for sometime you were trying to do something big with Shaft. Heck, you did two comics runs, I believe, and wrote a prose novel! Is there still an urge to do more?
David Walker: Yes, I still have more Shaft stories to tell. I've let everyone at Dynamite know that I'm down to return for the character. In fact, Shaft is the one work-for-hire scenario that I really still want to play with. Personally, I think there needs to be a Shaft television series, something on a major streamer, and it needs to be inspired by the novels, not the other movies. It is not meant to be a comedy. And when I look at how many iterations there have been of Tom Clancy's Jack Ryan, or Hannibal Lecter, I think that everyone involved with the live-action Shaft property are lazy and uninspired. Yeah, I said it. That anyone could make a Shaft movie as bad as the last one, you have to work really hard to sh*t the bed that bad, starting with NOT reading any of the original books by Ernest Tidyman.
Byron: David, can you tell our readers about any of your projects, inside or outside comics, that they should be watching for soon?
David Walker: I have a collection of short comic stories, all drawn by different artists, that I'll be putting out early this year. This is an eclectic mix of stuff that I've really had fun working on. In the meantime, I have two new books I'm working on for Ten Speed Press, neither of which I can discuss publicly, and a Young Adult novel coming from Scholastic Books in 2023. I'm definitely crazy busy, but since I'm pivoting away from monthly comics there's this perception that I'm not working, which simply isn't the case. I'm just not in the trenches writing monthly periodicals, and that's fine with me.
Dynamic Forces would like to thank David F. Walker for taking time out of his busy schedule to answer our questions. Stay tuned to DF News for coming updates on The Hated, Naomi and others.
For more news and up-to-date announcements, join us here at Dynamic Forces, www.dynamicforces.com/htmlfiles/, "LIKE" us on Facebook, www.facebook.com/dynamicforcesinc, and follow us on Twitter, www.twitter.com/dynamicforces.
LUKE CAGE #1 SIGNED BY DAVID WALKER
SHAFT #1 RARE Denys Cowan "VIRGIN ART" EDITION FEATURING SILVER ELITE EDITION SIGNATURE BY DAVID WALKER
SHAFT #1 RARE FRANCESCO FRANCAVILLA "VIRGIN ART" EDITION
SHAFT: A COMPLICATED MAN TRADE PAPERBACK
---
NEW! 1. 02/10/2022 - SIMON SPURRIER
4. 01/31/2022 - TIM SEELEY & AARON CAMPBELL
5. 01/27/2022 - TYLER BURTON SMITH