HOWARD MACKIE

SEND THIS TO A FRIEND!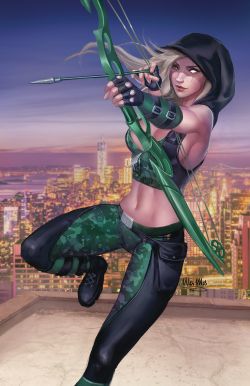 DF Interview: Howard Mackie brings twists, turns & betrayals to a hero during her darkest hour in 'Robyn Hood: Outlaw'
By Byron Brewer
Returning from her last adventure, Robyn is back in New York, and looking for some sort of normalcy. But not everyone feels she deserves any, the universe included. After a close friend is attacked, Robyn must take it upon herself to get to the bottom of this mystery as she is pitted against her greatest adversary yet when she becomes Public Enemy No. 1 to the city she calls home.
From Zenescope Entertainment comes a whole new fast-paced, bare-knuckled series, Robyn Hood: Outlaw, written by Howard Mackie with art by Babisu Kourtis. DF wanted to know more about Robyn's newest exploits, so we met up in a forested area of the Sherwood Mall complex with scribe Howard Mackie and chatted.

Dynamic Forces: Howard, tell us how this Robyn Hood tale came about. Is it something you pitched, maybe on the Mackie back burner for awhile?
Howard Mackie: There is ALWAYS something on the multiple back burners which I draw upon when writing under any of the names under which I write. However, in THIS case, I had wrapped up a few projects I'd written for Zenescope (Jasmine: The Crown of Kings and others) and they asked me if I'd be interested in writing a Robyn Hood arc. The premise is theirs [Zenescope], but … you know, the unfolding of the story, a random new character or two … there's plenty of me in the story.
DF: Before we get into the series proper, Robyn Hood: Outlaw, give us your take on the character. Who is she, in your writer's perception? What makes her tick? Why should readers care?
Howard Mackie: I've always had a soft spot for characters who exist on the fringe of society and in the shadows, those that don't fit neatly into the traditional hero box. I also happen to love stories involving archers. I did write quite a few Hawkeye stories for Marvel back in the day.
Robyn is a loner at heart, but I think, due to the fractured nature of her early life, on some level she desires some version of a family around her. I also love a character like Robyn who presents as a selfish mercenary, but who is always drawn to doing the right things for the right reasons.
DF: One of Robyn's close friends is attacked in issue #1. What can you tell us about this friend's relationship with our heroine and the emotions that spur her into action?
Howard Mackie: As I hinted, Robyn's circle of friends is very small. The few friends she does have are very special to her. An attack on one of her friends is an attack on her. It so happens that turns out to NOT be a metaphor in this story.
DF: In a non-spoilery manner, of course, what can you tell us about the big-bad herein?
Howard Mackie: There are a couple of big-bads in this story. Throughout most of the story, we will not know who performed the inciting incident, but very soon Robyn -- as per the title of this series -- becomes an OUTLAW. Law enforcement, bounty hunters and ordinary folk will be out to get her. She will go down deep into the underpinnings of society and will be surrounded by some seemingly like-minded individuals, but the story is filled with twists, turns, betrayals and more.
DF: Devil's advocate Q: What are the challenges of gender-switching an established character, in this case Robyn for the literary Robin Hood?
Howard Mackie: That's an interesting question. I was a big fan of the legends of Robin Hood in all its forms -- mostly various versions of the character in the movies. I'm fortunate to be writing this adventure well after she was created in the pages of the Zenescope comics. Her origin has been told already, so I get to pick up on this specific character at this specific time in her life. I see my job as writing a story about a strong, empowered character who happens to be female. Strong characters are strong characters. Period.
DF: What can you say about the art for this new series?
Howard Mackie: I am very fortunate to be partnered with Babisu Kourtis for this project. Babisu is one of the best young talents I've had the opportunity to work with in years. He's a writer's dream. He thinks. He asks questions. He knows how to tell a story… and don't get me started on how gorgeous his pencils and inks are!
I was also very fortunate to have the opportunity to meet Babisu in Athens, Greece, last month. I was appearing at a convention there -- as was Babisu -- and it was while there that we discovered that we'd be working together.
By the way … I can be contacted through Facenook at Howard Mackie - Writer for convention appearances. Just saying.
DF: Howard, what other projects are you involved with that you can tell readers about?
Howard Mackie: Right now, I've got a number of projects in the works. One is for one of the "Big Two" and will have me revisiting a character I've written in the past. I also have a number of creator-owned projects in development and under consideration by a couple of publishers.
As I said above, I've been doing comic book conventions all around the world and am actively booking for 2019. PLUS, I have started taking on writing commissions. Anyone interested in learning more should reach out to me via PM at my Facebook (Howard Mackie - Writer) page.
Dynamic Forces would like to thank Howard Mackie for taking time out of his busy schedule to answer our questions. Robyn Hood: Outlaw #1from Zenescope Entertainment hits stores Feb. 13th!
For more news and up-to-date announcements, join us here at Dynamic Forces, www.dynamicforces.com/htmlfiles/, "LIKE" us on Facebook, www.facebook.com/dynamicforcesinc, and follow us on Twitter, www.twitter.com/dynamicforces.
---
NEW! 1. 11/25/2020 - STEVE SKROCE
4. 11/16/2020 - RYAN O'SULLIVAN
5. 11/16/2020 - RYAN O'SULLIVAN