JACK CAMPBELL

SEND THIS TO A FRIEND!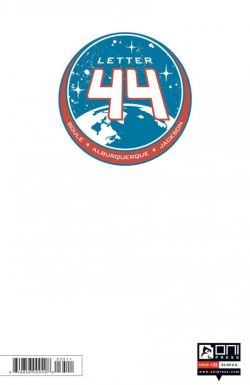 DF Interview: Jack Campbell's Lost Fleet: Corsair rockets into comics shops in 2017
By Byron Brewer
A bestselling sci-fi series finds a new home in comic books next year when Titan Comics releases an all-new series based on the New York Times best selling Lost Fleet SF novels written by author Jack Campbell, with art by Andre Siregar (Sevara).
Set after the end of a century-old war between two space empires, the Alliance and the Syndics, Lost Fleet: Corsair centers on the story of Captain Michael Geary and the legacy he struggles to live up to.
To learn more, DF spoke with the noted SF novelist himself, Jack Campbell.
Dynamic Forces: Jack, your Lost Fleet SF novels have risen to great popularity AND to the New Your Times bestseller list. Now you will be bringing that universe into comic books via Titan Comics in Lost Fleet: Corsair. How does it feel to be working in this new medium?
Jack Campbell: It's a bit of a dream come true. I grew up reading comics, seeing the integration of story and images to create something more than just the sum of both. The opportunity to create work in that medium, to try to bring to visual life the words in the Lost Fleet novels, is a wonderful challenge. But it's also the fulfillment of those youthful daydreams when I tried to imagine that I might someday participate in creating comics. If I had to sum up how I feel, I'd use one word: lucky!
DF: For the uninitiated, tell us a little about the world of Lost Fleet. What has been happening in this reality to set the table for the coming comic?
Jack Campbell: A hundred years before the first Lost Fleet novel (Dauntless) begins, the Syndicate Worlds had started a war with the Alliance with surprise attacks. One of those attacks was blunted by Captain John "Blackjack" Geary in command of the heavy cruiser Merlon. In the century that followed, as both sides reeled from terrible losses but kept fighting using the tremendous resources of many worlds, Blackjack had been elevated by the Alliance as the perfect officer, a genius of battle who (legend said) would return someday to save the day. As it turned out, Blackjack wasn't dead, but had survived in frozen sleep. Finally found, he is horrified by the changes wrought by a century of war as well as by the image of himself that had been created. With the Alliance fleet on the verge of destruction, Geary was able to turn the tables in a series of battles that finally broke the Syndicate Worlds and ended the war. But the leaders of the Syndicate Worlds, seeing their empire crumbling, are fighting to hold it together by any means necessary, including hiding Alliance POWs they were supposed to have set free.
DF: Who is Captain Michael Geary, and what is the crushing family legacy he strives to live up to?
Jack Campbell: Michael Geary is the grand-nephew of John "Blackjack" Geary. As the legend of Blackjack was used to inspire the Alliance fleet in an apparently endless and unwinnable war, those descended from his family were expected to fulfill the role of a Geary in the war no matter the cost. Michael grew up in the shadow of his great-uncle's heroic legend, knowing he would be expected to live up to it or die trying. Many in the family have died as a result of that legacy. Michael Geary, like his sister, had risen to command of a major combatant (the Alliance battle cruiser Repulse) and in an echo of his grand-uncle's last fight had sacrificed his ship to help the rest of the fleet escape a trap. No one in the Alliance knows whether or not he survived that fight, but he was taken prisoner by the Syndicate Worlds and has been secretly held since then.
DF: What can you tell us about some of the characters Geary will be teaming up with? Are they allies, or really wolves in sheep's clothing?
Jack Campbell: They are allies of circumstance, who could change allegiances at any point. Officers of the Syndicate Worlds, like Executive Destina Aragon, have learned to survive in a system where self-interest and survival are all that matter. Those who trust in anyone else are fools who soon pay a nasty price. And after a century of war where atrocities such as bombing cities and killing prisoners have become commonplace, they regard the Alliance prisoners as morally compromised as themselves. They only reason they are willing to deal with Michael Geary is because they think he is Blackjack's heir. Since Blackjack Geary had insisted on honoring old concepts of lawful war, no longer attacking civilians or killing prisoners, the lower-level workers and executives in the Syndicate believe he is on their side against Syndicate leaders who are completely ruthless. But if at any point it seems more advantageous to turn on Michael Geary, his "allies" will be sorely tempted. And they suspect he would do the same.
DF: Would you mind discussing your own interesting military history? How does this color your approach to your Lost Fleet novels, and to the coming comic?
Jack Campbell: I'm a retired officer in the U.S. Navy. While primarily a surface warfare officer and intelligence officer, I had the good fortune to serve in a wide variety of assignments such as anti-terrorism, amphibious warfare, support to special operations, and others. I also had the chance to work with many different people of many different temperaments and skills and outlooks (including some from the Royal Navy). I do my best in my stories to portray the reality of the military, and the real people who serve in it, as well as the struggles with both outside enemies and a military system that seems designed to frustrate every effort. So my depictions of the people in the military and the military itself is not a (if you will forgive the term) "comic book" version of stereotypes working in an idealized system. The officers, the enlisted, the men and women, reflect the many real people I've worked with as well as I can portray them. As in the real military, sometimes people don't do what they should, equipment happens to break just when you most need it, and plans rarely work as hoped for.
DF: Every writer invests a piece of himself in his characters. What part of you is Michael Geary?
Jack Campbell: To some extent, everyone lives in the shadows of those who came before them. Mothers and fathers and other relatives loom large in our personal sense of self, and at work we are always judging ourselves against those who are regarded as giants in a given field. We are acutely aware of what we are not, and always striving to be more, to live up to those we look up to. Often that leads to resentment as well. In the case of Michael Geary, he has had to live with an extreme form of that, in which the legend of his ancestor Blackjack has dictated Michael's future, including his likely death in battle trying to live up to an impossible standard.
DF: How has it been working with Andre Siregar? What does this artist bring to the Lost Fleet table?
Jack Campbell: It's been a lot of fun working out the imagery, trying to bring a unique slant to the graphic depictions of the Lost Fleet universe. I can provide only skeletal references to what something looks like, to what it feels like to the eye. Andre Siregar has to take that guidance and turn it into images that reflect not just the expectations of readers, but go beyond that to put a new twist on those images. He's an exceptional artist, and I am happy to have the chance to work with him.
DF: Jack, are there any other projects, inside or outside comics, current or near-future you can tell readers about?
Jack Campbell: A great many! In May, the first book in "The Genesis Fleet" trilogy will be coming out. Vanguard is set centuries before the events in the Lost Fleet, when that part of space was first being colonized by humanity. It has the feel of the Lost Fleet, but with a wild west aspect as men and women try to deal with the challenges of those frontier regions of space, including those people who want to use that freedom to attack others. The anthology Infinite Stars will also be coming out, containing my story "Shore Patrol" which finally explains where the Blackjack nickname came from.
eSpec will be bringing out my short YA novel The Sister Paradox (which was originally named The Impossible Girl before someone else used that term first). It's about a sixteen year old boy, neither of whose parents have ever had any other children, and who is very happy with that until the day his sister shows up at his school, carrying a sword and telling him there is an important quest they must fulfill.
Throughout 2017, Audible will be bringing out the "Legacy of Dragons" trilogy, a follow-on to my best-selling "YA-steampunk-SF-Fantasy-dystopian-adventure-romance" "Pillars of Reality" series. The first book in the trilogy (Daughter of Dragons) will come out on February 17th. (All six "Pillars of Reality" books are out as audiobooks, but only the first five are also available as ebooks and trade paperbacks. On December 1st the sixth and last book, The Wrath of the Great Guilds, will also come out in ebook and paperback form.)
Dynamic Forces would like to thank Jack Campbell for taking time out of his busy schedule to answer our questions. Lost Fleet: Corsair #1 from Titan Comics hits stores in 2017!
For more news and up-to-date announcements, join us here at Dynamic Forces, www.dynamicforces.com/htmlfiles/, "LIKE" us on Facebook, www.facebook.com/dynamicforcesinc, and follow us on Twitter, www.twitter.com/dynamicforces
---
NEW! 1. 11/25/2020 - STEVE SKROCE
4. 11/16/2020 - RYAN O'SULLIVAN
5. 11/16/2020 - RYAN O'SULLIVAN