DARICK ROBERTSON

SEND THIS TO A FRIEND!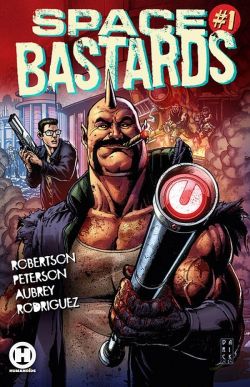 DF Interview: Darick Robertson debuts a new sci-fi action series with 'Space Bastards'
By Byron Brewer
Poor David S. Proton. A meek, unemployed accountant desperate for money, he joins the Intergalactic Postal Service, paired with Manny Corns, a.k.a. "The Manicorn," a sardonic brute who thrives on the competition provided by the IPS. But delivery is mercenary for these intergalactic dispatchers – payment goes solely to whoever fulfills the delivery, making every run a comically violent free-for-all between the most ruthless degenerates in the cosmos. Stand back, Lobo! Make way, Han Solo -- here come the Space Bastards!
Acclaimed artist Darick Robertson (The Boys, HAPPY!) joins writers Eric Peterson and Joe Aubrey as they unleash the galaxy's most vicious and depraved...parcel couriers? DF is very excited about this new space yarn, so we sat down with old friend and The Boys co-creator, Darick Robertson.
Dynamic Forces: Darick, this new series Space Bastards sounds like it's going to be a real hoot! Cosmic comedy for sure. Tell readers about the concept.
Darick Robertson: I can't take credit for the concept. That is the brain child of the writers, my buddies Eric Peterson and Joe Aubrey. This has been a passion project of theirs for years. At some point, after showing me the concept, they asked me to create covers for them, and that turned into a full blown offer to come in as a co-creator and make it happen. They literally made me an offer I couldn't refuse. At that point, I redesigned the world they were working with and we collaborated to make a better narrative and I did the visual world building that became the Space Bastards that Humanoids will release.
DF: Can you give us a little background on this world you and writers Eric Peterson and Joe Aubrey are building?
Darick Robertson: It's a world wherein we've achieved the dream of humanity's ultimate goals, to expand into space, meet alien races and travel amongst the stars, but the economy still sucks and benefits the 1% over everybody else, so you gotta work your ass off to make a dollar. It's a low budget Star Trek with the opposite message of the prime directive. The message in Space Bastards is "Get yours."
DF: Introduce us to David S. Proton, who at the stage of issue #1 seems desperate for money, something many can identify with during the ongoing pandemic.
Darick Robertson: Yeah, Davey is the everyman. He's not entirely sympathetic, but you have to admire his ability to see his mission through. Where he starts out pretty naive and takes a hell of a beating, he evolves into one of the business' top delivery people, which makes him the hard target of every other delivery person who wants that position.
DF: And Manny Corns aka … The Manicorn?
Darick Robertson: Manny is Davey's mortal enemy after they meet in issue one. Manny is the meanest, hardest, most brutal of all the Space Bastards and that's saying something. Some of these guys make it on their wit, their conniving, their strategy, and some with sheer luck. Not Manny. Manny will do anything to anyone to win.
DF: Give us the overall storyline for Space Bastards, if you would.
Darick Robertson: Essentially, it's a story about an intergalactic Postal Service where the incentive for delivery people to perform is that you get huge money bonuses for being the first to deliver the packages. The more you get, the more you earn, and if you have to cheat, murder, destroy, manipulate to do so, you win. The world is dominated by two billionaires, Wayne Powers who is a clean cut American Psycho who runs Powers Industries – where we meet Davey Proton in issue one, as he gets laid off – and Roy Sharpton, a crazy, narcissistic, misogynistic, borderline-racist genius with poor impulse control and little regard for safety. Roy is a get-rich-quick schemer who ends up owning the Postal Service and turns it into the "get rich or die trying" business that Davey gets involved in.
DF: Manny is a very interesting character visually. Yes, I can think Lobo when I see him but there seems more. Tell readers about designing Manny and the other characters for this book. Your favorite?
Darick Robertson: Manny and Lobo would definitely hang out and do shots together at the same bars throughout the galaxy, but they have very different jobs and personalities. Joe and Eric initially wrote Manny as a human character, but I wanted to bring an alien flavor to him so his physical prowess wouldn't be questioned, as Manny survives impossible scenarios.
DF: Talk more about working with Eric and Joe.
Darick Robertson: Eric and Joe are a lot of fun to be with and their passion for this project was infectious. They had initially written Space Bastards as a screenplay, so there was a lot about turning that story into this comic that took some heavy lifting at times. But it was so rich with good plot and ideas and they were willing to let me get under the hood when it came to making the story work in sequential art, that getting their feedback and reactions when it was coming together was something I looked forward to. Joe is very particular, has an eye for detail, so he'd catch even the smallest of continuity errors. Eric has the grand design and idea for the world in his head. They'd been playing with these characters for years, even having made their own short films and built spaceship sets, with Eric performing as Roy Sharpton. Every October 12th, I get an e-mail from Joe wishing me a Happy "Sharptober".
DF: Darick, what other projects in which you are involved can you tell our readers about?
Darick Robertson: I just completed HellBlazer: Rise & Fall for DC's Black Label with the final issue due out in February, with writer Tom Taylor and Space Bastards colorist, the great Diego Rodriguez.
Also, Gary Whitta and my original creation OLIVER, issues 1- 4 have been collected and are available from Image Comics, with the next four issues coming next year.
Dynamic Forces would like to thank Darick Robertson for taking time out of his busy schedule to answer our questions. Space Bastards #1 from Humanoids is slated to hit stores January 13th!
For more news and up-to-date announcements, join us here at Dynamic Forces, www.dynamicforces.com/htmlfiles/, "LIKE" us on Facebook, www.facebook.com/dynamicforcesinc, and follow us on Twitter, www.twitter.com/dynamicforces.
THE BOYS OMNIBUS VOL. 6 TRADE PAPERBACK - DARICK ROBERTSON SIGNED EDITION
THE BOYS OMNIBUS VOL. 5 TRADE PAPERBACK - DARICK ROBERTSON SIGNED EDITION
THE BOYS OMNIBUS VOL. 4 TRADE PAPERBACK - DARICK ROBERTSON SIGNED EDITION
THE BOYS OMNIBUS VOL. 3 - DARICK ROBERTSON SIGNED AND REMARKED EDITION TRADE PAPERBACK
THE BOYS OMNIBUS VOL. 2 - DARICK ROBERTSON SIGNED AND REMARKED EDITION TRADE PAPERBACK
THE BOYS OMNIBUS VOL. 1 - DARICK ROBERTSON SIGNED AND REMARKED EDITION TRADE PAPERBACK
GREEN LANTERN: DARKSTARS #1 SIGNED BY DARICK ROBERTSON
THE BOYS COLLECTIBLE TRADING CARDS - THE SEVEN TEAM SET FEATURING DARICK ROBERTSON SIGNED CARD
DCEASED: A GOOD DAY TO DIE #1 SIGNED BY DARICK ROBERTSON PLUS 1
DEAN KOONTZ'S NEVERMORE #1 DARICK ROBERTSON "VIRGIN ART" DF COVER
THE ART OF THE BOYS: THE COMPLETE COVERS BY DARICK ROBERTSON - SIGNED AND REMARKED BY DARICK ROBERTSON
---
NEW! 1. 03/04/2021 - HIROMI GOTO
4. 02/22/2021 - STEPHANIE PHILLIPS