CONOR MCCREERY

SEND THIS TO A FRIEND!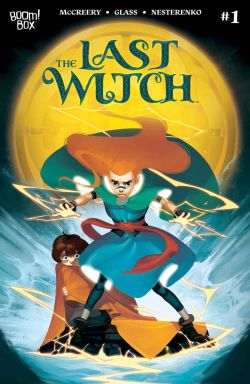 DF Interview: Conor McCreery conjures up YA dark fantasy series, 'The Last Witch'
By Byron Brewer
It's the one time of the year when the witch known as the Cailleach hunts the children of the village -- so Saoirse, a brave and reckless young girl, decides this is the perfect opportunity to defy her father and discover the secrets of the witch's tower. But when the Cailleach captures Saoirse and her brother Brahm, their lives are forever changed in ways they never expected. Now Saoirse will have to save everyone she loves by discovering the truth about the mysterious mark on her shoulder -- and embracing her secret magical powers!
From BOOM! Studios comes an all-new modern fairy tale from Conor McCreery (Adventure Time/Regular Show) and V.V. Glass (Doctor Who). DF loves magic and myth, so to find out about this one we sat down with our old friend, writer Conor McCreery.
Dynamic Forces: Conor, what is the genesis of The Last Witch? Is this something that has sprang out of the fairy tale yarns you have spun in the past? What's its inspiration?
Conor McCreery: The Last Witch was born out of my love for Celtic mythology. My Dad was born in Dublin, and so we had a lot of books of Irish Fairy Tales around the house when I was a kid. I loved how grim and frightening they were, how often times the heroes DIDN'T win, or paid a horrible price on their adventure.
The story itself started as a rare piece of prose writing for me – a publisher-friend of mine was doing a charity book to raise money around the holidays and asked me to submit something. I came up with the story about a little girl going out on Imbolc (Ireland's Groundhog day, but with a witch instead of a rodent), heading into the woods for adventure and getting far more than she bargained for.
DF: Introduce readers to the girl named Saoirse. What are her passions and her secrets?
Conor McCreery: Saoirse has just turned twelve. She lives on the outskirts of a small village in Ireland, and she's an outcast because her family is poor, she has a strange birthmark, and her Nan is considered the village crazy-woman. Nan has told Saoirse that her mark makes her special, and as much as Saoirse wants to believe that, deep down she knows that's just an old-lady saying things to make her feel better.
Or at least she thinks she knows that…
Saoirse is quick-witted, and caring, she loves nature and animals. She's quick tempered, and quicker to take offense, and she's got a burning desire to prove that she really IS special.
As for her secrets? Well, dear Byron, that would be telling…
DF: Can you give us some background about Saoirse's relationship with her brother, Brahm? The rest of her family?
Conor McCreery: Because of the death of her Mother at the end of the last famine, Saoirse is something of a caretaker for her brother. Saoirse loves Brahm, and wants to protect him at ALL costs. Still, I mean he IS a little brother, right? So, he definitely annoys her.
She loves and respects her Father, but she also feels he's holding her back, that he's afraid to let her branch out her wings, and, that with her mother's death, she's become something of a domestic slave.
Nan is the quirky, wise old-lady we all wish we had in our lives. A cigar-smoking grandmother who does whatever the heck she wants, and damn what the village says, Nan is the one who encourages Saoirse to go out and have adventures.
As for her late Mum? Well, let's just say that Saoirse is literally haunted by her memory.
DF: Tell us about the witch known as the Cailleach. What is her power and what hold does she have over others?
Conor McCreery: The Cailleach is the Queen of the Witches. She's the most powerful of her coven, possessing magic that lets her manipulate all of the elements. She rules through fear and her power. She also has a master, though – the monstrous Eater of the World – the dark King of the Fae.
The Cailleach's goal is simple – to build up enough Blood Magick so that she can unlock the door that keeps the Eater trapped away in the faerie lands.
It's not a spoiler to say that if he gets out, it'll be bad for the rest of us.
DF: Conor, give us, if you will, an overview of the plot of The Last Witch.
Conor McCreery: The Last Witch is about a young girl who, after her village is destroyed by the evil Queen of Witches, must journey to face down the Queen to keep her from destroying not just a village, but the whole of the world. In order to do so, Saoirse, her little brother, and her grandmother will have to face down the Queen's coven – using Saoirse's Witchmark as their weapon against these powerful sorcerers.
Going more deeply, the story is about Saoirse finding out that she is special, that she does have power, and then facing the curse of that power. It wrestles with the idea that if we believe we're somehow 'special', doesn't that mean we're also 'better' than those around us? And if we're 'better', do we really need to care about them, or what they want?
DF: Is there any kind of special approach you used with this series being a part of BOOM! Studios' Boom Box brand?
Conor McCreery: Not really. It's definitely an honor to be on the imprint, due to my history with BOOM! (I wrote for Adventure Time and Regular Show before this).
The really cool special approach is in how Boom Box has decided to market the series. Each issue is going to be giant-sized, some of them running in at almost 50 pages! That means that every month, readers are going to get a huge mouthful of story to chew on. As a reader myself, I definitely am a member of the "more is more" school of comic length, and so I'm really happy that people who pick up The Last Witch will get lots and lots of story every issue.
DF: Talk about the art of V.V. Glass.
Conor McCreery: Vee is amazing. I had been hoping to work with Vee on a different project (oddly, also a Celtic mythology-themed joint), but that fell through. I sort of snuck into their email, and mentioned I had this OTHER thing brewing (haha) with BOOM! and would they be interested?
Thankfully they were, because The Last Witch is an INCREDIBLE looking book. Vee's style is perfect for the story – they have the rare talent of being able to create fully formed worlds that readers feel they can step into, combined with exceptional 'acting' from the characters.
I'd be remiss to not mention Natalia Nesterenko's coloring, which perfectly compliments Vee's gorgeous pencils and inks, or Eisner winner Jim Campbell's lettering. He does an amazing job of conveying emotion with his font choices, and whenever he suggests a change it's always dead-on.
DF: What can you tell readers about any projects current or near-future in which you are involved?
Conor McCreery: Comics-wise, I've got Trickster coming out with British company T-Pub, later in 2021. It's sort of a modern-day Robin Hood story with Celtic monsters and a brewing war that could destroy all of humanity – so you know, small stakes. That's with Neil Gibson (Twisted Dark), and Veronica Saraceno.
I'm also writing a magic-realism take on the life of legendary musician and activist Fela Kuti – it's coming out through Harper Collins. Fine artist Jibola Fagbamiye is making his comics debut on that one, and when it hits, he's going to instantly be catapulted up among the best in the industry.
Finally, I'm building a MASSIVE science fiction world with a Canadian digital company – Embreate, called 'Future Now' – it's set in 2084 when, after environmental collapse, five factions battle for control of humanity's rebuild, and our destiny.
We're actually looking for people to serve as story guinea pigs, so if any readers hit me up on Twitter @ConorMcCreery, or on Facebook – just my name – maybe they can be part of that!
Thanks as always, Byron!
Dynamic Forces would like to thank Conor McCreery for taking time out of his busy schedule to answer our questions. The Last Witch #1 from BOOM! Studios is slated to hit stores this Wednesday, January 6th!
For more news and up-to-date announcements, join us here at Dynamic Forces, www.dynamicforces.com/htmlfiles/, "LIKE" us on Facebook, www.facebook.com/dynamicforcesinc, and follow us on Twitter, www.twitter.com/dynamicforces.
SHERLOCK HOLMES VS. HARRY HOUDINI TRADE PAPERBACK
SHERLOCK HOLMES VS. HARRY HOUDINI #1 - (1:10) B&W RETAILER INCENTIVE COVER BY JOHN CASSADAY!
SHERLOCK HOLMES VS. HARRY HOUDINI #1
---
NEW! 1. 05/24/2023 - DOUG WAGNER
3. 02/10/2022 - SIMON SPURRIER