DF FREE FAN FEST ADDS JOE QUESADA AND MORE CREATORS!
Marvel, DC, Top Cow Join The Event!
April 19, 2004, Runnemede, NJ – With the date for the DF Fan Fest fast approaching, the company announced today several new additions to the already incredible creative line-up!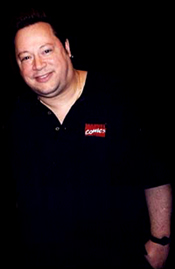 From Marvel Comics, the one and only Joe Quesada will be on hand for the last two hours (approximately 4:00 PM EST until 6:00 PM EST) of the show (signing a limit of 3 items per fan); From DC Comics, Editorial VP Dan DiDio will be around (in the afternoon) and creator Jimmy Palmiotti will be on hand to meet, greet and sign for the fans in attendance and from Top Cow Productions, flying in from the sunny state of California will be Editor-In-Chief Jim McLauchlin!
"All these guys are close friends, on top of being the best creative forces in the business," said Nick Barrucci, President of Dynamic Forces. "So to have them all together, and hanging out this Saturday, is not only a real treat for me, but definitely a real treat for the Fans!"
Barrucci also went on to add that, "With the date for the Fest coming up in just a few days, I don't think I have any more tricks up my sleeve -- or guests -- but never say never!"
Other creators on hand for the FREE Fan Fest include: Brian (100 Bullets, Batman, Superman) Azzarello, Dave (Superman: Red Son) Johnson, Eduardo (Batman, 100 Bullets) Risso, Will (100 Bullets, Superman) Dennis, Nelson (Superman) DeCastro, Chuck (Action Comics/X-Men) Austen, Mark (Wanted, Ultimates) Millar, the legendary Tom Palmer, Michael (Powers) Avon Oeming, Jim (Dreadstar) Starlin and JG (Wanted) Jones, Howard (American Flagg!, Mighty Love, Challengers of the Unknown), Chaykin, Ale (Gen 13) Garza, Kevin (The Escapist) McCarthy and Scott (Amazing Spider-Man) Hanna at the FREE Fan Fest will be: Josh (NYX) Middleton, Jamal (Venture) Igle, Jose (Voice of the Fire) Villarrubia, and Mark (Marvel Knights: 4) Morales.
Also, joining us will be Tommy Castrillo and Rodney Ramos with Andy MacDonald and Ivan Brandon!
* Exclusive Comics available for sale, including HOT comics from Devil's Due and Top Cow Productions!
* 400 Signed (by artist Jim Lee) Superman posters are available on a first come, first served basis, to the first 400 fans that show up. (that's right, first 400 fans get the autographed Jim Lee signed posters, and last 2 hours features Joe Q at the show!)
* CGC will be on hand at the Fan Fest accepting submissions. CGC will be giving away 1 free Modern Submission to the first twenty submitters.
* And remember, it's free to get in (no charge AT ALL to get in), it's free to get the signatures of your favorite creators! There's only one catch. You have to show up ?!
* Special Room Rates Available, contact the Runnemede Holiday Inn @ 856.939.4200 and mention Dynamic Forces Fan Fest for the Special Rate!
* For updated information, and directions, bookmark this page: http://www.dynamicforces.com/htmlfiles/fanfest2004.html
For more information on Dynamic Forces specialty merchandise, product art, exclusive creator interviews and upcoming releases, please visit the Dynamic Forces website at www.dynamicforces.com
------------------------