THE RETURN OF THE ORIGINAL DREADSTAR!
Jim Starlin's Epic Creation Reborn!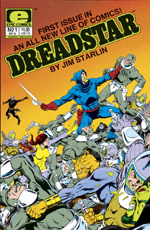 May 23, 2003, Runnemede, NJ -- Dynamic Forces proudly presents, for the first time anywhere, the epic Jim Starlin Dreadstar series in a full-color deluxe hardcover collection!
Dynamic Forces has arranged with Jim Starlin to collect the first 12 issues of
the groundbreaking series that was originally published by Epic in 1982. This classic series not only helped to launch the original Marvel Epic imprint, but was the first creator-owned property from Marvel. The series was so popular at the time, that Marvel also republished these stories to the newsstand market under the title Dreadstar & Company in 1985, a first at the time!
Starlin, is currently finishing up the critically-acclaimed The End for Marvel; and preparing the highly anticipated Thanos series, which is due in October. Jim launched the Marvel Graphic Novel line with the Death of Captain Marvel – one of the most treasured tales of all time! Jim is also famous for being the writer who killed Robin, in the Batman: A Death In the Family storyline for DC Comics! In addition to creating his own titles Dreadstar, 'Breed, Wyrd, and Hardcore Station, Starlin created or co-created the fan favorite characters Shang-Chi, Master of Kung Fu, Thanos, Mongul, and Moondragon.

Dreadstar features the adventures of Vanth Dreadstar and his crew. The series began in Epic Illustrated as "Metamorphasis Odyssey," continued at Eclipse with the "The Price" one shot, started under its own title with the Marvel Graphic Novel, and then came out as a monthly series under the Epic banner.
The premise of Starlin's series was that of Vanth Dreadstar, the last survivor of the destroyed Milky Way galaxy, as he found himself transported to the Empirical Galaxy, where he was recruited by the sorcerer Syzygy Darklock to help bring an end to a two-hundred-year-old war between the corrupt Monarchy and the fanatical Instrumentality.
"Seeing Jim's original artwork as a fan was one of the first experiences I had in comics," said Nick Barrucci, President of Dynamic Forces. "At the time, the production value, coupled with Jim's terrific story and artwork, was some of the best and created a magic that has never again been captured. Dynamic Forces is very lucky and very proud to be able to present Jim's unbelievable, epic journey of Vanth Dreadstar, collected for the first time in full color."
Barrucci continued, "This new collection will be the first volume in a new launch of Dreadstar and Jim Starlin packages from Dynamic Forces, and we're pulling out all of the stops in terms of reproduction and packaging for both the old fans and the new fans. The next collection will feature the prequel material of "Metamophasis Odyssey" and The Price, and then a retrospective on Jim's fantastic career, with more Dreadstar to follow. It's my hope that our presentation of this series becomes one of the centerpieces of each fan's collections, just as it will be the centerpiece of my very own collection!"
To produce the highest quality collection, DF is going back to the original films, having them re-scanned and digitally remastered for the highest quality reproduction available in today's market. Starlin will also be creating a brand new cover for the dusk jacket, write a forward, and will create new material for the hard cover edition.
"I can't tell you how happy I am to see this series get republished," says
Jim Starlin, creator, writer and artist of the Dreadstar series. "Thanks to modern technology, a new generation will get the chance to go soaring with Mr. D."
The first Dynamic Forces Dreadstar Collection will be available in hardcover format and both a Signed and Re-Marked Edition will also be available. All hardcover versions are scheduled for release in the Fourth Quarter of 2003.
Dynamic Forces also announced that Dreadstar statues, action figures, lithographs and other items were on the horizon, with the Vanth Dreadstar statue tentatively scheduled for a 2004 release.
For more information on Dynamic Forces specialty merchandise, product art, exclusive creator interviews and upcoming products, please visit the Dynamic Forces website at www.dynamicforces.com
------------------------
Dynamic Forces is the comic book and collectible industry's top producer of limited edition comic books, lithographs, and more.
A licensee of DC Comics, Marvel Comics, Top Cow Comics, Dark Horse Comics, Universal Studios, Paramount Studios, Pressman Film's classic film "The Crow", T2, Sandy Frank Productions "Battle of the Planets (G-Force)" and many other industry giants, DF continues to set the pace in the comic collector and comic memorabilia markets. Recent product line expansions includes: action figures, vinyl and poly resin statues, lunchboxes, trading cards, lithographs, giclees, apparel and much more!
Born James P Starlin, on October 9th, 1949 in Detroit Michigan, Jim was educated in a Parochial (Catholic) grade school and public high school. He served in the U.S. Navy, 1968-71, as a photographer's mate and then started at Marvel Comics in 1972, and has been working on and off with comics ever since. His credits include Amazing Spiderman, Avengers, Batman, Batman: The Cult, Batman Family, 'Breed, Brute, Captain Marvel, Cosmic Odyssey, Creepy, Daredevil, Daredevil/Black Widow: Abattoir, Darklon The Mystic, DC Comics Presents, Death of Captain Marvel, Detective, Doctor Strange, Dreadstar, Eerie, Epic Illustrated, Fear, Fighting American, Gilgamesh II, Hardcore Station, Heavy Metal, Heroes Against Hunger, Heroes for Hope, Hellboy's Weird Tales, House of Secrets, Incredible Hulk, Infinity Abyss, Infinity Crusade, Infinity Gauntlet, Infinity War, Iron Man, Legion of Superheroes, Marvel Spotlight, Marvel Team-Up, Marvel Two-in-One, Master of Kung Fu, Omac, The Price, Punisher, Rampaging Hulk, Silver Surfer, Silver Surfer/Warlock: Resurrection, Spaceknights, Special Marvel Edition, Star*Reach, Strange Tales, Supreme, Sword of Sorcery, Thanos Quest, Thor, Unity 2000, Warlock, Warlock and the Infinity Watch, Warlord, The Weird, and Wyrd: The Reluctant Warrior and most recently Marvel: The End and the Thanos series for Marvel and "Luna Moth" in Michael Chabon Presents . . . The Amazing Adventures of the Escapist. Jim also co-wrote four novels with Diana Graziunas: Among Madmen, Lady El, Pawns (serialized in Dreadstar) and Thinning the Predators (released in paperback as Predators). He remains a co-founder of Electric Prism, a software design, new media company in Woodstock, NY.