DF AND DC UNLEASHED IN NOVEMBER!
Signed comics, Hardcovers and More Set For Fall Release.
September 3, 2003, Runnemede, NJ – The biggest and the best from DC comics will be available this November featuring signed copies from Dynamic Forces!
Batman, the JLA, Catwoman, Green Arrow and more are all on hand, and so are the best writers and artists in the industry, including Alex Ross, Paul Dini, Jeph Loeb, Paul Gulacy, Ed Brubaker and Jimmy Palmiotti and more! Check it out:
• JLA: LIBERTY AND JUSTICE – Signed by painter Alex Ross!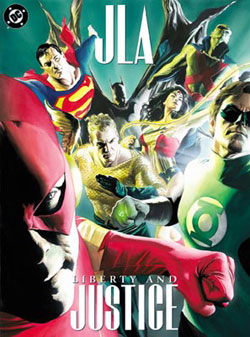 http://www.dynamicforces.com/htmlfiles/p-C98665.html
The original members of the classic Justice League are back in an epic story by Emmy Award-winning writer Paul Dini and acclaimed painter Alex Ross! The JLA must confront a threat from space in the form of a deadly bacteria that sets off a chain reaction of worldwide fear and panic. Soon the JLA themselves are under suspicion - are they ultimately responsible for this alien danger? Can the JLA keep the world from tearing itself apart at the seams?
$29.99 Suggested Retail Price.
ALSO AVAILABLE SIGNED BY PAUL DINI AT THE MSRP OF $29.99!
• BATMAN: HUSH VOL. 2 HC – Signed by writer Jeph Loeb!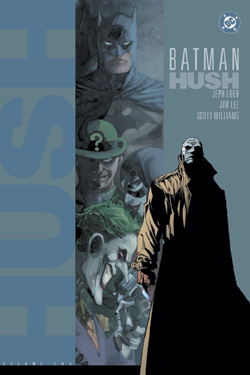 http://www.dynamicforces.com/htmlfiles/p-C98667.html
The second half of the best-selling "Hush" storyline is collected in a handsome hardcover! This volume collects BATMAN #613-619, featuring an epic confrontation between the Dark Knight and the Joker, plus the shocking revelation of the identity of the enigmatic Hush himself!
$69.99 Suggested Retail Price.
• BATMAN #618 – Signed by writer Jeph Loeb!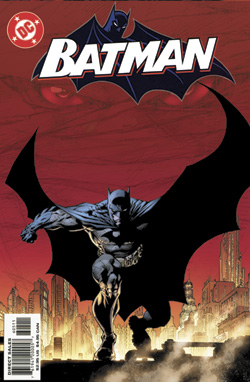 http://www.dynamicforces.com/htmlfiles/p-C98668.html
The 2nd to last installment of "Hush" is now available Signed by the writer – Jeph Loeb! DF brings you the 2nd to last classic! 2nd issues are usually impossible to get, and the 2nd to last issue should be equally impossible, and DF is delivering it to you signed by the writer of the series!
$19.99 Suggested Retail Price.
• GREEN ARROW: ARCHER'S QUEST HC – Signed and Re-Marked by artists Phil Hester and Ande Parks!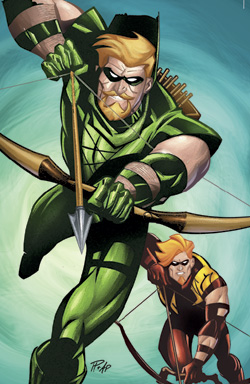 http://www.dynamicforces.com/htmlfiles/p-C98674.html
A stunning new hardcover collecting GREEN ARROW #16-21! The Emerald Archer is back from the dead, and with his adopted son Arsenal in tow, he's setting off on an adventure that will test his courage and bring formerly hidden facets of the Green Arrow legend to light. Featuring an introduction by Senator Patrick Leahy, Meltzer's original notes to the series, and the first issue script, and now signed by the artists with a Green Arrow Re-Marked head sketch on each cover.
$89.99 Suggested Retail Price.
• CATWOMAN #25 - Signed by Ed Brubaker, Paul Gulacy and Jimmy Palmiotti!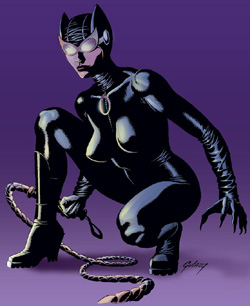 http://www.dynamicforces.com/htmlfiles/p-C98681.html
The new art team of Paul Gulacy and Jimmy Palmiotti comes aboard for a storyline that brings Catwoman back to Gotham City! Things in East End have taken a turn for the worse, and a gang war is brewing. You won't believe the deadly Batman for brought in to contain the "feline problem!"
$69.99 Suggested Retail Price.
Each Signed copy is hand-numbered, features a certificate of authenticity and is sealed with a DF Holo-Foil sticker!
Retailer Note: Special Ordering incentives are available, please contact Dynamic Forces for more details.
For more information on Dynamic Forces specialty merchandise, product art, exclusive creator interviews and upcoming releases - including more DC Comics Product, please visit the Dynamic Forces website at www.dynamicforces.com
------------------------
Dynamic Forces is the comic book and collectible industry's top producer of limited edition comic books, lithographs, and more.
A licensee of DC Comics, Marvel Comics, Top Cow Comics, Dark Horse Comics, Universal Studios, Paramount Studios, Pressman Film's classic film "The Crow", Sony Pictures "Underworld", T2, Sandy Frank Productions "Battle of the Planets (G-Force)", Jim Starlin's "Dreadstar" and many other industry giants, DF continues to set the pace in the comic collector and comic memorabilia markets. Recent product line expansions includes: action figures, vinyl and poly resin statues, lunchboxes, trading cards, lithographs, giclees, apparel and much more!