Win a Whole Bunch of 'Dynamic Stuff'!
Four Chances To Win!
November 17, 2003, Runnemede, NJ -- Ladies and Gentlemen! Boys and Girls! Children of all ages! Dynamic Forces, Inc. proudly presents a contest for everyone! That's right, this contest has everything from the sold out Batman #620 signed by Brian Azzarello (and it's the first print baby!) to Transformers, GI Joe, Witchblade and the Amazing Spider-Man! And best of all, there's no purchase necessary. All you have to do is go to www.dynamicforces.com - click on the contest page, and you can register to enter! Post this on your favorite fan sites, your favorite message boards, and let everyone know that they can enter this dynamic contest!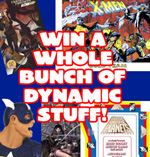 We're in a giving mood this week, and we're definitely sharing the love with this brand-new DF contest! We're clearing the closet and giving a little something for everyone, just in time for the upcoming Holidays! Just look at what one lucky winner is going to add to their collection:
(1) Grand Prize winner will receive one each of the following: Amazing Spider-Man 8" Bust, Captain America 8" Bust, a complete set of all three Magdalena/Vampirella DF Exclusive covers by Art Adams, a complete set of both Transformers vs. GI Joe DF Exclusive covers by Jae Lee, a DF Exclusive Transformers Generation One, Volume One Hardcover Signed by writer Chris Sarraccini and artist Pat Lee, a Sealed box of Battle of the Planets Trading Cards, The Jim Lee Wolverine Lithograph and the Joe Quesada X-Men Lithograph!
Plus, we're setting up another awesome 1st prize for three lucky runners-up!
(3) 1st prizes winners will each receive one each of the following: 1602 #1 Signed by artist Andy Kubert; Batman #620 Signed by writer Brian Azzarello, and Witchblade: The Demon #1 signed by artist Jae Lee!
Contest runs until Friday, December 5, 2003! Good luck and let a friend know, this week's contest is the best reason to get them to! They'll owe ya once you tell them about this!
For more information on Dynamic Forces contests, specialty merchandise, product art, exclusive creator interviews and upcoming releases, please visit the Dynamic Forces website at www.dynamicforces.com.
# # # #
Dynamic Forces is the comic book and collectible industry's top producer of limited edition comic books, lithographs, and more.
A licensee of DC Comics, Marvel Comics, Top Cow Productions, Universal Studios, Revolution Studios' Hellboy, MGM's Army of Darkness, Pressman Films' The Crow, Sony Pictures' Underworld, T2, Hasbro's G.I.Joe, Sandy Frank Productions' Battle of the Planets (G-Force), Jim Starlin's Dreadstar, Howard Chaykin's American Flagg!, Frank Miller's Sin City, Joseph Michael Linsner's Dawn, and many other industry giants, DF continues to set the pace in the comic collector and comic memorabilia markets. Recent product line expansions includes: action figures, vinyl and poly resin statues, lunchboxes, trading cards, lithographs, giclees, apparel and much more!