DYNAMIC FORCES JOINS THE ARMY OF DARKNESS!
Signs Licensing Deal To Create Collectibles For Cult Classic.
November 4, 2003, Runnemede, NJ – Dynamic Forces Inc. today announced a deal that includes the production of limited edition and collectible merchandise for MGM's famed cult-film , Army of Darkness.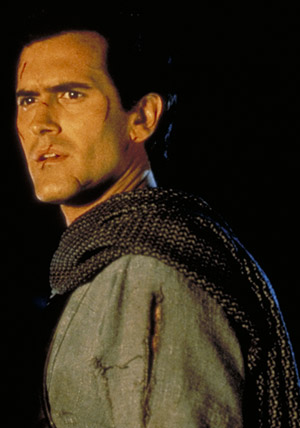 Released in 1993, and directed by Sam Raimi, Army of Darkness was the third film in the Evil Dead trilogy. Starring Bruce Campbell as Ash -- the gun-totting, chainsaw-handed hero, -- the film continues the tale of the Necronomicon -- the Book of the Dead – as Ash does battle with the Deadites and his clone, Evil Ash.
"Sam Raimi has been making great movies for years, and now has certainly become a household name with Spider-Man," said Nick Barrucci, President of Dynamic Forces. "But for those that know his incredible work from the Evil Dead movies, and particularly Army of Darkness, they're in for a real treat with what we have planned for Ash in 2004! And we're going to bring some new fans with us to the party as well"
The license allows for Dynamic Forces to produce trading cards, lithographs, giclees, acetate lithos, wall scrolls, hardcovers, limited edition bookends and full-size head busts statues featuring images and characters from the film.

Look for more information on the release of DF Army of Darkness Product in the coming weeks!
------------------------
Dynamic Forces is the comic book and collectible industry's top producer of limited edition comic books, lithographs, and more.
A licensee of DC Comics, Marvel Comics, Top Cow Productions, Universal Studios, Revolution Studios' Hellboy, MGM's Army of Darkness, Pressman Films' The Crow, Sony Pictures' Underworld, T2, Hasbro's G.I.Joe, Sandy Frank Productions' Battle of the Planets (G-Force), Jim Starlin's Dreadstar, Howard Chaykin's American Flagg!, Frank Miller's Sin City, and many other industry giants, DF continues to set the pace in the comic collector and comic memorabilia markets. Recent product line expansions includes: action figures, vinyl and poly resin statues, lunchboxes, trading cards, lithographs, giclees, apparel and much more!