WOLVERINE AVAILABLE FOR PRE-ORDER!
Second Collaboration Between Clay Moore and DF Now Online For Ordering!
August 22, 2003, Runnemede, NJ – For the first time EVER Clay Moore has sculpted the perfect Wolverine Statue Diorama for Dynamic Forces!
Moore – one of the greatest sculptors of our time, and hot off the limited and sold out Mary Jane Bust – sculpts the most popular Mutant of all time! Influenced by Herb Trimpe's original rendition in Hulk #181, John Romita Sr.'s original designs and John Byrne's classic pose, this rendition of Wolverine is an out-and-out classic!
Slated for a December release, the piece is now available for pre-order in comics shops across the country, and direct from the Dynamic Forces Website (www.dynamicforces.com).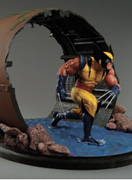 • WOLVERINE STATUE DIORAMA – Sculpted by Clayburn Moore!
http://www.dynamicforces.com/htmlfiles/p-C98664.html
Dynamic Forces and Moore Creations proudly present this amazing 1/6 scale (approximately 10" Tall), limited edition Wolverine Statue Diorama inspired by Chris Claremont and John Byrne's historic Hellfire Club storyline from Uncanny X-Men #129-134. In this magnificent sculpture by Clayburn Moore, a vengeful Wolverine returns to the scene of battle to free the captive X-Men and annihilate the Hellfire Club.
$195.00 Suggested Retail Price
Strictly Limited to 1,500 Production Units in the World!
ALSO AVAILABLE AS AN EXTREMELY LIMITED EDITION "DIAMOND EYE" EDITION; FEATURING A CERTIFICATE OF AUTHENTICITY SIGNED BY MASTER SCULPTOR CLAYBURN MOORE AND ORIGINAL HULK ARTIST HERB TRIMPE WHO PROVIDES A HAND-DRAWN HEAD-SKETCH ON EACH CERTIFICATE! LIMITED TO ONLY 200 IN THE WORLD, AND AVAILABLE AT THE MSRP OF $395!
Retailer Note: Special Ordering incentives are available, please contact Dynamic Forces for more details.
For more information on Dynamic Forces specialty merchandise, product art, exclusive creator interviews and upcoming releases - including more Marvel Comics Product, please visit the Dynamic Forces website at www.dynamicforces.com
------------------------
- Dynamic Forces is the comic book and collectible industry's top producer of limited edition comic books, lithographs, and more.
A licensee of DC Comics, Marvel Comics, Top Cow Comics, Dark Horse Comics, Universal Studios, Paramount Studios, Pressman Film's classic film "The Crow", Sony Pictures "Underworld", T2, Sandy Frank Productions "Battle of the Planets (G-Force)", Jim Starlin's "Dreadstar" and many other industry giants, DF continues to set the pace in the comic collector and comic memorabilia markets. Recent product line expansions includes: action figures, vinyl and poly resin statues, lunchboxes, trading cards, lithographs, giclees, apparel and much more!
- Founded in Austin, TX in 1993, Moore Creations, Inc. is a collectible sculpting company, specializing in the production and distribution of licensed sculptures of comic book and entertainment industry characters. We offer high-quality, limited edition sculptures (statues, busts, ornaments) available for wholesale and direct purchase.
Current licenses in the comic industry include Top Cow properties Witchblade, and Eric Larsen's Savage Dragon, Terry Moore's Strangers in Paradise, and David Mack's Kabuki. Entertainment industry licenses include Fox Entertainment's popular television series, Angel and Buffy the Vampire Slayer.
Moore Creations, Inc. and Moore Action Collectibles, Inc. are partner corporations located in Fort Worth, TX. For more information regarding our companies and/or product lines, please visit our web sites at www.moorecreations.com and www.mooreaction.com.