DYNAMIC FORCES TRAVELS TO THE UNDERWORLD
New Lithograph Available From Sony Film
June 20, 2003, Runnemede, NJ – Sony Pictures Consumer Products (SPCP) and Dynamic Forces have once again joined forces to release the official Lithographs and other Wall Art features scenes and images from the new film – Underworld!
Underworld re-imagines Vampires as a secretive clan of modern, aristocratic sophisticates whose mortal enemies are the Werewolves, a shrewd gang of street thugs who prowl the city's underbelly. The balance of power is upset when a beautiful young Vampire (Selene) and a nascent Werewolf (Michael) – deadly rivals for centuries – fall in love. But Victor, the 400 year-old-ruler of the vampires, stands in their way. Len Wiseman directs Kate Beckinsale (Pearl Harbor, Serendipity) and Scott Speedman (Felicity, Dark Blue) in a fast-paced, modern-day tale of deadly action, ruthless intrigue and forbidden love, all set against the backdrop of an ancient feud between the two tribes in a timeless, Gothic metropolis. Underworld is a new species of thriller.
"I think Underworld is going to be the biggest hit of the Fall," said Nick Barrucci, President of Dynamic Forces. "From what I've seen so far, there's no way this film can lose. It's too cool for words."
• UNDERWORLD LITHOGRAPH
http://www.dynamicforces.com/htmlfiles/p-C97942.html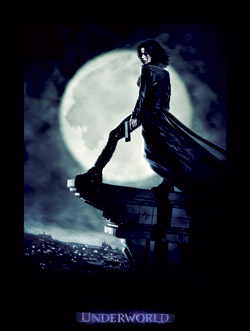 Our first offering features an incredible, high-end reproduction of the amazing poster for the film!
Measuring 18" by 24" and printed on archival 80lbs. Gallerie Silk Stock, this masterpiece will be a treasured addition to your collection!
$19.99 Suggested Retail Price.
For more information on Dynamic Forces specialty merchandise, product art, exclusive creator interviews and upcoming releases please visit the Dynamic Forces website at www.dynamicforces.com
------------------------
Dynamic Forces is the comic book and collectible industry's top producer of limited edition comic books, lithographs, and more.
A licensee of DC Comics, Marvel Comics, Top Cow Comics, Dark Horse Comics, Universal Studios, Paramount Studios, Pressman Film's classic film "The Crow", T2, Sandy Frank Productions "Battle of the Planets (G-Force)" and many other industry giants, DF continues to set the pace in the comic collector and comic memorabilia markets. Recent product line expansions includes: action figures, vinyl and poly resin statues, lunchboxes, trading cards, lithographs, giclees