LUCIFER VOLUME 4 TPB: THE DIVINE COMEDY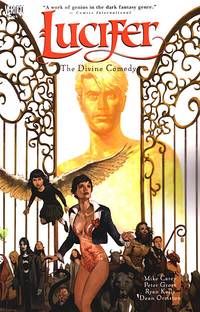 PRICE:


$14.36 MSRP: $17.95 YOU SAVE 20%
Lucifer Morningstar former favorite of Heaven and retired ruler of Hell
has never been much for compromise and that certainly didn't change when he
founded his own universe. Now after finally leaving all the constraints of
God's Creation behind him the Morningstar finds himself in a familiar
position-gathering souls for his realm. Instead of suffering eternal
torment however Lucifer's new immigrants are free to live as they choose.
The only commandment handed down by their world's maker is that they bow
down in worship to no one. After all not bowing to anyone is a point of
pride for the Lightbringer.

But Heaven has spoken: Lucifer's cosmos is an affront to the ordained scheme
of things and it must be closed at any cost. As they say pride goeth
before a fall-and Death has never been big on compromise either.

Highly Recommended for mature readers.
Note: Please allow at least two weeks for processing (not including delivery time) from time of order.