THE FELLOWSHIP LITHOGRAPH - PAINTED BY THE HILDEBRANDT BROTHERS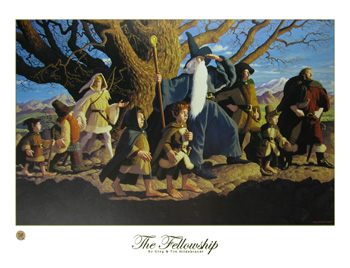 PRICE:


$10.00
From the first film of the blockbuster Lord of The Rings Trilogy, our Fellowship has formed, and the champions of Middle Earth set out in their quest to defeat Sauron and destroy the One-Sring!
Painted by the acclaimed Hildebrandt Brothers, this beautiful painting depicting elves, Dwarves, Humans, Hobbits and Wizards has now been reproduced as a high-end Lithograph!
Measuring a perfect 18 by 24 and printed on Gallerie Art Silk Stock, this high end piece of collectible artwork will be the centerpiece in a fans collection!