SILVER AGE TEEN TITANS ARCHIVES HARDCOVER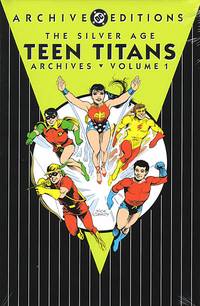 PRICE:


$39.96 MSRP: $49.95 YOU SAVE 20%
Classic Teen Titans tales from the DC Silver Age - now
available for 20% OFF cover price!

This volume contains the first eight appearances of DC's super-teens -
kicking off one of DC's most exciting legacies! Learn how Robin Aqualad and
Kid Flash joined forces with Wonder Girl and Speedy to form this swingin'
way-out team!

This book collects The Brave and the Bold #s 54 and 60 Showcase #59 and
Teen Titans Vol. 1 #s 1-5.