CATWOMAN: SELINA'S BIG SCORE TPB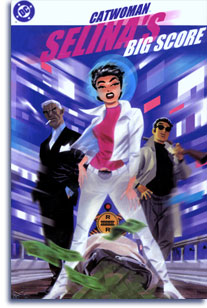 PRICE:


$14.36 MSRP: $17.95 YOU SAVE 20%
Written and illustrated by Darwyn Cooke this Catwoman tale is now available for 20% OFF Cover Price!

In this fast-paced cinematic adventure Catwoman learns that like anything else in life loyalty has its price. Presumed dead and without any cash Catwoman must find a way to make a quick score to set herself up in Gotham again. Learning of a train loaded with unmarked cash headed to Canada the sultry cat burglar gathers some old friends and devises a plan. But when one of her former allies sells her out to the mob Catwoman's simple train robbery becomes a desperate gambit for survival.
Note: Please allow at least two weeks for processing (not including delivery time) from time of order.