THE SANDMAN VOLUME 3 TPB: DREAM COUNTRY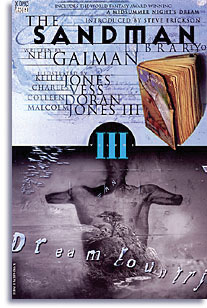 PRICE:


$11.96 MSRP: $14.95 YOU SAVE 20%
This trade paperback edition collects four self-contained issues from the acclaimed and award-winning series by Neil Gaiman and is now available for 20% OFF cover price!

The third book of the Sandman collection is a series of four short comic book stories. In each of these otherwise unrelated stories Morpheus serves only as a minor character. Here we meet the mother of Morpheus's son find out what cats dream about and discover the true origin behind Shakespeare's A Midsummer's Night Dream. The latter won a World Fantasy Award for best short story the first time a comic book was given that honor.
Note: Please allow at least two weeks for processing (not including delivery time) from time of order.