NEW X-MEN VOLUME 2: IMPERIAL TPB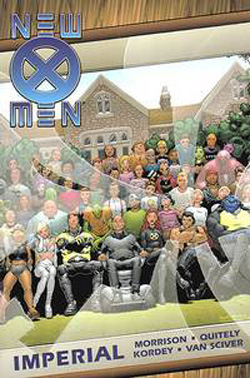 PRICE:


$15.99 MSRP: $19.99 YOU SAVE 20%
Collecting issues 118 through 126 by writer Grant Morrison and artists Frank Quitely Igor Kordey and Ethan Van Sciver this New X-Men TPB
is now available for 20% OFF cover price!

As protestors lay siege to the Xavier Institute mutant mentor Professor X
lies in a coma... dying trapped within the shattered form of his evil twin!
Cassandra Nova inhabited Xavier's body and escaped to the stars in the wake
of her initial encounter with the X-Men; now the psionically empowered
psychopath is returning to Earth - possessed of the most powerful mutant mind on the planet and with the might of the Shi'ar Imperium at her back!

She brought an interstellar empire to its knees - can even the X-Men hope to
halt her mad rampage?

Note: Please allow at least two weeks for processing (not including delivery time) from time of order.