ROBERT JORDAN'S NEW SPRING TPB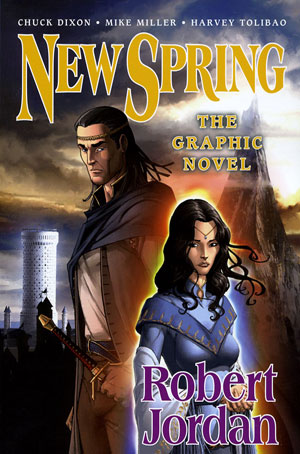 PRICE:
$24.99
Rating: TEEN+
Cover: Joe Cooper
Writer: Robert Jordan w/Chuck Dixon
Penciller/Inker: Joe Cooper
Colorist:
Genre: Fantasy
Publication Date: February, 2011
Format: Trade paperback
Diamond Order Code:
Page Count: 56
ISBN: 978-0765323804
In the last few years before his death, Robert Jordan worked closely with Chuck Dixon and Mike Miller on the graphic adaptation of New Spring.
The eight full-color issues of New Spring, released between 2005 and 2010, tell the story of the search for the infant Dragon Reborn and of the adventures of Moiraine Damodred, a young Aes Sedai, and Lan Mandragoran, the uncrowned king of a long-dead nation. Adapted by noted comics writer Chuck Dixon with the full cooperation of Robert Jordan, and illustrated by artists Mike Miller and Harvey Tolibao, New Spring will delight any of Robert Jordan's millions of readers.
In partnership with Tor Books, Dynamite is proud to collect all eight issues of New Spring in a single volume, which will also include developmental art, script pages, and correspondence between Jordan and Dixon.