TOP COW UNIVERSE TRADING CARDS - BOX!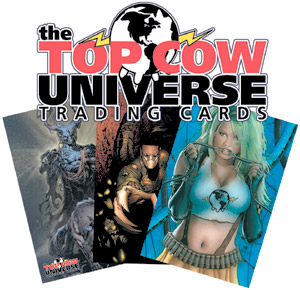 PRICE:


$71.64
This 72-card set features art by Marc Silvestri, Michael Turner, Billy Tan, Francis Manapul, Livesay, Jae Lee, Talent Caldwell, Greg Horn, Dwayne Turner, Clayton Crain, Matt Busch, Keu Cha, Andy Park and others! Top Cow Universe Signed and Sketch Cards Sneak Peak. The Top Cow Universe trading cards will be in stores on April 17th. Here is a sneak peak at some of the hand drawn sketch cards which will be appearing in the set (on average 1 in every box) and some of the signed cards which will be inserted 2 in each box. Savy collectors will rush in to get theirs before the getting is gone!

Click Here To Check Out The Signed and Sketched Cards!