VAMPIRELLA #1 DYNAMIC MIDTOWN EXCLUSIVE ULTRA LIMITED BLACK AND WHITE COVER!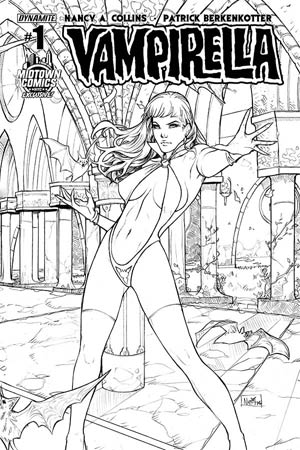 PRICE:
$49.99
In FEAST OF SHADOWS, the first in the six-part OUR LADY OF SHADOWS story arc. Vampirella is sent by the Vatican to investigate the kidnapping of a little girl by Ethan Shroud and the Chaos cultists, only to become the centerpiece of a ritual invoking Lady Umbra, the sister-bride of Chaos, that leaves her marked as a living sacrifice to the dark goddess who rules the shadows. Vampirella is back and returns to her horror roots with Bram Stoker Award-winning author Nancy A. Collins (Swamp Thing, Sunglasses After Dark, Jason vs. Leatherface) and Patrick Berkenkotter (Avengers/Invaders, Red Sonja). Limited edition, allocations may occur.
***FINAL COVER MAY VARY***!