GARTH ENNIS' BATTLEFIELDS VOL. 4: HAPPY VALLEY TPB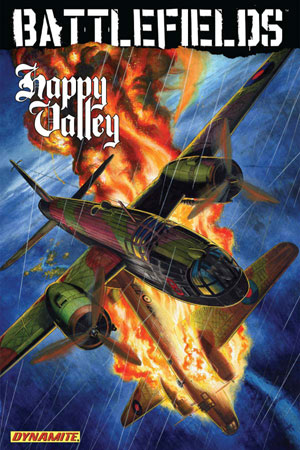 PRICE:
$12.99
Rating: MATURE
Cover: GARRY LEACH
Writer: Garth Ennis
Penciller/Inker: PJ HOLDEN
Colorist: Tony Avina
Publication Date: MAY, 2010
Format: Comic Book Collection
Diamond Order Code:
Retailer Incentive:
Page Count: 80 pages
1606901281
9781606901281
DYNAMITE ENTERTAINMENT is proud to present the return of the acclaimed BATTLEFIELDS series by writer Garth Ennis!
England, January 1942: young Australian Ken Harding arrives at his first operational squadron, keen to play his part in the aerial attack on Germany as the commander of a bomber crew. Losses have been high and life expectancy is low, but Ken remains undaunted- until he meets his crew, a foulmouthed, battle-hardened bunch with no time for new boys who can't stand the pace. Together, they must take the war to the enemy over the most heavily-defended region of the Third Reich- the industrial heartland of the Ruhr, known to the men who face the flak and nightfighters as Happy Valley.