DF SPECIAL - 1989 (DF'S VERSION) TUESDAY!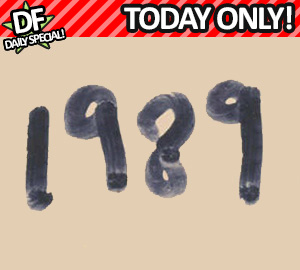 PRICE:


$89.89
It's the day before NEW COMIC BOOK DAY and we're gonna take it back. How far back? Way back! 1989. A year in comics that in many cases is overlooked. Hands down, the release of Tim Burton's Batman was possibly the most popular comic book related event in 1989, but what about the comics themselves? Well, before you rock your white shoes and polo tie, let's review.... Grant Morrison's widely cherished and epic run on Doom Patrol began with issue #19. Marvel's Inferno crossover burned through Uncanny X-Men, X-Factor, New Mutants, & Excalibur. Atlantis Attacks crosses over between all of the core Marvel Annual issues, while DC produces Invasion. Milestone issues Thor #400, Avengers #300, & Detective Comics #600 hit the stands. A brand-new DC Comics imprint, Piranha Press, began publishing such titles as Beautiful Stories for Ugly Children & Gregory. The Great Lakes Avengers appear for the first time in the pages West Coast Avengers, which shortly thereafter becomes Avengers West Coast. DC releases fan favorite Batman prestige Gotham by Gaslight, by Brian Augustyn, Mike Mignola, & P. Craig Russell. With today's DF Daily Special, we celebrate this special year with a package that is PERFECT for the ultimate collector of SIGNED & LIMITED-EDITION comics!!! GET READY, BECAUSE HERE IT COMES!!! You get 8 randomly chosen comics signed by an amazing talent in the business and one of those eight will be chosen from the ULTRA-LIMITED SILVER SIGNATURE SERIES and one will be chosen from the even more ULTRA-LIMITED GOLD SIGNATURE ELITE SERIES!!! That's right, you get 6 AMAZING randomly assorted signed comics, and 2 HIGH-END signed comics!!! 8 SWEET SIGNATURES!!! But the party doesn't stop there!!! Next you'll receive NINE randomly chosen retailer incentive variant edition comics!!! These rare collectibles typically go out of print immediately making them instant collectibles. This set is loaded with AMAZING VALUE with a minimum MSRP of well over $300 or as high as $500!!! This collector's dream come true of great signed & variant edition collectibles is available WHILE THEY LAST, all for just $89.89, in honor of today!!! We only have 8 of these set to offer today so don't delay!!!

* 8 RANDOMLY CHOSEN SIGNED COMIC BOOKS INCLUDING: ONE SILVER SIGNATURE SERIES EDITION *AND* ONE GOLD SIGNATURE SERIES ELITE EDITION!!! A premium mix of Marvel, DC, and independent publisher comics, each signed and DF certified!!! Each comic is signed by one of today's great writers or artists, or a classic creator!!! Includes a DF Certificate of Authenticity!!! (Minimum regular MSRP $29.99-$89.99 each!!!) SWEET!!!

* 9 RANDOMLY CHOSEN RARE RETAILER VARIANT EDITION COMICS!!! 1 in 10!!! 1 in 25!!! 1 in 50!!! Here you'll get NINE IN ONE!!! Nine great variants for purchasing one amazing package!!! (Minimum regular MSRP $9.99 each, some as high as $49.99 each!!!) OH YEAH!!!

* Please note, items are chosen at random, multiple orders may receive duplicate books.